Slalom Strong Redettes Extend Title Run
By Keith Dunlap
Special for Second Half
BOYNE FALLS – The Marquette girls ski team looks as if it is about to produce another dynasty like it did during the late 1990s and early 2000s.
Marquette won six MHSAA Finals titles from 1999-2004, and it is halfway to matching that total after winning its third straight Division 1 championship Monday at Boyne Mountain.
The Redettes finished first with 48 points, ahead of the 76 produced by second-place Traverse City West. Traverse City Central was third at 109, Milford fourth at 160 and Clarkston finished fifth with a final total of 172.
Leading the way for Marquette was sophomore Ainsley Kirk, who didn't arrive at Boyne Mountain until Sunday night because she was home attempting to qualify for a USSA meet next weekend in Colorado, which she did successfully.
Kirk won the slalom with a time of 1:07.81 and took third in the giant slalom with a time of 1:09.53.
The fact that Kirk was able to finish was an accomplishment, given numerous top skiers fell on the first run of the slalom due to the slushy conditions on what was an unusually sunny and mild day for a Finals event, with temperatures in the low to mid 40s for most of the meet.
"It's not my favorite," Kirk said of the soft conditions. "The first run was still actually pretty firm because it was in the shade. In my second run, I had to make some line adjustments because of how soft it was." 
Kirk's teammate Sadah Scheidt was second in slalom with a time of 1:09.25, Emma Dutmers of Traverse City Central was third at 1:10.30, Hannah Schramski of Traverse City West finished fourth at 1:11.10 and Elle Warren of Traverse City West was fifth with a time of 1:12.84.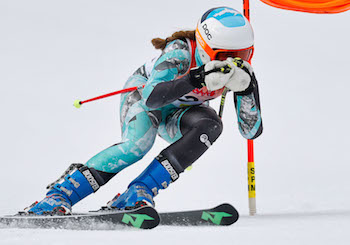 "The girls got second at Regionals, and the girls had a rough day in the (giant slalom)," Marquette coach Dan Menze said. "We came into the GS and we skied much better and towards where we thought we should ski. We knew coming into the slalom that we were lucky to have talented skiers in that event."
Skiers from lower Michigan dominated the top eight in the giant slalom, with six hailing from Oakland County.
Olivia Weymouth of Bloomfield Hills Marian highlighted that group, winning the individual title with a time of 1:08.11.
"With GS, I find it more fun I guess," said Weymouth, who also skis the slalom but didn't finish her first race in that event. "I put in a lot of work and dedication, and it was cool to see it show through with the GS title."
Kate Bridges of Birmingham United was second at 1:08.40, Kaylee Richardson of Rochester Adams was fourth at 1:09.45, Grace Stetsko was fifth with a time of 1:09.53, Morgan Watts of Milford was sixth at 1:09.67 and Grace Dillon of Bloomfield Hills was eighth with a time of 1:10.45.
PHOTOS: (Top) Marquette's Ainsley Kirk races on her way to a first-place finish in the slalom. (Middle) Marian's Olivia Weymouth clears a gate during her a giant slalom run. (Click for more from HighSchoolSportsScene.com.)