Baldwin Makes Wise Choice to Try Track
KALAMAZOO — Three years ago, Heath Baldwin was sitting in the stands watching his sister, Hope, play volleyball when he started chatting with head coach Lauren Cholometes' husband.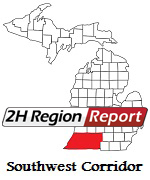 The current Kalamazoo Hackett Catholic Prep senior had no clue that chitchat would turn into a life-changing event.
It turns out that Simon Cholometes was also Hackett's track & field coach and owns Areté, a training center in Three Rivers where Baldwin's buddy Eric Wenzel works out.
Intrigued, Baldwin – then a sophomore playing football, basketball and baseball – visited the facility.
"He set up a hurdle and had me do it, and I was pretty good at it so I wanted to try it," said Baldwin, who was already playing baseball in the spring but added track to become a dual-sport athlete that season.
"Coach C convinced me to do (track)," he said. "I was more of a baseball guy until then. I gave it a try my sophomore year, and it went pretty well.
"This past year, I didn't really have too many expectations going in. Then it kind of got big and I started to really love it."
That is an understatement.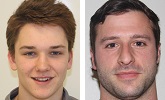 That first season, two years ago, Baldwin qualified for the MHSAA Lower Peninsula Division 4 Finals in four events, finishing fifth in the 110-meter hurdles, eighth in the high jump, 10th in the long jump and 14th in the 300 hurdles.
Last year, as a junior, Baldwin led the Irish from a 38th-place finish in 2017 to the D4 meet championship, winning the 100 hurdles (14.83 seconds) and the long jump (22 feet, 2½ inches) while placing fourth in the 300 hurdles and seventh in the high jump.
The senior, who also has earned honors in football, basketball and baseball, is one of six finalists for the Detroit Athletic Club's "Michigan High School Athlete of the Year" award, which will be presented in May.
His track success also has led to a scholarship at University of Michigan next year.
This spring, Cholometes hopes Baldwin can help lead the Irish back to the top.
"Our expectations are pretty high," the coach said. "We lost a few key contributors, but there's no reason the team shouldn't be better than last year's team."
Baldwin's goal this year is to hit the 23-plus foot mark in the long jump, something the coach said is a possibility.
"He's got that athleticism, and combine that with how coachable he is, and he's got a solid work ethic, too," Cholometes said. "It's been a joy to work with him, and to see him be successful like that is pretty cool."
This season, the 6-foot-4 lanky senior gave up baseball to concentrate solely on track.
Football a family legacy
Baldwin earned his love of football from his father, Roger, who passed away in 2016.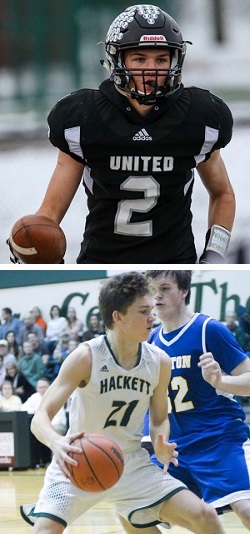 'My dad was a big football fan, and all my brothers had played," Heath said. "My dad coached me until eighth grade."
As a junior varsity player for United, a Hackett and Kalamazoo Christian cooperative team, "They needed a kicker, and I kinda just started that and got pretty good at it," he said.
That kicking carried over to his varsity play, and this year he made 48 of 53 extra-point attempts and booted field goals of 33 and 36 yards, earning him all-state first-team honors.
Baldwin performed double duty, catching 50 passes for 910 yards and 18 touchdowns at wide receiver as well.
"It's a little disappointing I didn't get to 1,000 (yards), but I'm not too mad about it," he said. "It was a fun season. We had a good time, but I wasn't really focused on stats until after the season."
United coach Jesse Brown, whose team finished 11-1, said he is not surprised at Baldwin's success in any sport.
"His size and speed are the two things that stand out the most," Brown said. "There isn't anything that he can't do, from track, football, basketball and baseball.
"Hands down, he is one of the best high school athletes I have ever seen. He was clutch in so many tight games of the past few years, making unbelievable catches, field goals and even this year at defensive end."
All-around opportunities
Of all his sports, basketball is his least favorite to play, Baldwin said, but he likes the camaraderie. He and many teammates have played together since their YMCA days.
The center was hoping to reach 1,000 career points as a three-year varsity starter, but fell 82 points short.
"I just tried to out-hustle everybody because I'm not the best shooter," said Baldwin, who earned all-Southwestern Athletic Conference honors all three seasons. "I get rebounds and put-back points, get the scrappy points and they all add up."
This year, he averaged 20.2 points per game, 8.1 rebounds and 2.1 blocks. He racked up 38 points in a game against Coloma and hit double digits in 20 of the team's 21 games.
Coach Mark Haase said Baldwin became one of the team's best free throw shooters this season.
"He has great athleticism and is even a better teammate though," Haase said. "He became a decent 3-point shooter this year as well.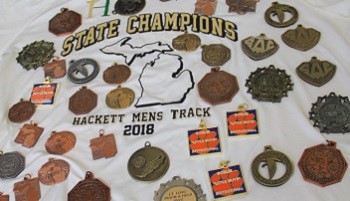 "He has great agility and coordination. It also helps that he has played three sports each year in high school. It helps to make a more well-rounded athlete."
Baldwin said track has become his favorite sport for several reasons.
"I like the adrenaline it gives you, just lining up, competing head-on-head with other people," he said. "If you lose, you can't blame it on anybody else, just you.
"I do like the individual aspect of the sport … you hold yourself accountable."
Several Division II and III colleges were interested in Baldwin in both football and basketball, but he decided to continue his love for track.
"The bigger schools were coming around, and I wanted a bigger school because I've been at private schools my whole life with not very many kids in my class," he said. "I wanted the bigger atmosphere.
"I knew I wanted to do Michigan State or Michigan. It was a pretty tough decision.
"I'm just grateful to Coach C for convincing me to do track because I never would be in the position I am in today."

Pam Shebest served as a sportswriter at the Kalamazoo Gazette from 1985-2009 after 11 years part-time with the Gazette while teaching French and English at White Pigeon High School. She can be reached at pamkzoo@aol.com with story ideas for Calhoun, Kalamazoo and Van Buren counties.
PHOTOS: (Top) Kalamazoo Hackett's Heath Baldwin takes on a hurdle during last season's 110-meter Division 4 championship race. (Middle top) Baldwin, left, and track coach Simon Cholometes. (Middle) Baldwin was a standout on both the football and basketball teams as well. (Below) A shirt from last season shows many of Baldwin's track & field accomplishments. (Track photo by RunMichigan.com, football by Daniel J. Cooke Photography and basketball by Scott Dales. Shirt and heads shots by Pam Shebest.)