Bridgman Completes Climb to 1st Title
By Geoff Kimmerly
Second Half editor
Bridgman girls cross country coach Spencer Carr couldn't recall his team having a bad meet this fall. And there were a couple of especially good showings that seemed to forecast the Bees' historic season-ending finish.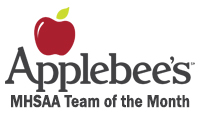 On Sept. 21, Bridgman traveled to New Prairie, Ind., and won the Varsity A race against schools twice its enrollment of roughly 250 students. Two weeks later, the Bees finished second in the Division 4 race at the prestigious Portage Invitational, just a point off the lead.
And in both races, their top runner placed sixth individually, another coincidental sign of how the team would win its first MHSAA Finals championship in girls cross country Nov. 6 at Michigan International Speedway.
With junior Karsyn Stewart leading the way with a sixth-place individual finish, Bridgman scored 132 points to outpace four-time reigning champion Mount Pleasant Sacred Heart and lock up the title – and the honor as MHSAA/Applebee's "Team of the Month" for November.
"Coming into the season, I had hopes of a top-10 finish, maybe top five if everything progressed well," Carr said. "I never really looked at who was a contender at the top of Division 4 until we started to place high at some big meets. We knew Mount Pleasant Sacred Heart was good and had won state the year before, but it wasn't until part way through the year that I noticed they had won it the last four years.
"We talked about the challenge of beating a team like that, one with experience that always seemed to run well in the big meets. We knew it was going to be very tough to beat them because they knew how to win in the big meets, and we were pretty new to being towards the top. The girls realized early on that they could only control how they ran. If they did everything they could do to run their best race, then that would put us in a pretty good position."
That mindset paid off well. At the Regional, Bridgman scored just 35 points placing four among the top 10 and five among the top 13. At the Final, Stewart was followed by sophomore Arie Hackett in 11th, freshman Summer Fast in 39th, sophomore Jane Kaspar in 68th and senior Mikaela Owen in 81st.
Stewart had led the way as well in 2018, when Bridgman finished 15th as a team and she finished 24th individually. She was 35th as a freshman in 2017 as the team also finished 15th – setting an early foundation for this rise to the top.
Before this fall, the Bees' best Finals finish was fifth in Class D in 1985. They didn't qualify as a team for the championship races again until 2015, when they finished 24th in Division 3.
Longtime coach John Wismer had built a strong boys program (Division 4 runner-up finishes in 2009 and 2010) and helped put the girls team in position before retiring after the 2016 season. Kurt Hanke led the Bees in taking the next steps in 2017 before Carr – previously the boys cross country coach at Hartford from 2010-16 – took over both Bridgman programs the following summer. He credited both predecessors for helping the Bees build toward their first title.
But this fall did have some early unpredictability. Bridgman had graduated three of its top five from the 2018 Finals lineup, including its second and third-highest placers. Carr knew he had Stewart and lone senior Owen, but other pieces had to fall into place as well.
Carr knew Kaspar had lots of potential, and that Fast had been successful in middle school. Bridgman got a major boost from Hackett, also a basketball and softball player who hadn't run as a freshman.
They came together to win all of their races this fall but two – at Portage and against a field of much larger schools at the Kalamazoo Christian Invitational, where the Bees finished second to Grand Rapids South Christian (which went on to place 19th at the Division 2 Final). Bridgman also won its Berrien-Cass-St. Joseph Conference title and posted a perfect score of 15 at the River Valley Mustang Invitational.
Bridgman expects to return six of its top seven runners next year; sophomore Grace Fenech and junior Alexa Ackerman followed Owen in the Finals lineup. But Sacred Heart should be back in Division 4 contention, along with third-place finisher Kalamazoo Christian – which edged the Bees at Portage. And there always could be another Bridgman-type team preparing to make a big jump – so the Bees know what they face to stay on top.
"We lost a bunch of seniors last year who really were the start of really getting the girls program going, so I wasn't really sure how good we could be," Carr said. "I knew we had Karsyn Stewart, who was all-state the year before, and Mikaela Owen, our only senior and a great leader, but I wasn't too sure after that.
"They all came together over the summer and put in the work, and it translated into a great season."
Past Teams of the Month, 2019-20
October: Allegan boys tennis - Report
September: Ishpeming Westwood girls tennis - Report
PHOTOS: (Top) Bridgman's girls cross country team poses with its first MHSAA Finals championship trophy during the awards ceremony at Michigan International Speedway. (Middle) Arie Hackett (1699) works to keep a step ahead of Sacred Heart's Olivia Ervin. (Photos by Dave McCauley/RunMichigan.com.)