Performance: Renaissance's Kailee Davis
Kailee Davis
Detroit Renaissance junior – Basketball 
The Phoenix's guard scored a team-high 34 points with seven 3-pointers to lead Renaissance past Detroit Cass Tech 81-55 in Friday's Detroit Public School League Tournament championship game, earning the MHSAA "Performance of the Week." The PSL overall championship was Renaissance's first since 2011, and Davis has set the pace as the team has since improved to 17-2 with one more game next week before the postseason begins.
Phoenix coach Shane Lawal called Davis the best junior in the state after the Cass Tech win, and he has plenty to back that up. The 5-foot-4 Davis was averaging a team-leading 16.8 points per game on 50-percent shooting from the floor heading into Wednesday night's win over Flint Carman-Ainsworth. She had made 35 3-pointers and also was averaging 3.7 assists and 3.4 rebounds per game. Her numbers have come against a schedule loaded with MHSAA title contenders – Renaissance's opponents have a combined .643 winning percentage – and she often defers to a talented group of teammates, which include four other starters already holding college basketball scholarship offers. The Phoenix' only loss came to reigning Division 2 champion Detroit Edison, 54-52 on Feb. 1, and Davis scored a game-high 22 points against the Pioneers' star-studded lineup. She should get a chance to show her skills on the playoff stage over the next month; Renaissance currently is ranked No. 3 in Division 1 in the MHSAA's Michigan Power Ratings.
Davis also played baseball growing up and is considering playing softball at Renaissance as a senior. She's been on the basketball varsity since freshman year and continues to be all hoops right now, and has made a variety of campus visits and picked up eight Division I scholarship offers with interest from a number of other programs. She is interested in studying criminal justice after high school with aspirations of becoming a detective. 
Coach Shane Lawal said: "Basketball is a game of height. So height is always measured into talent, unfortunately. (But) as far as shooting off the dribble, shooting off the catch, finishing with her left or right hand, finishing in traffic, ball-handling – not just bringing the ball up but under pressure, her shiftiness, her passing ability. ... There's a lot of great juniors in the state, but a lot of them have that height that's added to their attributes. I think if she was four inches taller, everybody would be saying the same things I'm saying. She can score on all three levels. That's something that a lot of high school kids can't do – rim, mid-range and 3-point. Defensively, she's really underrated; she leads us in steals, covers lots of ground. Her IQ offensive and defensively is extremely high. She just sees the game, and she knows how to make reads and just make the right play. ... I have five great starters. I think if she's playing for a lot of teams she's averaging 25 points a game. She averages 17 because she only needs to average 17. She has so much talent around her that she doesn't have to be superwoman."
Performance Point: "Coming into the game, I didn't really think I'd have to score a lot of points and take over in the game," Davis said of the PSL final. "But the way the game was coming to me at the beginning, I just had a feeling that I was going to have a good game. Then my coach just told me to keep shooting, so in the third quarter and fourth quarter I was just shooting the rock when I was open, and just taking good shots. ... (Early) I was getting my points off of playing defense. My shots were just falling. I was going to the rim and to the free throw line, getting my teammates the ball. ... We just work hard every practice. We practice to get to the bigger picture, because our goal is to win a state championship. And we know we've got what it takes to beat any team that's in front of us, so we just came in wanting to play hard."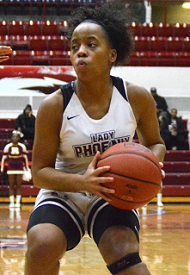 Energized: "I feel like our energy is different, like energy from the coach and the coaching staff. And we just all want it more this year because we know we could've had it the last two years, and we know we were good. We just didn't have the drive. … A lot of (the energy) came from our coach. When he first came in, he came in telling us that our goal from the beginning of the season was to win a state championship. Every practice we just set our goal, and we just practice hard all the time and play hard all the time."
Big game: "I feel like me being shorter, or smaller, gives me an advantage because I'm quicker than most people. I just try to show people that even though I'm small, I can still do all of the things that anybody bigger than me can do. (Bigger players) think they either can shoot over me or block all of my shots. So I like the challenge when I play against them."
Finding her groove: "Right now the best part (of my game), I'm letting the game come to me. Playing hard, so I don't have to force my shots. I get my teammates involved first, and then I'll get my groove going. (And) each year my shooting has gotten better. I shoot a lot at practice, and the advantage is me shooting with more confidence."
All shark: "We learned that we have to play hard every game. We can't just turn it on when we want to. We have to go out playing hard every game, no matter who we're playing against. (That idea) kicked in in the beginning of this year. On the back of our shooting shirts we have this slogan that says "#ClownsAndSharks" And it's like, which one are you? So we treat all of the teams the same way. We don't underestimate any team."
– Geoff Kimmerly, Second Half editor
Past honorees
Feb. 13: Jamison Ward, Carson City-Crystal wrestling - Report
Feb. 6: Elena Vargo, Farmington United gymnastics - Report
Jan. 31: Michael Wolsek, Trenton swimming - Report
Jan. 24: Kensington Holland, Utica Ford bowling - Report
Jan. 17: Claycee West, White Pigeon basketball - Report
Jan. 10: Seth Lause, Livonia Stevenson hockey - Report
Dec. 5: Mareyohn Hrabowski, River Rouge football - Report
Nov. 28: Kathryn Ackerman, Grand Haven swimming - Report
Nov. 21: Emily Van Dyke, Southfield Christian volleyball - Report
Nov. 14: Taylor Wegener, Ida volleyball - Report
Nov. 7: Carter Solomon, Plymouth cross country - Report
Oct. 31: Jameson Goorman, Muskegon Western Michigan Christian soccer - Report
Oct. 24: Austin Plotkin, Brimley cross country - Report
Oct. 17: Jack Spamer, Brighton cross country - Report
Oct. 10: Kaylee Maat, Hudsonville volleyball - Report
Oct. 3: Emily Paupore, Negaunee cross country - Report
Sept. 26: Josh Mason, South Lyon soccer - Report
Sept. 19: Ariel Chang, Utica Eisenhower golf - Report
Sept. 12: Jordyn Shipps, DeWitt swimming - Report
PHOTOS: (Top) Detroit Renaissance's Kailee Davis makes a move toward the basket against Detroit Cody this season. (Middle) Davis prepares to pull up for a jumper during last week's PSL final against Cass Tech. (Photos courtesy of State Champs Sports Network.)