Breslin Bound: 2021-22 Boys Report Week 8
This week we welcome February, five weeks to go in the boys basketball regular season and 19 teams bringing undefeated records into both.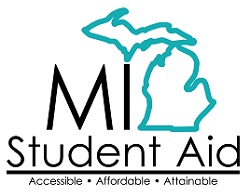 That's always impressive, of course, given the state's 700 varsity teams total and competitiveness throughout one of Michigan's most-played high school sports. Two of those unbeaten teams play in Division 1, eight play in Division 2, three in Division 3 and six in Division 4 – and we highlight three during this week's "Breslin Bound" report.
"Breslin Bound" is powered by MI Student Aid and based on results and schedules posted for each school at MHSAA.com. Send corrections or missing scores to Geoff@mhsaa.com.
Week in Review
The countdown of last week's five most intriguing results: 
1. Detroit Martin Luther King 74, Detroit Renaissance 70 The Crusaders (11-1) enter the final week of the Detroit Public School League Blue schedule in position to clinch thanks in part to this win over the formerly co-leading Phoenix (9-3).
2. Grand Blanc 64, Flint Carman-Ainsworth 63 The Bobcats (6-4) are the last team undefeated in Saginaw Valley League play thanks to this win over the second-place Cavaliers (6-4).
3. Maple City Glen Lake 64, Benzie Central 58 The Lakers (9-3) handed Benzie its first defeat, in the process moving into a tie for first in the Northwest Conference with the Huskies (10-1) and with their rematch scheduled for Feb. 25.
4. Orchard Lake St. Mary's 47, Warren De La Salle Collegiate 34 The Detroit Catholic League Central continues to reshuffle weekly, now with St. Mary's (9-2) and Detroit U-D Jesuit tied for first but every team within a game of the lead and the Pilots (9-3) tied for most overall wins among league teams.
5. Detroit University Prep 57, Carrollton 56 The Panthers (4-6) have to be one of the best sub-.500 teams in Michigan, mostly recently handing Carrollton (10-1) its first loss, and after defeats by six or fewer points to Benton Harbor, Detroit Renaissance and Carman-Ainsworth.
Watch List
With an eye toward March, here are two teams in each division making sparks: 
Division 1
Bloomfield Hills (10-2) The Black Hawks are undefeated aside from a pair of losses at December's Motor City Roundball Classic, to Detroit Renaissance and Detroit Catholic Central (8-3), which actually help fill out a strong body of work overall. Six of Bloomfield Hills' wins are against teams .500 or better, and the Black Hawks also have an early upper hand as they seek to repeat as Oakland Activities Association White champions.
Muskegon (10-0) There are plenty of highlights to rattle off from the Big Reds' start. After finishing second in the Ottawa-Kent Conference Green last year, Muskegon is two games ahead of the rest atop the league standings. The Big Reds avenged two losses from last season to reigning league champ Zeeland East with Friday's 58-42 win, and Muskegon also has handed Benton Harbor (11-1) its only defeat, 84-58 on Jan. 8. Only Reeths-Puffer, the second-place team in the Green, has gotten closer than 11 points.
Division 2
Battle Creek Pennfield (9-2) The Panthers' first run to the MHSAA Finals was one of the feel-good stories of the abbreviated 2020-21 season, and they could be finding their footing again after a couple of mid-January league losses to Battle Creek Harper Creek (9-3) and Coldwater (9-1). Those came immediately after Pennfield handed Marshall (11-1) its only loss. The Panthers will have plenty of opportunities to show what they can do with six games coming up against teams with at least nine wins so far, including rematches with all three of those league foes plus a home game with Benton Harbor.
Hudsonville Unity Christian (12-0) The Crusaders appear on their way to a sixth-straight league title, with a two-game lead in the O-K Blue after the first run through the league schedule. Only one opponent – Grandville Calvin Christian (see below) in a 78-76 Unity win on Dec. 10 – has gotten closer than 10 points. The Crusaders defeated the second and third-place teams in the Blue by 10 and 31 points, respectively, last week.
Division 3
Grand Rapids Covenant Christian (10-2) The Chargers haven't stopped moving coming off of last season's Quarterfinal run. Generally playing larger schools, they did avenge a 2021 loss to Wyoming Tri-unity Christian so far with the only losses to Division 2 Unity and Forest Hills Eastern (9-3) in December. Covenant doesn't play in a league, but did claim a Cornerstone University Holiday Tournament title with wins over Division 2 Allendale and Division 1 Muskegon Mona Shores.
Grandville Calvin Christian (8-3) The Squires continue to put distance between themselves and an 0-3 start that concluded with an overtime loss to Covenant (see above). Calvin defeated former co-leader Grand Rapids NorthPointe Christian 75-62 on Friday to move into first place alone in the O-K Silver. Also bringing context to that winless start – the first two defeats came to Division 2 Holland Christian (7-5) and Unity.
Division 4
Clarkston Everest Collegiate (8-2) The Mountaineers are coming off their second loss, to Genesee Christian (10-2), but defeats have been few lately as Everest is a combined 23-5 over the last two years. The Mountaineers lead the Detroit Catholic League Intersectional #2 as they look to extend their league title streak to three, and they have notable wins over Marine City Cardinal Mooney (9-3) and Ypsilanti Arbor Prep (9-4).
McBain Northern Michigan Christian (10-0) The Comets are only one game into the second half of the Highland Conference schedule but already three games ahead of the field as they pursue what would be a first league title in at least a decade. It's been an impressive rise for NMC, which broke a seven-season streak of sub-.500 finishes by going 12-3 (and also winning a District title) a year ago.
Can't-Miss Contests
Be on the lookout for results of these games coming up:  
Tuesday – East Lansing (10-3) at Williamston (12-0) – The leaders of the Capital Area Activities Conference Blue and Red, respectively, match up with the winner likely considered the Lansing area's best.
Tuesday – Dearborn (10-1) at Belleville (7-3) – Belleville has a one-game lead on Dearborn in the Kensington Lakes Activities Association East thanks to a 63-43 win on Jan. 4.
Friday – Kalamazoo Central (9-4) at Richland Gull Lake (8-4) – Gull Lake won the first meeting, 78-75 in overtime Dec. 16, and they're tied atop the Southwestern Michigan Athletic Conference East
Friday – Orchard Lake St. Mary's (9-2) at Detroit Catholic Central (8-3) – St. Mary's won the first meeting 75-64 and could begin breaking up the tightly-packed league standings with a big week that starts on the road at De La Salle.
Saturday – Ferndale (8-2) vs. Muskegon (10-0) at Cornerstone University – Contenders in Divisions 2 and 1, respectively, face off at the RedHawk Challenge.
Second Half's weekly "Breslin Bound" previews and reviews are powered by MI Student Aid, a part of the Office of Postsecondary Financial Planning located within the Michigan Department of Treasury. MI Student Aid encourages students to pursue postsecondary education by providing access to student financial resources and information. MI Student Aid administers the state's 529 college savings programs (MET/MESP), as well as scholarship and grant programs that help make college Accessible, Affordable and Attainable for you. Connect with MI Student Aid at www.michigan.gov/mistudentaid and find more information on Facebook and Twitter @mistudentaid.
PHOTO A pair of Carman-Ainsworth defenders wall off the passing lanes during last week's 64-63 loss to Grand Blanc. (Photo by Terry Lyons.)