Breslin Bound: 2021-22 Girls Quarterfinal Preview
We're reached the final stretch of this season's Breslin Bound trip, as 685 varsity teams have become just 32 remaining for tonight's Quarterfinals across the state.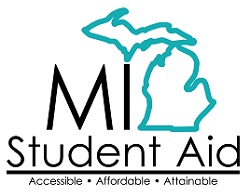 We've given a glance at all 16 games below as we prepare for a more significant preview of Thursday and Friday's Semifinals at Michigan State. We'll be posting those throughout Wednesday.
"Breslin Bound" is powered by MI Student Aid.
DIVISION 1
West Bloomfield (22-1) vs. Troy (13-11) at University of Detroit Mercy, 7 p.m.
Troy is appearing in its first Quarterfinal, and West Bloomfield its first since 2003. They both play in the Oakland Activities Association Red, clinched by West Bloomfield with Troy finishing fourth and the Lakers winning both regular-season meetings. West Bloomfield made its biggest headline with a 65-62 win over Detroit Edison, and they're led by sophomore twins Summer Davis (14.5 ppg) and Indya Davis (14.3). Four seniors start for Troy, with 6-foot-2 Kendal Zeiter leading the scoring at 17.4 points per game.
Rockford (22-2) vs. East Lansing (19-4) at Calvin University
The Trojans, returning to the Quarterfinals for the second-straight season, are looking to advance for the first time since 2018. Senior guard Soraya Timms sets the pace at 13.9 points, 5.6 assists and 4.8 steals per game. Rockford is making its second Quarterfinal appearance, and first since 2010, after defeating reigning Division 1 champion Hudsonville in the Regional Final. Sophomore guard Grace Lyons leads a balanced lineup scoring 11.8 points per game with 49 3-pointers, making nearly 47 percent of her attempts from beyond the arc.
Midland Dow (23-1) vs. Hartland (23-1) at Lapeer
This is a rematch of last season's Quarterfinal, won by Dow 42-32, as the Chargers went on to fall to eventual champion Hudsonville in a Semifinal. Dow's only loss this season was in overtime in mid-January to Division 2 quarterfinalist Frankenmuth, and the Chargers are paced by senior standouts Alexa Kolnitys (18.1 ppg, 4.7 assists per game) and Abby Rey (17.6 ppg, 56 3-pointers). Hartland, which lost to Howell but avenged that defeat twice, features a balanced lineup with four players averaging 8-10 ppg, with 6-2 senior Lauren Sollom a tough post matchup.
Wayne Memorial (22-2) vs. Riverview (20-4) at Ypsilanti Lincoln
Wayne is playing in its fourth-straight Quarterfinal (not counting 2020, when the season was ended early because of COVID-19), and made the Semifinals a year ago. The Zebras have only one senior in the starting lineup and should continue to surge. Riverview is coming off its first Regional championship and has won 18 straight since its last loss Jan. 2. The Pirates downed Temperance Bedford (17-6) and Dearborn Divine Child (19-5) last week to advance. Junior Elyssa Kincaid (16 ppg) leads three averaging at least 14 points per game for Riverview.
DIVISION 2
Grand Rapids West Catholic (23-1) vs. Edwardsburg (24-0) at Wayland
Both of these teams took the next step last week after falling in Regional Finals a year ago, Edwardsburg reaching the Quarterfinals for the first time and West Catholic the first time since 1995. The Falcons' only loss was in December, by four, to Division 1 quarterfinalist Rockford. Senior guard Abbey Kimball, the Miss Basketball Award runner-up, leads with 25.1 ppg and 97 3-pointers – the latter good for third-most in one season in MHSAA history. Edwardsburg has a major long-distance threat as well – senior Katie Schaible is one of three Eddies averaging in double figures (11.6 ppg), and she has 69 3-pointers.
Detroit Country Day (12-7) vs. Marysville (22-2) at University of Detroit Mercy, 5:30 p.m.
Country Day is returning to the season's final week after making the Semifinals last season, while Marysville is here for the first time. Four of last season's Semifinal starters fill the lineup again for the Yellowjackets. Marysville has won 19 straight since last losing Dec. 21. Senior guard Kaitlyn Cain leads at 14.4 ppg and also tops the team in rebounds and steals.
Portland (23-1) vs. Detroit Edison (16-3) at Williamston
This highly-anticipated matchup sends the reigning Division 2 champion and current No. 3 (by MPR) Raiders against the overall Division 2 top-seeded Pioneers, who celebrated senior Ruby Whitehorn (23.9 points, 12.1 rebounds per game) as the Miss Basketball Award winner Monday. The West Bloomfield defeat (see above) was Edison's only in-state loss playing a schedule loaded with Division 1, 2 and 3 contenders. Portland's lone loss came to No. 7 Lansing Catholic and was avenged twice. Senior guard Ashley Bower (19.1 ppg) also was the team's leading scorer last season.
Ludington (19-5) vs. Frankenmuth (22-2) at Cadillac
Frankenmuth is returning to the Quarterfinals for the first time since 1996, and despite losing an all-stater to injury in the season opener. Sophomore Mia McLaughlin leads a balanced lineup in scoring (14.3 ppg), rebounds, assists and steals and is tied for the team lead in blocks. Ludington is returning to the Quarterfinals for the first time since 2008, with senior RyAnn Rohrer and junior Keelyn Laird leading another balanced lineup scoring 10.7 ppg apiece.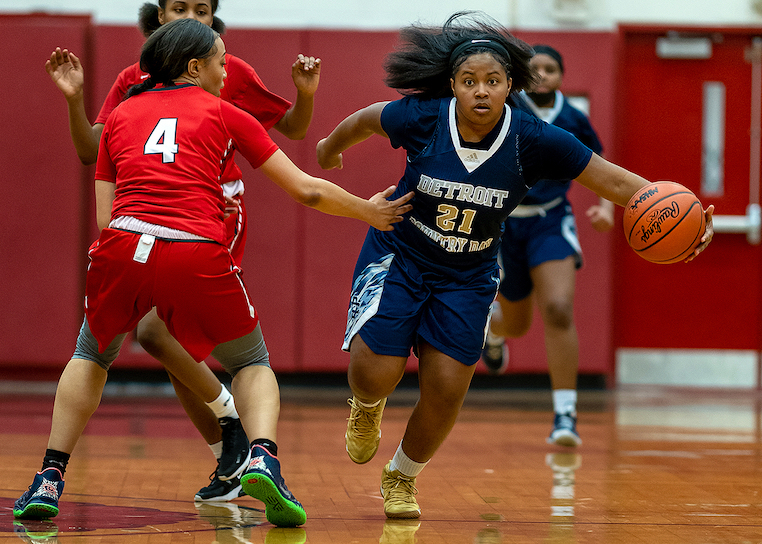 DIVISION 3
Maple City Glen Lake (24-0) vs. Lake City (20-4) at Traverse City Central
Glen Lake is returning to the Quarterfinals for the second straight season and seeking to make the Semifinals for the first time since 2018 after its only loss last season was in that Quarterfinal to Calumet. Senior guard Grace Bradford leads in scoring (22.9 ppg), 3-pointers, rebounds, assists and steals. Lake City returned to the Quarterfinals most recently in 2019, and avenged two late losses this winter during the postseason. Cousins Chloe Bisballe (13.1 ppg), a senior, and sophomore Mackenzie Bisballe (15.4) combine to lead the team in most major stat categories.
Dansville (17-7) vs. Ypsilanti Arbor Prep (22-2) at Concord
Arbor Prep is the No. 1 overall seed in Division 3 and lost only to Division 1 Parma Western and Division 2 top seed Detroit Edison, with wins over Wayne Memorial and Frankenmuth among others. Senior Mya Petticord (22.9 ppg) was a Miss Basketball Award finalist. Arbor Prep made the Quarterfinals as recently as 2019, while Dansville is making an appearance for the first time since 2008. The Aggies avenged a regular-season loss to Leslie and defeated 2021 Division 3 champion Grass Lake last week. Senior Erin Sherwood is the leading scorer at 16.4 ppg.
Kent City (24-0) vs. Schoolcraft (23-1) at Otsego
This is another Quarterfinal rematch from last season. After falling a two-point loss shy from claiming a first Finals championship last year, Kent City is back and undefeated again with four starters returning from that runner-up team. Junior Lexie Bowers (17 ppg) and sophomore Madelyn Geers (14.4) should make the team a contender next season as well. Schoolcraft's only defeat was in its season opener to Division 4 quarterfinalist Plymouth Christian Academy, and it is looking to reach the Semifinals for the first time. Senior Mackenzie Miller leads at 16 ppg.
Madison Heights Bishop Foley (19-3) vs. Reese (20-4) at West Bloomfield
Reese is making its first appearance in a Quarterfinal and Bishop Foley its second after advancing last year for the first time. The Rockets defeated two league champions in winning last week's Regional, with senior standouts from the Division 3-winning volleyball team Aydan Dalak (15 ppg) and Josie Johnson (12) the leading scorers. Senior center Melanie Moore (17.1 ppg) leads a Bishop Foley team that fell to Arbor Prep by only five in the regular-season finale before starting a dominating tourney run.
DIVISION 4
Baraga (22-1) vs. Pickford (19-2) at Munising
Pickford has broken through with its first Regional title since 1988, its only losses this season to Division 3 St. Ignace and impressive tournament wins over Mackinaw City (18-4), Engadine (15-8) and Posen (21-2). Senior Kennedy Guild leads four averaging double-digit scoring at 19.2 ppg, with 61 3-pointers. Baraga is back at the Quarterfinals having most recently advanced in 2019, and with its only loss this season to Division 2 Houghton. Senior guards Reide Osterman (16.1 ppg) and Cori Jahfetson (13.8) set the pace for the Vikings.
Gaylord St. Mary (22-2) vs. Fowler (21-3) at Clare
The reigning Division 4 champion Eagles last saw St. Mary in a 2019 Quarterfinal win, and they bring three starters from last year's championship game back into this final week including all-state guards Mia and Emma Riley. St. Mary avenged one of its two losses, to 2021 Division 4 runner-up Bellaire, during this postseason as part of a 10-game winning streak. The Snowbirds have four scoring in double digits, led by junior Ava Schultz (13.3 ppg, 74 3-pointers).
Muskegon Heights Academy (9-8) vs. Adrian Lenawee Christian (18-6)
Lenawee Christian is back at the Quarterfinals for the third time in four seasons (not counting 2020's COVID-related early ending). Senior guard Kylie Summer is the leading scorer at 11.3 points per game, and she's drilled 62 3-pointers. Muskegon Heights is coming off its first Regional title since 1995 and has won seven of its last nine games. The future looks bright as well, as the team starts all sophomores and juniors.
Plymouth Christian Academy (20-4) vs. Genesee Christian (20-4) at St. Clair Shores Lake Shore
Plymouth Christian Academy entered the postseason as the No. 1 overall seed in Division 4, and has returned to the Quarterfinals for the second time and first since 2013. Genesee Christian is making its first appearance in this round. Lone senior Anna Fernandez paces PCA at 17.1 ppg, while Genesee Christian is similarly well-positioned for the future with a freshman and sophomore in the starting lineup.
Second Half's weekly "Breslin Bound" previews and reviews are powered by MI Student Aid, a part of the Office of Postsecondary Financial Planning located within the Michigan Department of Treasury. MI Student Aid encourages students to pursue postsecondary education by providing access to student financial resources and information. MI Student Aid administers the state's 529 college savings programs (MET/MESP), as well as scholarship and grant programs that help make college Accessible, Affordable and Attainable for you. Connect with MI Student Aid at www.michigan.gov/mistudentaid and find more information on Facebook and Twitter @mistudentaid.
PHOTOS (Top) Hartland's Gracey Metz (23) works to get the ball upcourt against Clarkston last week. (Middle) Country Day's Aysia Yokely (21) bursts past halfcourt during last week's win over Livonia Clarenceville. (Top photo by Terry Lyons, middle photo by Douglas Bargerstock.)