Norris Center Offers Track Athletes 'Perfect' Early-Season Indoor Opportunity
SAULT STE. MARIE — Weather conditions in early April can sometimes be frightful in the Upper Peninsula.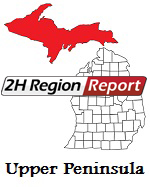 On a day with snow showers falling outside, eight schools took advantage of an opportunity to compete in Friday's indoor track & field meet at Lake Superior State University's Norris Center.
"The first meet of the season is very important to me," said Alpena senior Madi Szymanski, who plans to run cross country and track at Northern Michigan University. "This gives me a starting base and a better idea of where I'm at. I prefer to run outdoors, but I'm very grateful to be indoors today. Conditions are always perfect inside."
Szymanski was a triple-winner in the LSSU Large School Yooper Invitational, taking the 800-meter run in 2 minutes, 28.26 seconds, the 1,600 (5:27.83) and helping the Wildcats take the 1,600 relay (4:44.39).
"I've been doing indoor meets during the winter," she said. "I go to Saginaw Valley a lot and have been to Central Michigan and Eastern Michigan, but this is my favorite 200-meter track. I always look forward to coming here. It's real exciting and my adrenalin is very high. It's always great to do well in the first races."
This marked the first of just three indoor meets in the U.P. this season. Many U.P. schools were scheduled to compete in the Michigan Tech Keweenaw Classic on Tuesday in Houghton with another indoor event taking place April 21 at LSSU.
Both Alpena teams were crowned champions, and the two Manistique teams placed fourth.
Manistique junior Grant Mason won the boys 400 in a personal-best 56.88 seconds, and the girls opened with a victory in the 3,200 relay (11:34.36).
"I expected it to be a little harder on a 200 track, but ended up with my best time," said Mason. "I had a pretty good start. It's real important to get this meet in. It's a lot warmer in here. Early-season meets aren't very easy to find up here. We had some good competition up here today. The downstate schools are ahead of us because they get an opportunity to see some real good competition."
The Emeralds finished three seconds ahead of the field in the girls 3,200 relay.
"We're pretty happy with our time," said sophomore Emma Jones, who led off that relay. "We still have snow on our track. We've been working on our handoffs inside which is not the same, especially on a 200-meter track. It feels like you're going faster. It's pretty important for us to get this meet in because we haven't been outside. This is the first time many of us have been in our events this year. It was good to see different competition today. This is definitely pushing us to our new potential."
Junior Kelsey Muth, who took the baton from Jones, had similar thoughts.
"It was an awesome feeling to win it," she said. "We went into it not knowing what to expect. That was a real good starting point for us. Emma and I had a real good handoff, but overall we were a little shaky. Our athletic director (Nate Zaremba) has been scheduling meets (we) need to reach the next level. We're excited about going downstate for the first time. We're hoping for nice weather down there."
Jones placed second in the 400 (1:10.14) and Muth was fourth (1:11.64) for the Emeralds, who resume in Friday's Ram Scram at Harbor Springs.
"I think today was a good first showing," said Emeralds' coach Amy Nixon. "In the first meet of the year, you never know what to expect and we had some girls step up. Some of the new girls stepped into events which others couldn't. We're proud of them for being willing to do that. Now we know what the girls are capable of doing. It's fun to compete again."
The Manistique boys secured fourth place by taking third in the 1,600 relay (4:03.25).
"Overall, the meet went well," said Emeralds boys coach Cody Kangas. "Some guys did some real good things, and Grant did a great job in the 400."

John Vrancic has covered high school sports in the Upper Peninsula since joining the Escanaba Daily Press staff in 1985. He is known most prominently across the peninsula for his extensive coverage of cross country and track & field that frequently appears in newspapers from the Wisconsin border to Lake Huron. He received the James Trethewey Award for Distinguished Service in 2015 from the Upper Peninsula Sportswriters and Sportscasters Association.
PHOTO Athletes took advantage of the opportunity to compete indoors at Friday's Yooper Invitational at Lake Superior State University. (Photo by Robert Roos/Sault Ste. Marie Evening News.)