Heethuis Retires from Unity Boys, Readying Another Girls Title Contender
HUDSONVILLE – Randy Heethuis has cut his coaching workload in half.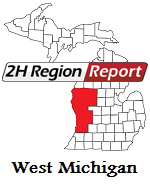 The longtime and successful Unity Christian soccer coach announced last month that he'll be stepping down from the boys program after 28 years at the helm.
Heethuis is still coaching the girls squad this spring, however, after a health scare last fall altered his priorities.
Heethuis suffered a small stroke following the boys season in October and underwent heart surgery in November to close a hole in his heart.
"When something like that occurs in your life, it causes you to take a step back and reflect a little bit and reprioritize things," said Heethuis, who guided the boys to five state championships and seven Finals appearances during his tenure.
"As far as I know it's all good and I'm feeling great, but it's one of those medical experiences that at my age causes you to reevaluate."
Heethuis, who turns 60 in a couple months, said he also felt the desire to spend more time with his growing family.
His fifth grandchild was recently born, with another one on the way this fall.
"Just being more accessible to spend time with them and be able to help out with them and go to their games," Heethuis said. "That was also a big piece of the equation, and as long as I've been doing this it gets tougher and tougher. I just felt like all things considered, and at my age, that it was becoming increasingly more difficult for me to give 100 percent to both programs."
"It was an extremely difficult decision, but I just really felt that this is what I was being led to and it's been a great run," Heethuis said. "I've enjoyed 28 years doing that, and over the years I've really been blessed to have some fine families and awesome siblings to coach.
"It was a real blessing for me to coach that long, but I just felt like someone a little younger and with more energy might have an opportunity to put their stamp on the program and to carry the torch moving forward."
Heethuis has been asked why he decided to keep coaching the girls and not the boys.
There wasn't any strong reasoning behind it other than he began his career coaching the girls at Unity 33 years ago.
"I coached the girls for five years before taking on the boys, and this is a nice way to bookend a coaching career," Heethuis said. "I'm not sure how long the good Lord will bless me to continue (with) the girls, but for the foreseeable future I would like to continue in that respect. Only time will tell."
Heethuis (502-90-52) ranks among the winningest coaches in MHSAA boys soccer history and tops the list for girls coaches (579-102-38) having also led the Crusaders girls to 10 Finals championships.
The girls opened this season with a tough 1-0 loss to a talented Hudsonville squad, but are unbeaten since. 
"I was pleased with how hard our girls competed and played hard and battled, but unfortunately, we came up one goal short," Heethuis said. "Those are the types of games, as a coach, you hope will make you better moving forward."
Unity, which is led by returning players Morgan Scholten (goalkeeper), Brianna Rose, Jessie Postma, Jenna Schreiber, Laura Moberg, Jade Taylor, Kyah VanKoevering and Molly Vollink, reached the Division 3 Semifinals last season before losing to Boyne City in a shootout.
"Last year this group snuck up on some people and had a great year," Heethuis said. "The only game we lost was in the state Semifinal and we were two or three minutes away from making it to the Finals. 
"I think we have to try and build on that and hopefully the girls have a hunger for getting back there and wanting to do that again and take it a step further."
Rose, a junior, believes this year's team can replicate last year's success.
"We have a lot of potential," she said. "We have great additions and returning girls on the team. So far, you can see the motivation in everyone from last season's tough loss. Everyone on the team shows up and works hard not only for themselves, but more importantly for each other.
"We want to win another state title. Who wouldn't? And hopefully we can make the season last as long as it can. What I think sets our team apart from the rest is the bond and hard work we do for ourselves and each other with the main goal of honoring our Lord."
The Crusaders have a balanced mix of returning players and newcomers who will attempt to keep the program's commitment to excellence intact.
"It's early, but the chemistry on this team is really good and it's a fun group to be around," Heethuis said. "We will hopefully take it one game at a time and get better as the season goes on, because there's real potential there to get it all put together by the end of the year. We hope to do it sooner than later."

Dean Holzwarth has covered primarily high school sports for Grand Rapids-based WOOD-TV for four years after serving at the Grand Rapids Press and MLive for 16 years along with shorter stints at the Ionia Sentinel and WZZM. Contact him at dream100@comcast.net with story ideas for Allegan, Kent and Ottawa counties. 
PHOTOS (Top) Unity Christian soccer coach Randy Heethuis and his boys team prepare for the kickoff of the 2018 Division 3 Final. (Middle) Heethuis accepts the Division 3 championship trophy with his girls team in 2016. (Click for more from Hockey Weekly Action Photos.)