Performance of the Week: Forest Hills Central's Theryn Hallock
Theryn Hallock ♦ Grand Rapids Forest Hills Central
Soccer ♦ Senior
Hallock poured herself fully into basketball over her three years at Forest Hills Central, and before this spring hadn't played competitive soccer since eighth grade. But her high school debut on the pitch has been nothing short of sensational. Hallock scored a hat trick (three goals) in four straight games, including an April 12 victory over Byron Center, which like FHC made the MHSAA Semifinals in 2021 – the Rangers in Division 1 and Byron Center in Division 2. After falling 2-1 to Richland Gull Lake in its season opener, Forest Hills Central is 6-1 this spring.
Hallock remains much more known for her accomplishments on the basketball court. A 5-foot-9 guard, Hallock was a Miss Basketball Award finalist this winter and averaged 26 points with 11.4 rebounds, 6.5 steals and 4.8 blocks per game. She will continue her basketball career at Michigan State, following her father Ty and brothers Tanner and Tate who all have played football for the Spartans; Tate is a junior this spring.
Follow the MHSAA on TikTok.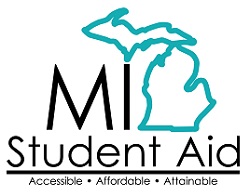 Second Half's "Performance of the Week" features are powered by MI Student Aid, a part of the Office of Postsecondary Financial Planning located within the Michigan Department of Treasury. MI Student Aid encourages students to pursue postsecondary education by providing access to student financial resources and information. MI Student Aid administers the state's 529 college savings programs (MET/MESP), as well as scholarship and grant programs that help make college Accessible, Affordable and Attainable for you. Connect with MI Student Aid at www.michigan.gov/mistudentaid and find more information on Facebook and Twitter @mistudentaid.
2021-22 Honorees
April 14: Kaitlyn Pallozzi, Farmington Hills Mercy softball - Report
April 7: Mason Docks, Williamston basketball - Report
March 24: Mya Petticord, Ypsilanti Arbor Prep basketball - Report
March 16: Charley Bayer, East Grand Rapids diving - Report
March 9: Ja'Marcus Smith, Detroit Mumford wrestling - Report
March 2: David Schaberg, Holt bowling - Report
Feb. 24: Adelaide McRoberts, Kingsford swimming - Report
Feb. 17: Christopher Kavanaugh, Petoskey hockey - Report
Feb. 10: Ira Jenkins, Whitehall wrestling - Report
Feb. 3: Emma Stewart, Salem gymnastics - Report
Jan. 28: Tyler Ray, Pinckney swimming - Report
Jan. 21: Elle Craven, Traverse City Central skiing - Report
Jan. 14: Nevaeh Williams, Mount Clemens basketball - Report
Dec. 2: Lucas Dunn, Chelsea football - Report
Nov. 25: Riley Nugent, Plainwell swimming - Report
Nov. 18: Harper Murray, Ann Arbor Skyline volleyball - Report
Nov. 11: Abby VanderKooi, Muskegon Western Michigan Christian cross country - Report
Nov. 4: Arianne Olson, Holland West Ottawa cross country - Report
Oct. 28: Jack Guggemos, Okemos soccer - Report
Oct. 21: Sachiv Kumar, Northville tennis - Report
Oct. 14: Kate Brody, Grand Blanc golf - Report
Oct. 7: Lilly Nelson, Negaunee tennis - Report
Sept. 30: Stella Chapman, Ann Arbor Pioneer swimming - Report
Sept. 23: Riley Hough, Hartland cross country - Report
Sept. 16: Josie Bloom, Pontiac Notre Dame Prep volleyball - Report
PHOTO Forest Hills Central's Theryn Hallock (23) pursues the ball against Forest Hills Northern last week. (Photo courtesy of the Hallock family.)