Muskegon Oakridge Surging Again, but with Switch to Heavy-Hitting Style
Don't expect much "small ball" from the Muskegon Oakridge softball team.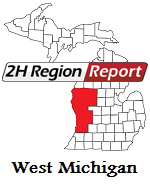 While veteran Oakridge coach Joe Coletta has fielded speedy teams in the past that terrorized opponents with stolen bases and bunting, this year's edition manufactures runs the old-fashioned way – by swinging for the fences.
"We don't have any girls at the top of the order that are going to steal bases – I'll just let everybody know that," said Coletta with a smile, after his team improved to 13-0 on Wednesday with two come-from-behind wins over visiting West Michigan Conference rival Ravenna, which also entered the showdown unbeaten.
"We're not a speed team; we're a long-ball hitting team. We have to be patient at times, but the long ball can change the game in a hurry."
It certainly took some patience Wednesday, as Ravenna junior ace Emma Gillard baffled the Eagles early with her changeup, leading many in the crowd to wonder if they were witnessing a changing of the guard in WMC softball.
Then came the fifth inning.
The Oakridge "Smash Sisters" went to work and scored 11 runs, turning a scary 5-0 deficit into a comfortable 11-5 lead. The Eagles did it with not one, not two, but three over-the-fence home runs in that pivotal inning.
The lead basher for the Eagles is senior second baseman Jasmine "JJ" Pastor, who struck out in her first two at-bats Wednesday before getting her team on the board in that big inning with a two-run homer over the left-centerfield fence.
"I knew what happened the first two at-bats, and I knew it was time for me to step up," said Pastor, a Muskegon Community College commit who is batting .444 with a team-high six home runs and nine doubles.
Pastor's shot opened the floodgates, with the biggest hit of all coming from junior catcher Andrea Romero-Serrano (who bats sixth in the lineup), who belted a grand slam to give the Eagles a 6-5 lead. The final long ball of the inning came from sophomore first baseman Madison Clark, a lefty who pulled one over the rightfield fence for her team's final runs in an 11-6 win.
The Eagles' power is not contained to the top of the batting order, either, as eight of the nine starters have hit out-of-the-park home runs this spring.
Oakridge, which is ranked No. 7 in Division 2, had to rally again in second game, falling behind 6-3 heading into the sixth inning.
That was when the bottom of the Eagles' batting order sparked another rally. Freshman Brenna Cabrera and sophomores Ahria Doornbos and Mallori Whipple all singled, leaving the bases loaded for Pastor.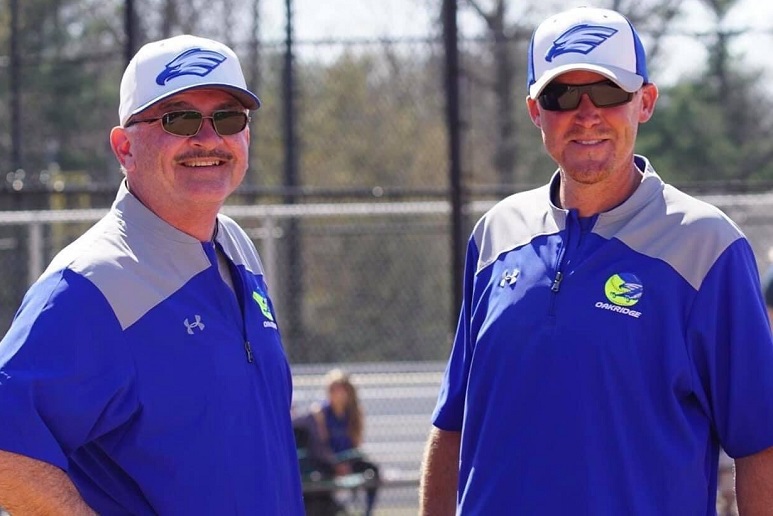 After swinging wildly at a pair of lethal changeups from Ravenna freshman Addison Gillard, Pastor was ready for the third off-speed pitch, waiting on it perfectly and smashing a game-changing grand slam. Oakridge would add a pair of insurance runs in the top of the seventh for a 9-6 win.
Kaelinn Jozsa, a sophomore shortstop, leads Oakridge with a .600 batting average and three home runs. Other leading hitters are senior Brooklyn Galdeen (.467, two home runs), Clark (.412, two home runs) and senior centerfielder Delaney Ruel (.410).
Galdeen is the Eagles' ace pitcher, with seven wins. Josza has five wins, and freshman Kylee Willea earned a gutty win in her first start of the season in Wednesday's nightcap against Ravenna.
Oakridge now has a leg up as it seeks its sixth-straight WMC title. The Eagles have been the premier softball program in the Muskegon area over the past decade, winning seven District titles under Coletta. The highlight was a four-year stretch from 2016 to 2019, when the Eagles won 30 or more games each season.
Coletta said that Pastor, one of three seniors in the Oakridge starting lineup along with Galdeen and Ruel, was more vocal than he's ever seen her at practice leading up to Wednesday's showdown. Pastor said she was motivated by last year's matchup with Ravenna, when the Bulldogs snapped the Eagles' incredible 65-game conference winning streak in a doubleheader split, leading to a shared league championship.
"It's just great competition between us and always back-and-forth," said Pastor, whose father, Red Pastor, has coached her for many years in travel softball and is the Eagles' longtime assistant coach. "Knowing that we have Ravenna right there, coming after us, pushes us even more."
The two teams are likely to square off again in Saturday's Greater Muskegon Athletic Association County Tournament, where Ravenna (16-2) will certainly be out for revenge.
One of the nice aspects of the budding softball rivalry between the two neighboring school districts is that they will go their separate ways in the postseason, with Oakridge in Division 2 and Ravenna in Division 3.
For Coletta, a three-sport athlete at Ravenna who has now won 280 games in 14 years as the Oakridge softball coach, the softball diamond is just the latest stage for one of the state's best prep rivalries - which has been part of his life since he was a little kid.
Coletta served as the longtime offensive coordinator at Oakridge under Jack Schugars, the winningest football coach in Muskegon-area history. The Oakridge-Ravenna football rivalry ran red-hot during those years, particularly a 15-year stretch from 1994 to 2008, when the Bulldogs won four state titles and the Eagles won three.
"When I came over here to coach football, the rivalry was very intense," said Coletta, who returned as softball coach this spring after stepping down in 2019. "I really enjoyed that rivalry, and now it's going to be just like that for a while in softball – we both have some great young players. If you're a competitor, this is exactly what you want."

Tom Kendra worked 23 years at The Muskegon Chronicle, including five as assistant sports editor and the final six as sports editor through 2011. E-mail him at kendra.tom@gmail.com with story ideas for Muskegon, Oceana, Mason, Lake, Oceola, Mecosta and Newaygo counties.
PHOTOS (Top) Muskegon Oakridge senior second baseman Jasmine Pastor connects at the plate. Pastor is batting .444 this season with eight home runs and nine doubles for the Eagles, who are 13-0 and ranked No. 7 in Division 2. (Middle) Head coach Joe Coletta, left, and assistant Red Pastor have built the Oakridge softball program into one of the best in West Michigan. (Photos by Sherry Wahr.)