Ironwood's Smith Sisters, Bessemer's Stone Set Fast Pace in Western UP
IRONWOOD — There are at least three shining stars on the western horizon in Upper Peninsula girls track as Ironwood junior Lilley Smith, her freshman sister Aubrey and Bessemer junior Natalie Stone are setting the pace among distance runners on the Gogebic Range.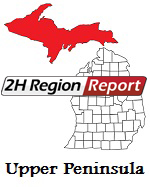 Aubrey Smith won the 1600-meter run at 6 minutes, 0.5 seconds in last Monday's Jack Kraemer Invitational on a cloudy and chilly day at Longyear Field.
Stone, who had been dealing with leg issues, was runner-up at 6:11.47, and Lilley Smith took fourth (6:14.03), just 34 hundredths of a second behind senior Olivia Soltero of Washburn-Port Wing South Shore (Wis.).
Lilley then dominated the 3,200 at 13:34.16, nearly two minutes ahead of the field.
"In distance running we're competitive, yet everybody is friendly," said Lilley Smith. "You gain respect for yourself and others.
"Aubrey has an amazing kick. We started real early. I started in seventh grade and fell in love with it."
Aubrey Smith was in sixth grade when she began her running career.
"Our mom ran marathons and told us great stories about running," she said. "When you're done with a race, you look back at what you did and you're proud of what you accomplished."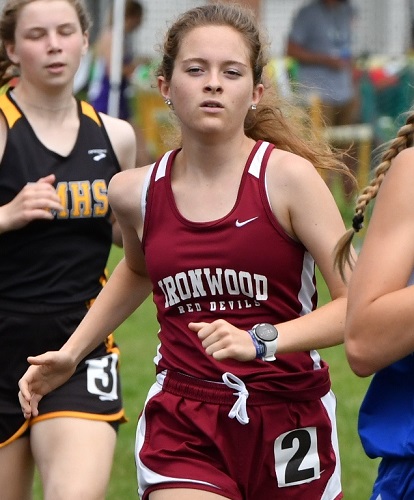 Stone also ran in the 1,600 relay in which the Speedgirls took fifth.
"Everything is very tight," she said. "I felt good today, but I'm still a little sore. I'm just so happy to be able to run because I love it so much. Running is a lifetime sport, and I want to do it all my life. I had missed six weeks. This is only my second day back, and my lungs aren't quite there yet."
Last fall, Aubrey Smith was runner-up and Lilley placed sixth at the Upper Peninsula Division 2 Cross Country Final at Marquette. Smith was third in the 1,600 and second in the 3,200 at last spring's UPD2 Track & Field Finals.
"Aubrey is very talented and hard working," said Ironwood cross country coach Ben Schmandt. "It's challenging for a freshman to compete at the highest level. Lilley is also one of the hardest workers on the team. She exemplifies perseverance. She fell down at Hancock and was the first one to finish (fourth overall in cross country) with bleeding feet. That's dedication in the truest form. She's one of the most coachable kids we've had."
Stone placed third at the UPD2 Cross Country Final and in the 1,600 in UPD3 last spring at Kingsford behind Mid Peninsula's Landry Koski and Rudyard's Tristan Smith.
"Lilley and Aubrey push me, and I push them," said Stone. "It's so much fun to run with them. Hopefully, the U.P. Track Finals will go better for me this year. Landry is a very good runner. She just came from behind and won it. She has a real strong kick."
Bessemer coach Tracy Rowe refers to Stone as one of the team's leaders.
"Natalie is a great runner," she said. "You feel so bad for kids when they get hurt. I'm just glad she can run and feels better."
At Friday's Ontonagon Invitational, Aubrey Smith placed fourth (6:10.8) and Lilley was fifth (6:11.2) in the 1,600. Lilley then took second in the 3,200 (13:10.3).
"We enjoy running with each other," Aubrey said after the meet in Ironwood "We give each other the thumbs up when we pass each other in a race."
"I love Natalie," Smith added. "I've been running against her since middle school."

John Vrancic has covered high school sports in the Upper Peninsula since joining the Escanaba Daily Press staff in 1985. He is known most prominently across the peninsula for his extensive coverage of cross country and track & field that frequently appears in newspapers from the Wisconsin border to Lake Huron. He received the James Trethewey Award for Distinguished Service in 2015 from the Upper Peninsula Sportswriters and Sportscasters Association.
PHOTOS: Bessemer's Natalie Stone leads a race during last season's UPD3 Finals at Kingsford. (Middle) Ironwood's Lilley Smith is among those pacing the pack during last season's UPD2 Final in the 1,600. (Photos by Cara Kamps.)