Brown's Road Leads to Multi-Sport Stardom
April 4, 2019
MADISON HEIGHTS – It's been nearly 10 years since Madison Heights Madison had a three-sport athlete that competed at the level Austin Brown has the past two seasons.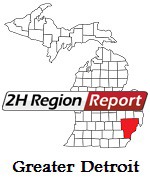 Valdez Showers was a versatile athlete for Madison in 2009 and 2010. He played defensive back and rushed for more 2,000 yards his senior football season, then played basketball and sprinted for the track team before heading to University of Florida as a receiver/defensive back/kick returner. 
Twenty-five years ago Madison boasted another three-sport athlete who gained much attention. Brown's father, Jim, played football and baseball for four years, and as a senior he also played on the varsity basketball team. Jim Brown was named first team all-state in football in 1992 and went on to play two seasons at Wayne State before graduating in 1998.
The past two seasons Austin Brown was named first team all-state in both basketball and football. Brown's third sport, baseball, might be his best although he was not named all-state on the diamond last season.
Certainly many other athletes have competed at a high level at Madison over the years. The Johnson brothers, Deandre (2007 graduate) and Juan (2015), both star running backs, come to mind. But as far as three-sport athletes, the Browns and Showers are a cut above.
As far as enrollment, Madison isn't your typical Oakland County school. Those in Rochester, Troy, Walled Lake and other communities have more than 1,000 students. Madison's pool of athletes is not as deep with an enrollment hovering around the 300 mark. There were just under 600 when Jim Brown was starring, and 450 when Showers was making headlines.
It's perhaps too soon to come to a conclusion as to whom of the three is the better overall athlete, but soon Austin will get his chance to prove himself at the collegiate level in two sports.
Austin Brown, who turned down scholarship offers from Division I schools for football and baseball, signed with Grand Valley State for both baseball and football. At 6-foot and 195 pounds, Brown was recruited as a quarterback and in baseball is expected to play infield and get a shot at pitching.
"It's a great opportunity," he said. "My dad was excited about Marshall when I committed (for baseball). Then I told him football was my first love. Grand Valley was always there. Grand Valley was always in the picture. I committed to Marshall in August (2018), and I had time to think about it. I wasn't going to have anyone pressure me."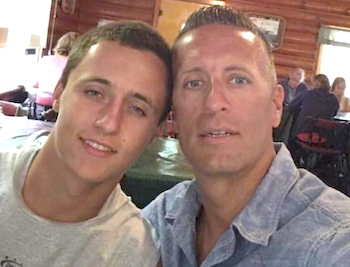 The earliest high school student-athletes can sign a letter-of-intent for baseball is November of their senior year, so Brown had more than two months to reconsider his collegiate future.
The recruitment of Austin Brown began, seriously, when he was in junior high. He has competed at a high level in both baseball and football since he was 10. He participated on baseball travel teams that took him Florida and Texas. At quarterback, Brown led Our Lady of Victory, located in Northville, to Catholic Youth Organization titles in seventh and eighth grade. His football play earned him a scholarship offer from University of Akron. Miami of Ohio would offer Brown a scholarship a year later.
Brown enrolled at Detroit Catholic Central, located in Novi and six miles from Our Lady of Victory, his freshmen year. Brown started the last 10 games that season and led Catholic Central to a Division 1 Regional Final. As a sophomore, Brown led the Shamrocks to the Division 1 championship game, although he didn't play in the loss to Detroit Cass Tech – near the end of the first quarter of the 17-0 Semifinal victory over Romeo, Brown suffered a broken left fibula. The injury not only ended his season, but prevented him from playing basketball that winter.
The incident added to what had already been a period of change for Brown. Citing burnout, Brown gave up playing baseball before entering Catholic Central. His leg rehabilitation gave Brown time to think, and talk with his father, about his future. Jim Brown has three sons and one daughter, and nothing in dad's life is more important than their future. In Austin's case, at this particular time, it was decided that he should transfer to Madison, where Jim Brown was and remains the athletic director.
"I felt like I had something to give back (to Madison Heights)," Austin said. "I wanted to bring a state championship home."
There was more. Austin's older brother, Nick (Wallace), graduated from Madison in 2013. Extended family lives in the Madison area including Jim Brown's father John Brown, who was responsible for encouraging his son Jim to participate in athletics in the first place. Austin has had the opportunity to play baseball with his younger brother, Dylan, now a sophomore. The move brought Austin closer to his family and, in the end, that's what Jim and his wife, Nicole Brown, are all about.
"My dad was big into sports, and it filtered down," Jim said. "I used to take Austin on trips (playing baseball) when he was 2-years-old. He'd pick up bats and things like that.
"I was one of the better athletes in our school, but he's at another level. The moment was never too big for him. As a freshman, competing against (Birmingham) Brother Rice and (Warren) DeLaSalle, and competing at a high level, it was awesome to see.
"Kids and parents came out to see him play. He's one of those kids who put it all together. He doesn't get past the moment. Some will look past high school and already be thinking about college. He enjoys every game."
In retrospect, the move to Madison paid off in a number of ways for Austin. One, by returning to the diamond he regained his three-sport status, thereby opening the door to play baseball in college. He admitted "he got the love back" for the sport almost instantaneously. Last season he batted .604, was 5-1 on the mound and set a school record (tied for seventh in MHSAA history) with 20 strikeouts in a game.
Two, he was instrumental in making Madison a winner on the basketball court and football field. In 2017 he led the Eagles to their first MHSAA Semifinal appearance since 2006 (when they finished Division 5 runner-up), and last season Madison reached a Final for just the second time in school history. Brown was outstanding in his team's 50-44 loss to New Lothrop – completing 17 of 30 passes for 298 yards and two touchdowns and running for 105 yards and four touchdowns on 25 carries. His 403 total yards tied for fifth-most in a championship game, and the four rushing TDs tied for third most.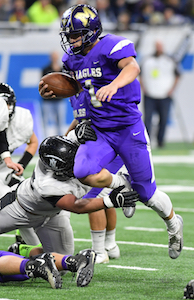 In basketball, Madison had one of its best seasons this winter in 20 years or more. The Eagles won the Macomb Area Conference Silver with a 9-1 record and finished 21-4 overall losing to Detroit Edison in a Division 3 Regional Final. The season highlight – and one of the most exciting games in the Detroit area all season – was Madison's 73-71 District Final victory over one of the most storied programs in state history, Detroit Pershing. Brown, who averaged 22.8 points, made the winning 3-pointer as time expired.
It's a play his father won't soon forget.
"As a parent, it makes your stomach turn, plays like that," Jim said. "First, it was against Pershing. They've won like four (Class A) titles. It was a packed gym at (Madison Heights) Bishop Foley with a lot of local people there. And Pershing travels well, too. It's one of those things you can't get out of your mind."
Through it all, Austin remains modest. Again, that comes from his family, particularly his parents and older brother. He's confident, but not one to boast.
"You'll see a lot of kids with his talent have a big ego," said Madison varsity baseball coach Scott Labrash. "He's a humble kid. It's wonderful to see that. It's easy on me. The little things I don't have to remind him of. His attitude is contagious."
Austin said he's uncertain just which sport is his best. He did say he has more fun playing football. His father said, in the end, baseball could be his best – adding that it's possible Austin could be selected in the June MLB Amateur Draft.
His season and career statistics stack up against most. In his two years at Madison he threw for 5,030 yards with 56 touchdowns and just eight interceptions in 462 attempts. He also rushed for 2,337 yards and 45 touchdowns. Brown's eight touchdown passes in a half in the 2017 opener is an MHSAA record and one off the record for an entire game.
Including his time at Catholic Central, Brown has accounted for nearly 10,000 yards (passing and rushing) in offense and 127 touchdowns.    
But this is the most important statistic, at least on the field: As a quarterback, Austin is 46-4. He lost just two games in his 23 starts at Catholic Central.
Off the field, his grade-point average is 4.0. He received a B just once, in his freshman English class. He's expected to finish as class valedictorian and has been selected as one of just six finalists for the Detroit Athletic Club Male "Athlete of the Year" Award.
Exhale.
"If I'm not busy, I don't know what to do," Austin said. "My dad shows me what to do, and I listen to him. I'm going to try my best to be a good reflection of my parents."

Tom Markowski is a correspondent for the State Champs! Sports Network and previously directed its web coverage. He also covered primarily high school sports for the The Detroit News from 1984-2014, focusing on the Detroit area and contributing to statewide coverage of football and basketball. Contact him at tmarkowski@statechampsnetwork.com with story ideas for Oakland, Macomb and Wayne counties.
PHOTOS: (Top) Madison Heights Madison's Austin Brown has shined in football, basketball and baseball. (Middle) Brown and his father Jim. (Below) Brown breaks through the line during the Division 7 Football Final at Ford Field. (Baseball photo courtesy of C&G Newspapers.)