D3 Contenders Hold On for 1-run Wins
June 16, 2017
EAST LANSING – It looked like a mismatch. Madison Heights Bishop Foley, an annual powerhouse with plenty of pitching that had breezed through the tournament, against a sub-.500 team with little past tournament success.
It was anything but. Caro put a scare into the Ventures, but Bishop Foley held on for a 3-2 victory in a Division 3 Semifinal at Michigan State's McLane Stadium on Friday.
Bishop Foley (24-12) will play top-ranked Traverse City St. Francis for the title at 2:30 p.m. Saturday.
St. Francis (38-3) advanced to its first Final thanks to some fine pitching and Cooper Peterson's sacrifice fly in the eighth inning that pushed across the winning run in a 3-2 victory over Schoolcraft.  
Bishop Foley, ranked No. 7 heading into this postseason and Division 3 champ from 2011-13, is a member of the highly competitive Detroit Catholic League, and the Ventures weren't expected to be tested by a team that started 0-7 and had to adjust to a coaching change after the slow start.
Ethan Hoffman went the distance for the victory as he struck out 11 and surrendered two hits, one walk and one earned run.
The Ventures scored runs in the first, third and fifth innings off Deven Hodder. Although they didn't have many hard-hit balls, the Ventures appeared to be in good shape going into the top of the sixth inning.
But Caro's Dylan Brown led off with a triple and scored on Conner Langenburg's sacrifice bunt. Langenburg reached base on an error and later scored on a failed pickoff attempt. The Tigers had the tying run on first when Steven Strachan III was hit by a pitch, but the inning ended on a failed stolen base attempt.
Hoffman then set the side down in order in the seventh inning, sending the Ventures to their fifth MHSAA Final.
"I came in and did my routine," Hoffman said. "Everything was working. I established my fastball early. That sixth was pretty nerve-racking. That seventh showed I could come back from that."
Bishop Foley made a couple of base-running miscues as well. Evan Finegan knocked in the Ventures' first run with a single but Justin Campbell, who had drawn a walk one batter earlier, was picked off of second to end the inning.
A Campbell single scored Finegan for Bishop Foley's third run in the fifth inning, but a pickoff ended that rally as well.
Second-year Bishop Foley coach Greg Fettes is happy to be in the Final, but he wasn't pleased with the overall play of his team.
"I told my guys that the only team that's going to beat us in this tournament is ourselves," Fettes said. "You almost saw that in the sixth. We haven't done that all year. We looked like a Little League team."
Fettes wasn't pleased with his players' approach at the plate either. Bishop Foley had scored 36 runs over its last three games entering Friday.
"That's what we do, swing, swing, swing," he said. "Look at our playoff wins. I'll have them ready to go (on Saturday)."
Caro (15-22) outplayed Bishop Foley defensively. Shortstop Mason Campbell made a leaping catch to rob Finegan of a hit to start the sixth and Strachan, the first baseman, made an over-the-shoulder catch going down the foul line to retire the next batter.
Caro coach Victor Gomez said it was a smooth transition for him when he took over the program. He was an assistant for two seasons and was familiar with the players.
"We just had to let the kids know we believed in them," he said. "I watched them grow up. I saw they had the skill set."
Traverse City St. Francis 3, Schoolcraft 2
Joe Muzljakovich pitched the first 6 2/3 innings for St. Francis and kept his team in the game by getting out of bases loaded situation in the fifth. He was removed with the bases loaded in the seventh, and Conner Sweet came on in relief and threw one pitch to get out of that jam.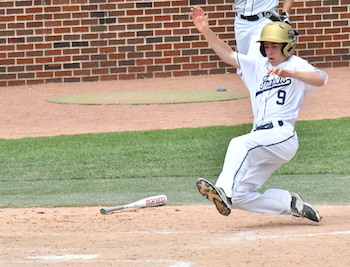 Gabe Callery, the leadoff hitter, led off the eighth for St. Francis with a walk and ended up at third base after a failed pick-off and sacrifice. Junior Cooper Peterson came up to bad and did what coach Tom Passinault told him to do.
"He told me just to get a piece of the ball," Peterson said. "He said get it to the outfield. I just kind of poked it. (Darren Kehoe) threw me a curve and I was a little out front."
Ricky Clark batted in Schoolcraft's first run in the first inning with a ground out that scored Nolan Anspaugh, who had tripled. Anspaugh also scored in the third on a sacrifice fly after reaching base on a double.
Blake Bales pitched well for No. 5 Schoolcraft (25-11), as he went 6 2/3 innings, allowed three hits and struck out eight.
Sweet picked up the victory for the Gladiators, allowing a walk and one base hit. 
PHOTOS: (Top) Bishop Foley's Ethan Hoffman delivers a pitch during the first Division 3 Semifinal on Friday. (Middle) St. Francis' Artie Dutmers slides into home for one of his team's three runs.