D3 Finalists End Long Waits to Return
June 12, 2015
EAST LANSING – Except for a couple of hiccups, Jackson Lumen Christi coach Phil Clifford's game plan could hardly have worked better Friday.
And now Clifford has his rotation all set for the MHSAA Final.
Pitching on two day's rest, Zach Mehelich went four innings and gave up two runs as Lumen Christi defeated Elkton-Pigeon-Bay Port Laker 7-3 in a Division 3 Semifinal at McLane Stadium on the campus of Michigan State University.
Chris Cooper's triple produced the game's first run, and he scored on Connor Mogle's single to give the Titans a 2-0 lead in the bottom of the second inning. Cooper's drive to right fooled the outfielder as he came in a few steps before retreating, but the ball went over his head.
"I just go up there and swing the bat," Cooper said. "I go up there to hit, not take pitches.
"I saw (the outfielder) charge it a little bit. I just kept on running, hoping I wouldn't catch Joe (Mehelich)."
Lumen Christi (23-16), winners of seven straight, will play Buchanan (24-7) for the title at 2:30 p.m. Saturday.
The Titans added another run in the third inning and broke open the game with a four-run fourth.
"Zach threw 130 pitches and went 10 innings on Tuesday," Clifford said. "We wanted to get some innings out of him today. We wanted four, and we got four."
Saturday's will be the Titans' second MHSAA Final appearance. They won the 1978 Class B title with a 10-6 victory over Spring Lake.
Clifford's plan is to use Mehelich, 10-2 now after earning the victory, in relief if needed. Clifford might go with Josh Iocca, who threw the final three innings to get the save Friday, or go with Josh Fleming, who started at catcher.
"It's the Final," Clifford said. "Anyone who can pitch is available."
Normally a strong team defensively, Lumen Christi committed three errors. The first two didn't play into the scoring, but the third one did.
Trailing 3-0, the Lakers (22-11) broke through with a run on Austin McCabe's RBI double. McCabe then scored on an infield error to make it 3-2 going into the bottom of the fourth.
Lumen Christi's defense saved at least one run during the previous inning. With one out, Jacob Periso reached base on an infield error and went to third on Brady Post's single. Dustin Kady then hit a fly to fairly deep right field, where Zach Spicer made the catch and threw one hop to Fleming, who put the tag on Periso to end the inning.
"I thought I'd be late on the bounce," Spicer said. "It was pretty cool. It was great for our confidence."
Despite the loss, this was the Lakers' best season. They had never won a Regional before this spring.
Laker coach Adam Grybauskas said Spicer's throw was perhaps the key play of the game.
"The throw from the outfield was a perfect throw," Grybauskas said. "A foot here or a foot there and he's safe."
Buchanan 6, Gladstone 4
Buchanan trailed Gladstone 3-0 after two innings before Kyle Leazenby relieved Jarrett Thomas and held the Braves to a run on five hits.
The Bucks haven't been to a Final since 1985, when they defeated Grandville Calvin Christian, 3-2, for the Class C title. Buchanan also lost in the 1981 and 1982 Class C Finals.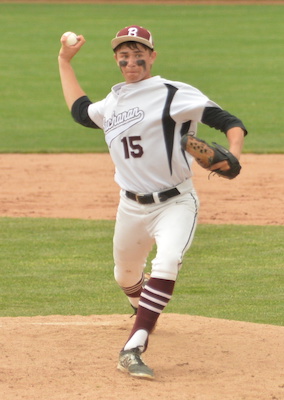 Buchanan scored two in the third inning Friday and took its first lead, 5-4, in the bottom of the fifth scoring three runs, two unearned.
Thomas had the big hit in the inning, a two-run double that tied the game at 4-4. Thomas stole second and came home on Chad Adkerson's sacrifice fly.
"I never found myself on the mound," Thomas said. "I had to keep focusing. I had to do something else to help the team. With two men on, I had to do the job."
Thomas moved to shortstop after being relieved. He threw 145 pitches during Saturday's Regional and seemed tired. He walked five and threw 63 pitches Friday.
Leazenby, a sophomore, set the side down in order in the third and seventh innings, and did not walk a batter. 
He had worked four innings in Tuesday's 7-4 Quarterfinal victory over Lansing Catholic.
"I feel I had a lot more left after Tuesday," Leazenby said. "I was very pumped up. It's a lot different than Tuesday." 
Jake Peterson went the distance on the mound for Gladstone (28-10). He also had three hits and two RBI.
Gladstone is expected to field another fine team next season as coach Don Lauscher had just two seniors and two juniors this spring.
PHOTOS: (Top) A Lumen Christi hitter turns on a pitch during Friday's Division 3 Semifinal. (Middle) Buchanan's Kyle Leazenby prepares to fire during his relief appearance Friday.