First-Time Finalists Ride Pitching Power
June 12, 2015
EAST LANSING – The winning pitchers in the Division 4 Semifinals went all seven innings and combined to give up just three hits on Friday at McLane Stadium on the campus of Michigan State University.
A stoic Devin Comes gave up a single to the first batter, and that was all as the sophomore struck out six and walked one in leading Muskegon Catholic Central to a 4-1 victory over first-time semifinalist Ubly.
MCC (38-1-1) will play Centreville (29-1) for the title Saturday at 5 p.m. Both teams are in the Final for the first time.
Michael Kool tossed a two-hitter and struck out 10 as Centreville defeated Rudyard 2-1 in the other Semifinal.
Comes pitched sparingly as a freshman, but knew his role would increase this season. He's 10-1 and one of a handful of quality pitchers on coach Steve Schuitema's staff.
"We had talked," Schuitema said. "If he threw strikes, we'd be OK. We could have played better defense. Zach Huston made some real good plays at second.
"(Comes) is so unflappable. He doesn't get that from me. I'm a nervous wreck."
MCC committed four errors, and even those mistakes couldn't rattle Comes. Ubly scored its run in the fourth inning on a walk, an error and a ground out by Evan Block.
By that time, MCC had built a 4-0 lead, scoring twice in the first inning and two more runs in the third.
"That 2-0 lead relieves a lot of stress," Comes said. "I still have to do my job.
"I've never been in this situation before. We have a bunch of guys who can throw. I just did my normal routine (to prepare). I just try to stay calm and throw first-pitch strikes."
Nichols Holt's two-run single gave the Crusaders a 2-0 lead in the first. Jacob Holt had an RBI ground out in the third inning and the fourth run scored on an error.
Zachary Winzer had three of MCC seven hits. Anthony Woodard had two hits and a walk.
Jeffrey Wright pitched well for Ubly (22-8), but didn't receive the run support.
"Every coach dreams of playing in a championship game," Ubly coach Jim Becker said. "We were excited, but we're also down we weren't able to get there. We overachieved. I expected us to be .500. All along all we wanted was to win a district."
Centreville 2, Rudyard 1
Kool, a junior right-hander, pitched a no-hitter in the Quarterfinal on Tuesday, 3-0 victory over Climax-Scotts. He retired the first 13 batters on Friday before Owen Mills singled.
Kool struck out 10 and walked two, both in the sixth inning, when Rudyard touched him for a run.
Despite his impressive performance, Kool remained humble.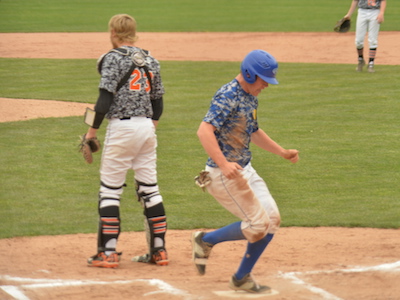 "I just play baseball," he said. "It's not me. It's the team. I felt good. This is the highlight of my career.
"We're still making history for Centreville. We're in the state final."
Centreville took a 1-0 lead in the first inning as Kool scored on a throwing error. Nick Weber scored what turned out to be the winning run when Jalen Brown singled him home with two outs in the bottom of the fifth inning.
Rudyard (30-5) set a school record for victories in a season and was making its third MHSAA Semifinal appearance.
The Bulldogs scored in the top of the sixth inning after Kool walked the first two batters. A sacrifice bunt moved both up, and James Rosebrock singled home Cody Coffey. But Kool struck out the last two batters and retired the side in order in the seventh.
When asked if he thought about removing his ace during the tense sixth, coach Mike Webster said, "I went with my instincts and left him in."
Webster will turn 27 on Saturday, and he said, "The kids gave me the best birthday of my life."
Travis Myers went the distance and took the loss for Rudyard. This was coach Ron VanSloten's last game, as he will retire after 22 seasons to spend more time with his family. He built a career record of 444-186-4. 
"We had a couple of key at bats today," he said. "(Kool) is a good dude. Except for that one inning, he comes right at you."
PHOTOS: (Top) Devin Comes prepares to deliver a pitch during Friday's Division 4 Semifinal win. (Middle) A Centreville player crosses the plate for one of his team's two runs.