Foley, Richard to Meet Again in D3 Final
June 15, 2018
EAST LANSING – It's not the way the winning team would like to finish a game.
But all the same, Madison Heights Bishop Foley did win, and the Ventures will play for a second consecutive Division 3 title.
Bishop Foley led its Semifinal against Gladstone 6-0, then 7-1 after six innings Friday when the game got tight. The Ventures hit three batters in the seventh, and the Braves brought the tying run to the plate.
But sophomore Braden Mussat got the final out on strikes, and Bishop Foley held on for a 7-5 victory to advance again at McLane Stadium on Michigan State's campus.
Bishop Foley (19-17-1) will play Detroit Catholic League rival Riverview Gabriel Richard for the title at 5 p.m. Saturday.
Bishop Foley and Richard do not play in the same division of the league, and the teams met once this season, in a league crossover, that Richard won 8-2.
For Bishop Foley, the sixth inning Friday was nearly as tenuous as the seventh, as Gladstone loaded the bases with one out. Starter Ethan Hoffman struck out the next two batters to maintain a six-run cushion.
First-year Bishop Foley coach Tim McEvoy went to the mound in the sixth to reassure Hoffman that everything was all right.
"I told him that this was his game," McEvoy said. "It was a bit of a jam. He's been there before."
Hoffman was wild, yet effective. He walked six but allowed just two hits. His wildness might have contributed to his effectiveness. He said his fastball is consistently in the high 80s, but he had more to offer on this day.
"My curveball was working really well," he said. "I was trying to keep them off balance. I was wild, but I kept them off balance with my off-speed stuff. They hadn't really squared up on me all day."
Bishop Foley scored in each of the first four innings. A three-run third featured a two-run double by Kenneth Germain.
Gladstone (32-5) got on the board in the fifth on a walk, an error and a ground out.
An RBI single by Ben Alderson in the bottom of the sixth inning pushed Bishop Foley's lead back to six runs, when the game nearly turned upside down.
In the seventh, Carson Shea had a one-out single and Cody Frappier was hit by a pitch. Both moved up on a wild pitch before Mussat retired the next Braves batter. Consecutive hit batsmen forced in a run, and a wild pitch brought in Gladstone's third. Ben Kelly's two-run single made it 7-5, and Mussat ended the drama with a strikeout.
"I trust Braden," McEvoy said. "Even if it got to 7-6, I would trust him."
Gladstone left nine runners on base, five during the last two innings. The Braves put the first two runners on in the third, but a double play ended that threat.
"We had our opportunities," Gladstone coach Don Lauscher said. "We had bases loaded a couple of times. They certainly gave us some opportunities. We didn't get the big hit when we needed it. Their pitcher (Hoffman) was throwing heat and was a little erratic."
Germain and catcher Mason Minzey each had two RBI for Bishop Foley. Minzey had a double, and his sacrifice fly was hit to the warning track in left center.
Clay Cole took the loss for Gladstone.
VIDEO: Bishop Foley jumps out to a 5-0 lead on this two-run double by Kenneth Germain.
Riverview Gabriel Richard 5, Schoolcraft 2
Trailing 2-0, Gabriel Richard (28-3) scored five runs on three hits in the sixth inning to advance.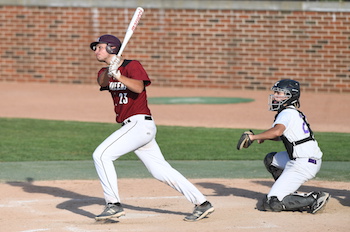 The Eagles (22-12) took that 2-0 lead in the fifth inning on one hit, four walks and an error. Sophomore Cole Atkinson came on in relief of starter Frank Klamerus with the bases loaded and one out, and walked in the second run. He then got the last out on a ground ball to third.
"It was a close call on the walk, but I knew I had to throw strikes," said Atkinson, who was called up from the junior varsity in late May. "I knew I had a good defense behind me. And I knew our offense would get going.
"I had to be a bulldog (when I came in). I just had to shut them down."
Richard had four hits over the first five innings, but no base runner reached third base.
Kevin Tuttle started the Pioneers' rally with a one-out single. The next two batters reached on errors before Klamerus unloaded with a two-run double that one-hopped off the left-field fence. After a walk, pinch hitter Hayden Flynn hit a two-run single.
"We always have confidence in ourselves," Richard coach Mike Magier said. I knew we could come back. (Atkinson) came in and did his job."
After that one walk, Atkinson retired the last seven batters he faced.
"Yeah, we played Bishop Foley before," Klamerus said. "But this is much bigger than the Catholic League."
VIDEO: Frank Klamerus had a two-run double during a five-run sixth inning for Riverview Gabriel Richard. 
PHOTOS: (Top) Evan Ludwick slides into home to score for Bishop Foley on Friday. (Middle) Gabriel Richard's Frank Klamerus (23) and Schoolcraft catcher Stephen Schultz watch a Klamerus drive.