Forest Hills Eastern, GR Christian Set Up all-Grand Rapids-area D2 Final
EAST LANSING – As much as he tried to keep it out of his mind, it became nearly impossible for Ada Forest Hills Eastern senior pitcher Jacob Pallo to do so late in his team's Division 2 Semifinal against Goodrich. 
Pallo was four outs away from a no-hitter Thursday, but then a bloop single with two outs in the sixth ended that hope of him making history. 
"A little bit," Pallo said when asked if he had to compose himself after the no-hitter was broken up. "But I just tried to keep it out of my mind as much as I could." 
Pallo might not have done something historic, but he did something extraordinary for his team and set up another historic opportunity. His 6 2/3 shutout innings helped lead No. 1 Forest Hills Eastern to a 6-0 win over No. 4 Goodrich and its first trip to an MHSAA Finals championship game. 
It was the type of game where scoring first seemed more important than usual, given Pallo (9-0, 0.95 ERA, 79 K, 12 BB going into the game) was going up against Goodrich ace Noah Keller (12-0, 141 K, 14 BB), who had given up just one earned run all year. 
But the Hawks (38-4) put pressure on Goodrich's defense with its bunt game and got some timely hits to give Pallo a lead.
"Keller is a helluva pitcher, and we just had to figure out how to manufacture stuff," Forest Hills Eastern coach Ian Hearn said. "He's a winner. We had a couple of situations where we thought the bunt could work, and we moved some runners over. Of course, after you move runners over, you still have to get a key hit. We were able to get a couple of those."
Forest Hills Eastern struck first on an RBI single by senior Brian Messing, who hit a grounder just past a drawn-in infield to score pinch-runner Walter Brockie from third base and make it 1-0.
Following a leadoff single by senior Leo Hearn, Brockie had ended up reaching third base after a successful sacrifice bunt by junior Mac DenBraber. Brockie rounded second base and beat the throw to third as the Goodrich third baseman was racing back to the bag after trying to field the bunt.
Forest Hills Eastern took a 2-0 lead in the third inning on an RBI single by senior Evan Parks, who brought home senior Caleb Kuiper after he reached second on two Goodrich errors. The Hawks then plated another run in the fourth inning on a two-out single by senior Collin Fridsma, who scored to make it 3-0.
After Liford broke up Pallo's no-hit bid in the sixth, Keller singled to put runners on first and second for the Martians. But Pallo got out of the jam with a strikeout to preserve a 3-0 lead.
In the bottom of the sixth inning, Forest Hills Eastern added three insurance runs. Following a leadoff double by Messing and a sacrifice bunt, freshman Brendan Thompson singled home Messing to make it 4-0 Hawks. A bunt single by Fridsma advanced Thompson to third, and Forest Hills Eastern then went up 5-0 on a successful squeeze bunt by Kuiper. Parks then followed it up with an RBI single to give Forest Hills Eastern a 6-0 lead. 
Pallo finished with nine strikeouts and three walks in improving to 10-0 on the year.
Keller allowed five earned runs and struck out nine for Goodrich (37-3), which committed three errors. 
"It's hard to win a game when you don't score any runs," Goodrich head coach Bob Foreback said. "Their kid threw a good game. We had hard-hit shots early in the game right at guys, and that made the difference. Whoever had the lead early on was probably going to win this game."
Grand Rapids Christian 9, Grosse Ile 1
Hot bats carried Grand Rapids Christian to East Lansing and the Division 2 Semifinals, so it was fitting they carried the Eagles again once there. 
Entering the contest with 49 runs over five previous tournament games, Grand Rapids Christian added nine more on 17 hits.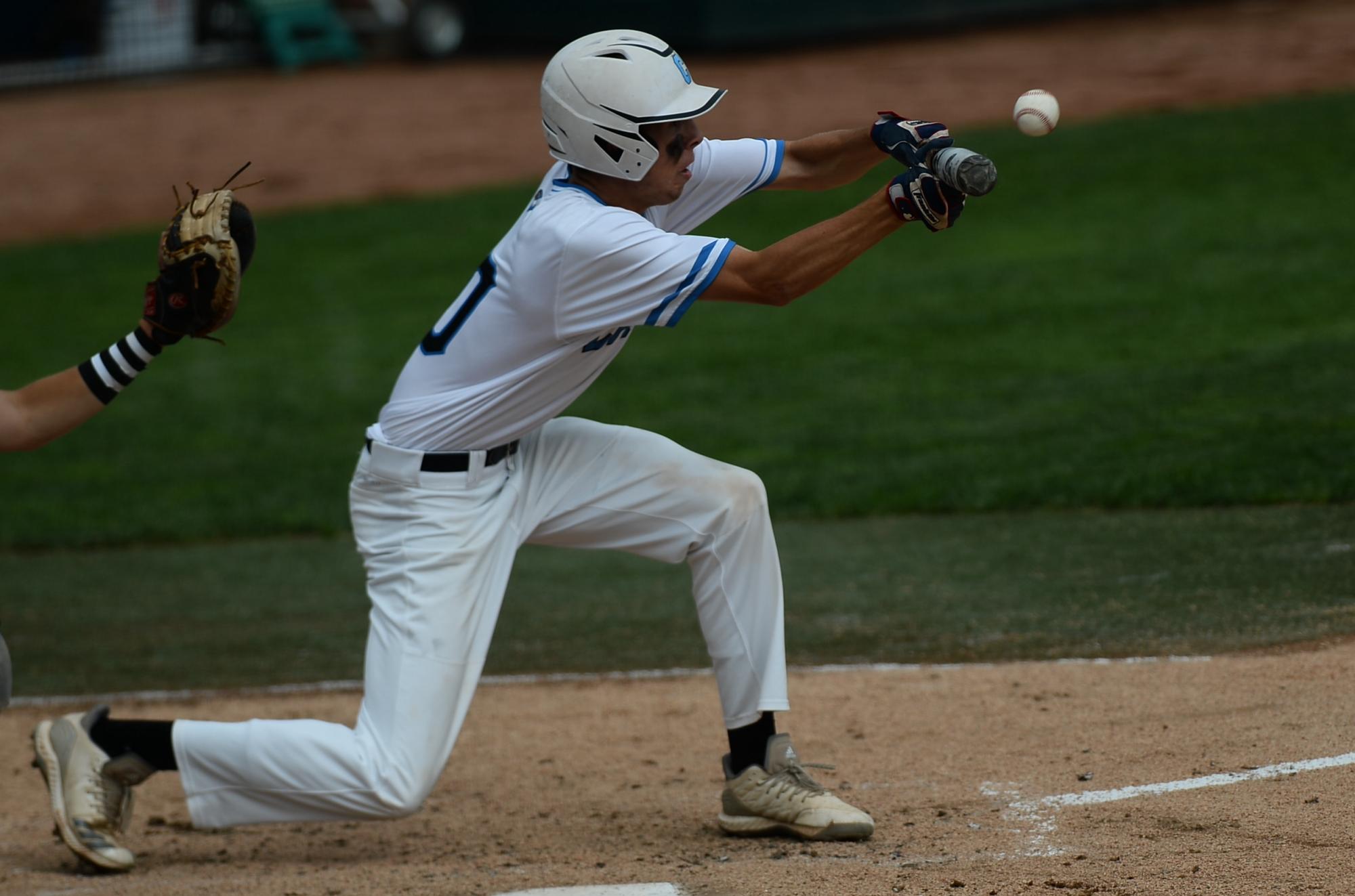 Junior Ty Uchman went 3-for-4 with three RBI, junior Kyle Remington had three hits and senior Nathan Hedlund added two hits and two RBI to lead Grand Rapids Christian (27-8). 
"We've been on a hot streak lately," Uchman said. "There's energy and when we have that, we can do a lot of good things. That's really helped us."
Grand Rapids Christian broke through in the top of the third inning, scoring a pair of runs to grab a 2-0 lead. Remington led off the inning with a double, and then went to third when sophomore Jackson Isaacs reached second on a throwing error. Remington then scored on an RBI single to center by Uchman, and Isaacs scored on a fielder's choice groundout from Hedlund. 
Grosse Ile broke through in the fourth inning, cutting its deficit to 2-1 on an RBI single to center by senior William Lowery, who plated junior Cannon Kawadri after Kawadri hit a one-out double to the gap in left-center. 
But the Eagles essentially put the game away with a big rally in the sixth inning, scoring seven runs on nine hits. The first came on an RBI triple over the centerfielder's head by junior Josh Winkle, and then sophomore Cannon Paul scored Winkle with an RBI single to make it 4-1 Grand Rapids Christian.
Senior Alec Koval and Uchman followed with two-run doubles, and Hedlund hit an RBI single, to make it 9-1 Eagles. 
"I think we were having good at-bats, and then we all of a sudden started to find some holes and got a little momentum going throughout that inning," Grand Rapids Christian coach Brent Gates said. "It was nice getting those runs later in the game, for sure."
The offense was more than enough support for Remington, who allowed five hits, struck out nine and didn't walk a batter in a complete-game win. 
Kawadri and senior Tyler Garza each had two hits for Grosse Ile, which finished 23-7. 
PHOTOS (Top) Ada Forest Hills Eastern players celebrate during Thursday's Division 2 Semifinal win over Goodrich. (Middle) Grand Rapids Christian's Christian Burgess connects on a bunt. (Click for more from Hockey Weekly Action Photos.)