Homer Ends Spring with Title Celebration
June 15, 2019
EAST LANSING – After a postseason full of winning, the players on the Homer baseball team have become dogpile veterans. 
So after the Trojans defeated Grosse Pointe Woods University Liggett 4-0 on Saturday in the MHSAA Division 3 Final, a small game of "I'm not going to be on the bottom" broke out before the traditional baseball celebration commenced.
"The dogpiles get a little more intense, a little more vicious the more you keep winning," Homer coach Scott Salow said. "Today, I'll watch the video later, but I think it was pretty good. I think they've gotten smart after the last five or six dogpiles; they all kind of look around and wait. I'm the last one out of the dugout, so I'm not going in."
Homer (33-3) scored four runs in the first inning at McLane Stadium and rode the arm of senior pitcher Zach Butters to its first Finals title since 2006, and third overall. 
"We've been working to get here for a long time, this group of guys," Butters said. "It's overwhelming to finally get here and win this with my guys. It means a lot. I mean, look at all these people out here coming out to support us. We're a small town, and it's just a great feeling. It means the world."
Butters, who also picked up the win in the Semifinal in a relief appearance, kept a potent Liggett off balance for the 6 1/3 innings he was on the mound. He scattered five hits and two walks while striking out six. 
"We had a gameplan going into it to stay away," Butters said. "We saw yesterday where they like to pull, they like to turn over on pitches, so we were just trying to stay away as much as we could and execute the gameplan. My offspeed was pretty good today, and I just had a great defense making plays behind me all day. I couldn't ask for a better group of guys to go out and battle with."
Liggett (24-10) knew coming in that would be Butters' gameplan, but was out-executed.
"He threw his slider/curveball out of the zone, and we just kept swinging at it," Liggett coach Dan Cimini said. "The gameplan was to not swing at that. If you look back, a lot of 2-1 sliders out of the zone we were swinging at. That's 3-1, that changes everything. Give him credit for throwing good pitches, but our guys need to lay off that kind of stuff."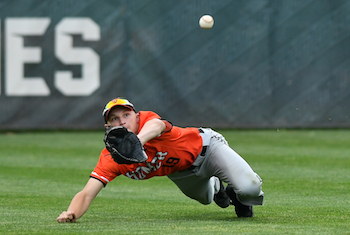 Butters got some help from his defense, which didn't commit an error and also got him out of the one jam he found himself in all day. With one out and runners on first and second in the sixth inning, Liggett senior Alec Azar hit what looked to be a base hit into left field. But junior leftfielder Dylan Warner made a diving catch and jumped up to double up the runner at second.
"It could have been a better catch, but I got a late read on it," Warner said. "Then when I got up, I saw the kid halfway, I just threw it and it was right on the money."
Butters enjoyed his view of the play from the mound.
"I knew it was going to be a close one – Dylan was out there, and he was running," Butters said. "I was like, 'Oh boy.' Then he lays out like Superman, and he comes up with it. It was a great play."
T.J. VanderKuyl closed out the game, getting the final two outs for the Trojans after Butters reached his pitch limit two batters into the seventh inning. VanderKuyl kept it relatively drama free, and the final out was a roller to Butters at short.
All of Homer's offense, meanwhile, came in the first inning, highlighted by a two-run double from Kyle Compton and a two-run single from Wilson. The Trojans threatened again in the second, putting runners at the corners with two outs, but Cimini went to the bullpen and brought in senior Billy Kopicki, who ended the threat. 
Kopicki was strong in relief, allowing just one hit and two walks while striking out two in 4 1/3 innings. Kopicki is part of a strong senior class that was part of three Final Four runs and helped the Knights win a title in 2016.
"They've been great," Cimini said. "Alec Azar and Billy Kopicki and Logan King are going on to play college baseball. Obviously, Mickey Walkowiak was phenomenal this year at first base, and had great leadership. Kellen Banaszewski is going to try and walk-on at Grand Valley – he made one error all year in the infield. They're going to be sorely missed, but they paved the way for these younger guys, and these guys know how to act. They were leaders. I'm looking forward to the new class, but I'm going to miss the old class."
Drew Zelenak led Liggett with two hits, while Patrick Illitch had a double. Wilson led Homer with a pair of hits.
PHOTOS: (Top) Homer's Zach Butters (3) and Damaso LeBron enjoy a moment during the Division 3 championship game. (Middle) Dylan Warner closes in on a diving catch for the Trojans.