Homer, Liggett Set Up Saturday Meeting
June 14, 2019
EAST LANSING – Jacob Wilson just wanted to start jumping up and down Friday after his game-winning single sent Homer to the MHSAA Division 3 Baseball Final.
But before he could fully celebrate, he had to make it to first base, something he admitted he had to be reminded to do.
"The coach told me to (run to first)," Wilson said. 
He made it without issue and was mobbed by his teammates as Homer defeated Pewamo-Westphalia 2-1 in nine innings at McLane Baseball Stadium on the campus of Michigan State University. The Trojans advanced to Saturday's Final against Grosse Pointe Woods University Liggett, which defeated Gladstone 5-0 in the other Semifinal.
The Final will be the first for Homer since 2006, when it won the Division 4 title.
"What an unbelievable setting, and to have a 2-1 walkoff in the bottom of the ninth at Michigan State, that's stuff you dream of at the beginning of the season," Homer coach Scott Salow said. "It was an unbelievable ballgame. Two great teams."
Wilson's hit down the third-base line ended a game dominated by pitching and defense, as he and Pewamo-Westphalia starter Brendan Thelen kept hitters off balance for the majority.   
In the ninth inning, however, Homer was able to load the bases with no outs, and Wilson drove in Zach Butters for the walk-off win.   
"I was up to bat and I was looking at my teammates while they were on base, and they were just looking at me smiling, giving me a thumbs up," Wilson said. "I just had faith in myself that I could get it down."
Butters' run was the first since the second inning, and ended one of the few Homer threats. Thelen threw 7 2/3 innings prior to reaching his pitch-count maximum, striking out five and allowing three walks, two hits and one run. He allowed just one Homer runner to get to third base.
"Their coach, Scott Salow, has a great program, and he said that's the best pitcher they've seen all year," Pewamo-Westphalia coach Mark Rademacher said. "They only got two hits on him, and he said that's the best pitcher they've seen. Brendan rose up to the occasion. He kept us in the game when we were leaving guys stranded on base, and our defense was helping him out. It was just a great performance on his part."
Wilson put together a gem of his own, allowing six hits and two walks while striking out five in 6 2/3 innings, also leaving the game because of his pitch count. He pitched out of a jam in the sixth inning, as Pewamo-Westphalia had a runner at third with one out. Wilson was able to get a strikeout and a popout to end the threat.
"Just survive," Salow said of Wilson. "I don't know how many chances they had with leadoff guys on. It seemed like we were fighting fires most of the game, especially in the middle innings."
Pewamo-Westphalia opened the scoring in the second inning, as Aaron Bearss drove in Ethan Thelen with a single.   
Homer responded in the bottom of the second, as Kyle Compton stole home on a designed play. Wilson, who was on first, purposefully fell on a steal attempt, forcing a throw to first and allowing Compton to head home.   
"We spend a lot of time on our first-and-third offense, trying to put balls in play without the aid of a bat," Salow said. "It's a play that we practice all the time, and it worked out almost to perfection."
Compton finished with two hits and two walks for Homer (32-3). Butters picked up the win in relief, striking out one and allowing two hits in 2 1/3 innings.
Tanner Wirth and Ethan Thelen each had two hits for the Pirates (31-3).
Grosse Pointe Woods University Liggett 5, Gladstone 0
Alec Azar had all the run support he needed before he stepped on the mound.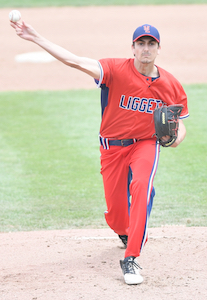 The Liggett senior pitcher threw his first pitch with a 2-0 lead, which was more than enough as he put together a dominant outing to lead the Knights into the Division 3 Final, their first since 2016.
"That's what I like about being away," Azar said. "You get ahead, and then I can come out on the mound and get really comfortable and throw my game."
Azar carried a no-hitter into the sixth inning and finished the game with 12 strikeouts and two hits allowed.
"He was lights out," Liggett coach Dan Cimini said. "I told him this was going to be his last start as a senior at Liggett and I need his best, and he gave us his best. He almost had a no-hitter, threw the ball really well, had his best stuff, great slider, fastball. He just did everything he could for our team today to get us a W."  
Logan King hit a two-run home run with two outs in the top of the first inning, which Gladstone coach Kelly Shea said stunned his team. The Braves remained stunned as Azar struck out the first four batters he faced.
"Our pitcher got them with two ground balls to start the first inning, and I thought we're going to get out of the inning," Shea said. "Then they had a kind of so-so base hit, then he hangs that next pitch and they pounded it over the fence. It kind of took the wind out of our sails, and we never got back."
Azar added two hits at the plate, while Nick Post had two hits, including an RBI double for the Knights. King finished with three RBI on the day.
Carson Shea, who started on the mound for Gladstone, broke up Azar's no-hitter with two outs in the sixth inning. Jared Crow added a double for the Braves in the seventh. 
PHOTOS: (Top) Homer's Zach Butters heads home for the game-winning run in Friday's first Semifinal against Pewamo-Westphalia. (Middle) Liggett's Alec Azar makes his move toward the plate.