Hudson's Horwaths Producing Chart-Topping Hits for Tigers' Diamond Teams
HUDSON – Let it be known that there is little debate in the Horwath household who has the sweetest swing on the diamond. Dinah does.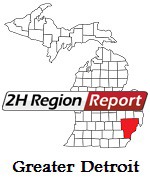 "I like my swing and I think it's good but, honestly, I have to say she does," said Ambrose Horwath, a junior three-sport athlete at Hudson High School in Lenawee County. 
"I think mine is better," said Dinah, laughing – but agreeing.
No matter whose swing is better, they both are swinging hot bats this spring.
Going into this week, Dinah Horwath, a sophomore, was batting .479 and has been at or around .500 all season. She is the Lenawee County leader in hits (46), runs (44) and RBI (36). 
Ambrose is batting a healthy .466. He's among the Lenawee County leaders in hits (41), runs (37), RBIs (34), pitching wins (8) and strikeouts (49). 
The two have a sibling rivalry, but there's no competition to who will have the highest average at the end of the season. That's because they are both rooting for each other. 
"A couple of weeks ago, Ambrose was in a two or three-day slump," said Hudson athletic director and varsity baseball coach Jeremy Beal. "After our practice I walked back to our field and there was Ambrose and Dinah. She was throwing soft toss to him. They must have had two buckets of balls. 
"I've seen that before among brothers, but never a brother and sister. It was awesome."
Ambrose's slump didn't last long. 
"They pull for each other, and both have really good attitudes," Beal said.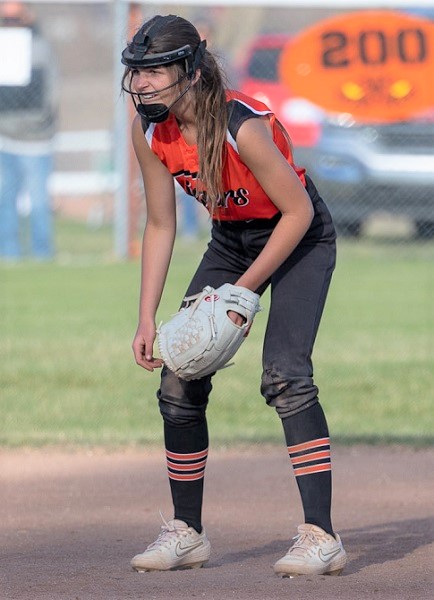 The Horwaths are a sports-crazed family. Father Lance is a Waldron native who is a principal in the Hudson school district and the Tigers varsity boys basketball coach. He played college baseball at Defiance, where he met Jamie. They were later married and had two kids – Ambrose and Dinah.
"I played college baseball with her brothers," he said. "That's how we met."
Horwath was a teacher at Camden-Frontier when he moved into the Hudson district a little more than two decades ago. Ambrose has been a varsity basketball player since his freshman season and will go into his senior campaign a few 3-pointers shy of 1,000 career points. He also was a starter on Hudson's Division 8 championship football team in the fall.
Dinah has plenty of varsity experience herself, despite being just as sophomore. She was second on the team in scoring this past basketball season and one of the area's top 3-point shooters. She said she and Ambrose often play one-on-one in basketball.
"We've done that since we were little," she said. "We're competitive, but we get along very well. We don't really fight."
Lance Horwath said the two of them are often together working on either their shot in basketball or swing in baseball/softball.
"They are always playing something," Lance said. "Sports is a big part of our family. They've both been playing since before they even started school. It's cool to see them together. They are very supportive of one another."
Dinah, who is considering pursuing a career in sports management, throws right-handed in softball but has been batting from the left side of the box since she picked up a bat.
"From Day 1, she's batted lefthanded," Lance Horwath said. "I put her on the left side of the plate because that's how I batted, and I wanted to teach her. She makes good contact.
"I love how she's carved out her own niche in softball. She played travel ball when she was younger. She just loves playing the sport."
Hudson softball coach Amy Hill said Dinah is constantly trying to get better.
"Her secret is she works very hard," Hill said. "She puts in the time to improve and takes practice time seriously. She spends a lot of time on the tee. She's a coach's dream, always looking for ways to improve."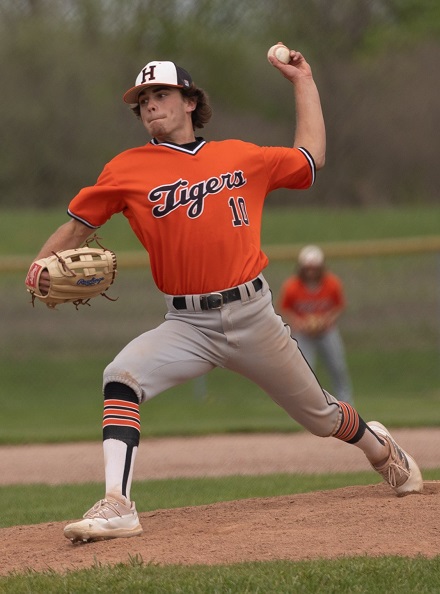 During Hudson's baseball and softball games, Lance and Jamie try to find a location where they can stand and watch both games. 
"In Hudson, we can stand along the leftfield line and see both games," he said. "They are both fun to watch. We're blessed."
If one sibling's game ends early, the other gets to the other field as quickly as possible.
"I like it when our games get done so I can get over and see him play," Dinah said.
Ambrose is no different.
"It's cool to get to watch her games," he said. "Every time I look over there or go watch, she's on base."
Ambrose said sports came natural to them.
"We will go out and hit together two or three times a week," he said. "We've always been very close. It helps, I think, that we are only one year apart. 
Hudson's baseball team is looking to make some history this spring. The football and wrestling teams have already captured state championships, as did the competitive cheer team. The baseball team is 23-5 and close to winning at least a share of its first Lenawee County Athletic Association championship since 1968.
The Tigers are 9-3 with a doubleheader remaining against Ida. Onsted leads the league at 8-2 but has doubleheaders remaining against Clinton and Dundee, both formidable opponents.  
"We need some help for that to happen," Ambrose said. "But we just have to take care of our games first."

Doug Donnelly has served as a sports and news reporter and city editor over 25 years, writing for the Daily Chief-Union in Upper Sandusky, Ohio from 1992-1995, the Monroe Evening News from 1995-2012 and the Adrian Daily Telegram since 2013. He's also written a book on high school basketball in Monroe County and compiles record books for various schools in southeast Michigan. E-mail him at DougDonnelly@hotmail.com with story ideas for Jackson, Washtenaw, Hillsdale, Lenawee and Monroe counties.
PHOTOS (Top) Dinah, left, and brother Ambrose Horwath are among Lenawee County's leading hitters in their respective sports. (Middle) Dinah prepares for the pitch from her spot in the infield. (Below) Ambrose makes his move toward the plate. (Photos by Rachel Stiverson.)