Northville, Saline Earn Shot at 1st Title
EAST LANSING – Connor Ziparo kept things simple for Northville on Thursday.
Chances are good that things will become more complicated for the Mustangs on Saturday.
Ziparo, a senior lefthander, threw strikes and let his teammates do the rest as Northville defeated Grand Haven, 9-1, in a Division 1 Semifinal at McLane Stadium on the Michigan State campus.
For Northville (30-10), Saturday's Final will be a first.
It couldn't be more different for Saline, recently ranked No. 12 nationally by USA Today. The Hornets disposed of their Semifinal opponent, Grosse Pointe Woods University Liggett, in similar fashion 12-0, but what awaits Saline is far different.
The Hornets (38-3) will be making their sixth Final appearance at 9 a.m. Saturday, seeking their first title.
"It's a big game for us; it's big for Northville," Saline coach Scott Theisen said. "It's not any bigger than the other five."
The Mustangs, making their first Semifinal appearance since 1972, played as if they'd been here many times.
Ziparo (7-2) was never in seriously trouble. He gave up four hits, walked one and struck out five. Pitching on four days rest, Ziparo found his comfort zone.
"I was in my normal routine," he said. "My fastball was my go-to pitch.
"I've been all around the country playing, and this is the biggest game of my life. We're one of the last four teams."
Ziparo allowed a leadoff double to Ryan Mattson, hit a batter three batters later but enticed the next hitter to fly out to center to end the rally. The next time the Buccaneers had two base runners in an inning was the seventh, when they scored an unearned run.
Third baseman Jake Moody's two-run single in the first inning was all the support Ziparo needed. Christian Williams had an RBI single in the second to give Northville a 3-0 lead, and the Mustangs broke open the game by scoring three in the fifth inning.
"It was an outside changeup," Moody said of his first-inning single. "I just went to right field with it. We've been pitching well all season. We've finally got the bats going late in the season."
Northville had nine hits, two by Kevin Morrissey and Billy Flohr. Morrissey and Michael Lionas each scored two runs.
Northville also stole three bases and had two sacrifices.
The Mustangs played small ball at times, a part of the game coach John Kostrzewa stresses.
"We were able to execute some bunts and got some base hits out of them, too," he said. "It took us awhile to figure out our lineup (this season). Once we figured it out, we started to hit. It seems to have helped out our pitching, too, taking some pressure off."
Grand Haven (24-16) had its best season by far. The Buccaneers had never won a Regional title until this season and began the tournament at 18-15. They went on to win a number of close games during the playoffs, and that fact kept coach Michael Hansen hopeful for a comeback.
"Even when it was 3-0, I thought if we could get a key hit or something we'd be there," he said. "It didn't happen. When you get a lefthander (Ziparo) like that, he's gritty. You don't have to throw 90 mph to be effective."
Saline 12, Grosse Pointe Woods University Liggett 0
Saline jumped on University Liggett starter Anthony George with five runs on five hits in the first inning and didn't let up. Five players had two or more hits, with catcher Sean O'Keefe leading the way with three hits and four RBI.
"We had a good approach at the plate," Theisen said. "We made some contact. When your pitcher goes out there with a five-run lead, it makes things easier."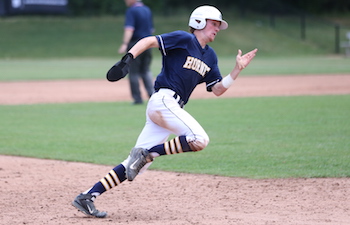 Cole Daniels went the first four innings and gave up one hit, one walk, and he struck out three. Paul Kiyabu went the final inning and gave up one hit.
"(Daniels) didn't have his best stuff, but he pounded the strike zone," O'Keefe said. "It's just what Cole does.
"We were lucky today. We've just got to keep it up. (The Final) is not different than any other game. We've seen (Northville) before. We know what to do."
The teams split a doubleheader during the regular season.
Daniels said his arm was a tad sore, and that kept his velocity down.
"I did hit my spots," he said. "And I got my curveball going after a while."
It was a remarkable run for University Liggett (33-5). The Knight set a school record for wins a season after capturing the Division 3 title. Coach Dan Cimini petitioned the MHSAA to move up to Division 1 (for two seasons) and his team proved its worth defeating Grosse Pointe North (7-2) in a District Final and the best team in Macomb County, Sterling Heights Stevenson, 6-0, in a Quarterfinal.
"This is a magical season," he said. "Yeah, (today) is a downer. It's a bummer. But to take this team to the final four, with just 13 players, moving up two divisions is tremendous. Saline just hit the cover off of the ball. They hit line drives everywhere."
PHOTOS: (Top) A Northville runner starts his slide into home while Grand Haven catcher Max Schweikert readies to tag him. (Middle) A Saline runner begins to round third base against University Liggett.