Parks Thrives on Mound & at Plate to Help Deliver Forest Hills Eastern's 1st Title
EAST LANSING – Evan Parks wasn't nervous before or during Saturday's Division 2 championship game at McLane Stadium.
Not while he took a no-hitter into the sixth inning, and not while going 3-for-3 with an RBI at the plate. 
After his Ada Forest Hills Eastern team won its first baseball Finals title, defeating Grand Rapids Christian 3-0, it was a different story.
"It's starting to set in now," he said with a nervous laugh.
Parks held Grand Rapids Christian to one hit, an infield single by Nathan Hedlund, walked three and struck out nine.
"With him on the mound, him at the plate, him in the field, we always feel very, very comfortable," Hawks coach Ian Hearn said. "Our motto all year has been 'Team,' be servants for one another and serve one another."
Grand Rapids Christian pitcher Camden Seth had a good outing, scattering 10 hits while strong defense kept Forest Hills Eastern from causing any more damage.
"They're very talented," Hearn said. "They have a lot of very good baseball players, and coach (Brent) Gates does a really nice job. They kept us in check."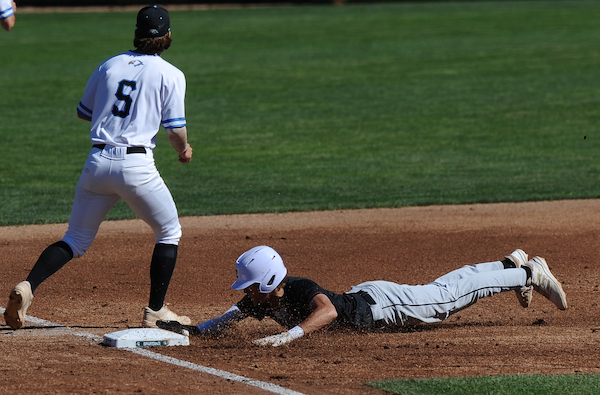 Parks drove in the only run the Hawks would need in the third inning. With two out, Caleb Kuiper singled and scored on a double by Parks off the fence in right field. 
The Hawks added single runs in the fourth inning on a groundout by Max Ferrick, and in the fifth inning on a single by Leo Hearn.
"Hats off to them," Gates said. "Their pitcher did a great job on the mound. We battled. We competed. We just came up short."
The Hawks finished 39-4 after a 25-0 start.
"We had amazing chemistry," Hearn said. "Right out of the gate, they competed well. We knew we were a pretty good team. I'm super proud of them and super proud of the way they handled themselves all season long."
Parks, for his part, stayed focused, admitting he didn't know he had no-hitter until the fifth inning. 
"I just threw strikers," he said. "That's what it comes down to. That's how you get outs. We worked real hard all summer, all fall, all winter, even all spring and we finally got it done."
Forest Hills Eastern's work came to a close when Parks induced a game-ending double play.
"There is no way to describe it," Parks said of his reaction to the final out. "It means all the world when you see the ball down, your defense is playing for you. It means all the world when you see the play finally finish, and it's done."
PHOTOS: (Top) Ada Forest Hills Eastern raises its championship trophy Saturday at Old College Field. (Middle) A Hawks runner slides into third base as Grand Rapids Christian's Nathan Hedlund (5) anticipates the throw.