Richard Seeking Familiar Playoff Groove
May 30, 2019
RIVERVIEW – Success came sooner than expected last season when Riverview Gabriel Richard won the school's first MHSAA baseball title.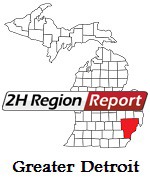 Mike Magier, who was in his fifth season as coach at Richard last spring, did not have a senior on a team that defeated Detroit Catholic League rival Madison Heights Bishop Foley, 3-0, in the Division 3 Final. Many, including Magier, had pointed to the 2019 season as the one that would carry the Pioneers over the top.
"We knew we had a quality team last year," Magier said. "We thought we could make a run (in the tournament). You have to have some breaks along the way to win (the championship). We did (point to this season). We had done that stepping stone type of thing. We felt we had our sites on this year."
Expectations increase, often dramatically, when a team wins it all. Richard has 11 seniors this spring, seven who are in the starting lineup more times than not. But injuries, unlucky weather and a touch of senioritis – often unavoidable this time of year as seniors begin looking forward to life after high school – have taken their tolls on the Pioneers.
It's not that Richard has played poorly this season. The Pioneers reached the Catholic League C-D title game May 24, losing to Grosse Pointe Woods University Liggett, 2-0. But this weekend will provide an opportunity to bring everything back together at a time when it matters most, as one must consider Richard (15-5) the favorite at the District hosted by Allen Park Cabrini on Saturday.
Richard will play Taylor Prep in the 10 a.m. semifinal, with the host team taking on Ecorse at noon. The championship game will follow at approximately 2 p.m.
"To be truthful, we haven't played that well this year," Magier said. "The weather has been a factor. There was a stretch where we didn't play a game for eight consecutive days. We're fortunate in that we have a turf football field and we're able to practice on it. Some days I've received calls saying the field was under water, and we couldn't practice."
The Pioneers suffered a significant setback three weeks ago when Magier's ace, senior right-hander Matthew Silka, suffered a broken right hand. Silka, who tossed a complete game one-hitter in the Division 3 championship game last season, was 3-0 with two saves when the injury occurred. It's possible Silka will return for the Regional, should Richard advance.
"We think we can be competitive in the Districts," Magier said. "But we'll definitely need (Silka) in the Regionals."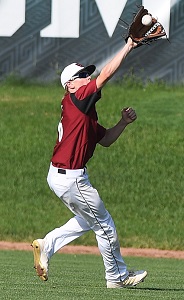 Another senior, Frank Klamerus, suffered a broken left hand two days before Silka went out. Klamerus, who plays third base, first and is one of Richard's top pitchers, returned last week.
Richard's best all-around player is Kevin Tuttle, a four-year varsity player who began his career as the starting centerfielder. He moved to the middle infield and is currently playing shortstop and catcher. Tuttle, who signed with Central Michigan University, is batting .465 with 13 RBI.
"He's an all-around good hitter who can hit any type of pitch," Magier said. "He plays good defense and shuts down the other team's running game when he's behind the plate."
Another top senior is centerfielder Jacob Gosen, who covers a lot of ground in the outfield and has a strong arm. He hit .500 last season, and his average is hovering around .400 this season.
The two juniors who start are David Zubor, a left fielder who bats second, and right-hander Cole Atkinson, who's 4-1 this season. Zubor struggled at the plate early but has since picked up his offense and is batting .300.
The cool, often wet playing conditions have made getting in a groove tough for his hitters, and Magier is hoping the weather improves now that the tournament is at hand.
"We've only had 20 games," he said. "We haven't been able to gear them up. Many of our nonleague have been cancelled."
Richard played 25 games before the tournament started last season and finished 29-3. That team gave up just six runs over the seven tournament games, and Magier is counting on solid pitching again.
"For us to be successful (in the tournament), our bats have to come alive," he said. "For some reason, whether it's the weather or what, we've struggled at the plate this year. We just haven't got into a groove. Our pitching has been solid, and our defense has been good. Our problem has been our hitting."
A case in point is Tuttle. He bats third in the lineup, and despite his high average has driven home only 13 runs. The Pioneers will need to manufacture more production if they hope to return to East Lansing.
It's been a steady climb for Magier's program. The Pioneers lost to Monroe St. Mary Catholic Central in a District Final in 2015, 3-1. The following year they lost to University Liggett, 3-2, in a Regional Semifinal, and in 2017 Bishop Foley eliminated Richard, 8-0, in a Quarterfinal.
Regardless of what happens during the next few weeks, Richard's program is on solid ground under Magier. The 1990 Melvindale graduate, who played baseball at Wayne State, has 18 on varsity, 10 on the junior varsity and 14 on the freshmen team. Last season Richard was unable to field a freshmen team. These are impressive numbers when one considers Richard has an enrollment of just more than 300 students, boys and girls combined.
"We've got a bunch of smart kids and they like to compete," Magier said. "They're coachable, and every kid plays at least two sports. More than half play three. I definitely like the idea of them playing multiple sports."

Tom Markowski is a correspondent for the State Champs! Sports Network and previously directed its web coverage. He also covered primarily high school sports for the The Detroit News from 1984-2014, focusing on the Detroit area and contributing to statewide coverage of football and basketball. Contact him at tmarkowski@statechampsnetwork.com with story ideas for Oakland, Macomb and Wayne counties.
PHOTOS: (Top) Riverview Gabriel Richard's Kevin Tuttle drives a single to centerfield during last season's Division 3 Semifinal win over Schoolcraft. (Middle) Centerfielder Jacob Gosen shows off his range at McLane Stadium during the 2018 championship game.