Riverview Gabriel Richard, Beal City Make Right Plays When Needed Most
EAST LANSING – Up until there were two outs in the top of the seventh inning of its Division 4 Semifinal on Thursday, Riverview Gabriel Richard was winning with an unusual formula.
At that point, the Pioneers had three more errors (5) than hits (2), but still found themselves up a run as they looked for some insurance.
After the first two batters made outs, the Pioneers found insurance, and then some.
With a lengthy two-out rally, Gabriel Richard tacked on six runs en route to a 10-3 win over Rudyard. 
The Pioneers (16-12) are headed back to Finals day with an opportunity to add to their  Division 3 title in 2018. 
"It definitely wasn't the way we drew it up," Gabriel Richard coach Mike Magier said. "We actually have been playing pretty clean. I don't know if was nerves or what, but we just didn't play a very good game today. We finally did wake up and hit some balls there in the seventh inning."
Gabriel Richard was cruising along with a 4-0 lead and two outs in the sixth, but Rudyard got on the board when senior Austin Warner singled and then scored on a two-out throwing error. 
The rally continued and the Bulldogs pulled to within 4-3 on another two-out error and an RBI single by sophomore Eli Sprague. 
But Gabriel Richard got the runs back in the seventh.
With the bases loaded and two outs, Gabriel Richard took a 5-3 lead on a wild pitch, and then senior Ashton Nowak delivered a two-run single to make it 7-3. 
"It felt really good," Nowak said. "Especially since I haven't been really doing well at the plate the last couple of games. I've been getting on base, but not a lot of big hits. That was really nice."
Senior Brenden Hills followed Nowak with an RBI single, a Rudyard error made it 9-3, and then another wild pitch scored a run to make it 10-3. 
Senior Connor Silka didn't allow an earned run in six innings of work on the mound, then Nowak pitched a scoreless seventh to finish the game for Gabriel Richard.
Rudyard had troubles in the field as well, committing four errors, allowing four unearned runs and throwing eight wild pitches. 
Gabriel Richard opened the scoring in the first inning, taking a 1-0 lead on an RBI groundout by Hills that scored Nowak, who was hit by a pitch to start the inning, took second on a throwing error and went to third on a wild pitch. 
The score remained that way until the fifth inning when Gabriel Richard loaded the bases with nobody out and took a 2-0 lead on a sacrifice fly by senior Bryan Tuttle. 
The Pioneers took a 3-0 lead on a two-out error. Gabriel Richard added another run in the sixth inning on another two-out error by the Bulldogs that made it 4-0. 
Rudyard, which was making its first Semifinal appearance, finished 28-7-1. 
Beal City 14, Whitmore Lake 4 (6 innings)
No. 1-ranked Beal City certainly didn't play its cleanest game of the year, but ultimately did what it had to in advancing to its seventh championship game. 
The Aggies overcame three errors and six walks allowed during the first three innings by banging out 17 hits.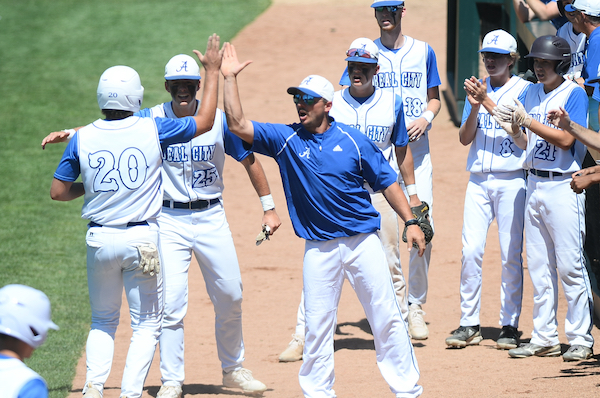 Beal City (30-2) employed a bunt game that was largely responsible for five Whitmore Lake errors and other defensive lapses.
"I told my kids that back in 2018 when we won it, we could bunt, but you guys can't bunt," said Beal City coach Steve Pickens, referring to Division 4 championship team in 2018. "We have worked on bunting all year. The best practice we had all year was (Wednesday), and I said that we were going to be able to win bunting. We bunted."
Whitmore Lake took a 2-0 lead in the top of the first inning, loading the bases on a single by Zane Gregg, double by Alex Di Dio and walk before plating its runs on a double-play groundout and wild pitch. 
Beal City answered in the bottom of the first, cutting its deficit to 2-1 on an RBI double by senior Hunter Miles. The Aggies then scored three runs in the second inning to take a 4-2 lead, mainly using their bunt game including a pair of bunt singles. 
Whitmore Lake answered in the third inning, taking advantage of three walks, two errors and a misplay in the outfield to score two runs and tie the game at 4-4. But in the fifth inning, Beal City took a 5-4 lead on an RBI bunt single by Konnor Wilson. 
The Aggies made it 8-4 scoring three runs in the fourth inning on another bunt single by Wilson, an RBI sacrifice fly by Wade Wilson and an RBI triple by sophomore Jack Fussman. They scored three more in the fifth inning, thanks in large part to RBI singles by Miles and Josh Wilson, to go up 11-4. 
Beal City then finished out the game by scoring three runs in the sixth inning to evoke the 10-run differential rule. 
Miles and senior Kaiden Andrews each had three RBI for Beal City.
Di Dio had three hits for Whitmore Lake (22-10), which had advanced to the Semifinals for the first time.
"We just didn't take care of the little things today," Whitmore Lake coach Hank Dreffs said. "Couldn't be prouder of this team. Program history by making it all the way to East Lansing. Hats off to Beal City. They got their small-ball game going against us, and let the ball fly."
PHOTOS (Top) Riverview Gabriel Richard celebrates Thursday's Semifinal win with a backflip. (Middle) Beal City congratulates Wade Wilson (20) after he crosses the plate during the second inning.