Summerfield Brings Historic End to Spring
EAST LANSING – For a program that had never been to a Semifinal prior to this year, Petersburg Summerfield looked awfully comfortable at McLane Stadium. 
The Bulldogs were unfazed by the pressure of playing for their first championship at Michigan State University and capped off a brilliant weekend Saturday with a 9-0 win against Saginaw Nouvel in the MHSAA Division 4 Baseball Final.  
"I preached to them from the first day of practice that we're going to win the state championship," Summerfield coach Travis Pant said. "No stage, no matter who we play and on any stage – we went to Decatur and played under the lights. We scheduled some big games, and I just wanted to get them used to the big stage so this was, 'We're supposed to be here.' We just wanted to show that we do belong and that none of this was a fluke up to this point. I really appreciate them just coming out here and playing loose and playing our game." 
Nobody could possibly look at what the Bulldogs did this postseason as a fluke, as they outscored opponents by a combined 89-2 in the postseason, with shutouts in each of their last three games.  
"Just hit the ball and field the ball; that's basically all we did," Summerfield junior pitcher Derek Clark said. "The pitchers threw strikes, the defense – I let them work behind me, and we got hot at the right time." 
The catalyst for that was a pitching staff led by Clark, who threw a gem Saturday night to shut the Nouvel offense down. Clark went the full seven innings, striking out 11 and allowing four hits and one walk. 
He had plenty of help – some of it he provided himself – and got it early. Just like it had the day before, the Summerfield offense came out hot in the top of the first inning, scoring a pair of runs to put Nouvel in an early hole.  
Sophomore Brock Olmstead opened the scoring with an RBI single, and Clark made it 2-0 when he scored on a squeeze bunt laid down by Brandon Tyler.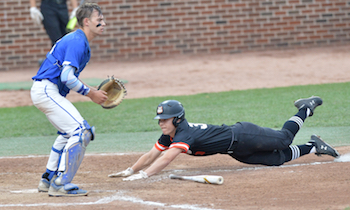 At that point, with Clark about to take the mound, the Summerfield coaches and players felt they were on their way to a title. 
"We don't give up a lot of runs, so I knew that if we could hop on a team, we could be all right with Derek on the mound," Pant said. "(Clark) has pitched a lot of big games – he pitched a league championship, a District championship, a Super Regional Final and a state championship and didn't give up a run in any of those games. You look at it, and it is outrageous." 
Nouvel (15-17-1) threatened in the bottom of the fourth inning, getting three straight singles to load the bases with two outs. But Clark was able to get a strikeout to end the threat. 
In the next half inning, the Bulldogs (28-4) were able to get a run out of seemingly nowhere and go up 3-0. With two outs, Olmstead attempted to steal third, and as he neared the bag, the throw from the catcher went into left field, as the third baseman had charged toward the plate to defend a possible bunt.  
Clark blew the game open in the top of the sixth with a three-run triple after a rally started by the bottom of the Bulldogs order. No. 8 hitter Bryce Smith started it with a single, which was followed by a single from pinch hitter Kirk Knerr, and a perfectly placed bunt by leadoff hitter Brendan Dafoe to load the bases for Clark. One batter later, Clark was driven in by a sacrifice fly to left from Olmstead to make the score 7-0. 
"If their whole lineup is hitting, that makes things pretty difficult, right?" Nouvel coach Shawn Larson said. "We knew coming in they're a good hitting team. We just assumed we would be able to put the bat on the ball as well, because we're the same type of team. They do a lot of things that we do with their energy and their momentum and their enthusiasm. We just weren't able to capitalize." 
The Bulldogs added a run in the top of the seventh inning, as Mark Keller hit a leadoff triple and was driven in by a Devin Albain single. Albain scored on a Smith single to make it 9-0. 
Nouvel's Brady Alverson took the loss, striking out seven and allowing three runs in four innings. Dafoe and Smith each had two hits for Summerfield. 
Long after the game ended, the Bulldogs players and coaches lingered down the left field line, soaking up the moment. 
"It means a ton," Clark said. "We have 18 league titles, and to finally get the first state championship means a lot to this program and this school."
PHOTOS: (Top) Summerfield raises its first Finals baseball championship trophy Saturday night at McLane Stadium. (Middle) Derek Clark dives toward the plate while Nouvel catcher Joe Bartles waits for a throw.