1st-Year Coach Brings Winning Experiences
January 18, 2018
By Dennis Chase
Special to Second Half
TRAVERSE CITY – Like dramatic finishes?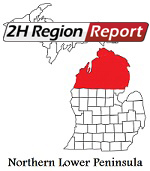 Travis Schuba has experienced his share.
As a junior in high school, Schuba dropped a buzzer-beating shot from the corner, as he was falling out of bounds, to give Kalkaska a stunning 48-47 Class C District basketball win over second-ranked Traverse City St. Francis in March of 2009. The Gladiators were 19-1 at the time.
That shot is one of the most memorable in Kalkaska history.
During the winter of 2011, as a sophomore at Madonna University, Schuba drained another fadeaway from the corner as time expired to upset NAIA-ranked Indiana Tech on the road.
That shot is one of the most pivotal in school history as it helped turn the struggling program's fortunes around, leading to 63 wins over three years.
And then there was last Friday night.
That's when Traverse City Central electrified its fan base as sophomore Henry Goldkuhle scored twice in the final 10 seconds to lift the Trojans to a wild 62-61 win over crosstown rival Traverse City West, giving the 26-year-old Schuba his first signature win as Central's head coach.
"All (three) are memories I'll never forget," the first-year coach said. "But with this one (win over West) being in the present, it's a little sweeter."
What made it sweeter is that the Trojans showed resolve in battling back from a 13-point deficit.
"All the credit goes to the kids for not giving up and believing in what we do," Schuba said. "I've been preaching all year to play for each other, to play within yourself, and if you do that good things will happen."
The game was reminiscent of last year's contest at Central when West opened a double-digit lead, only to see the Trojans whittle away at it. Central's rally fell short a year ago, but not Friday.
"That's the way it is in these types of emotional games," said junior guard Tobin Schwannecke, who led all scorers with 27 points. "There's always going to be ups and downs. There's going to be crazy endings. We stayed with it. Coach stresses that, (battling) through tough times. We believed we were going to win. That's what got it done for us."
Just two months earlier, Schwannecke was experiencing similar feelings. The junior quarterback dashed 37 yards for a touchdown with under two minutes to play to boost Central to a 17-14 win over West in a Division 2 District football championship game.
Friday's victory raised Central's record to 7-3 at the halfway point of the regular season. A year ago, a young Trojans' squad was 1-9 at this juncture before finishing strong to end 8-13.
The 7-3 mark includes a one-point loss to Gaylord and a two-point loss to Marquette, a game in which Central did not score in the first quarter.
"I know 7-3 sounds OK," Schwannecke said. "But we know we should have a few more (wins). At the same time, maybe every team needs losses like that early in the year to motivate them and stress to not let it happen again, especially as we get late into the season when it really matters. So, 7-3, we'll take it. But I'd much rather be 10-0 or 9-1, which I think we should be."
Schuba would like a couple of those games back, too, but he's pleased with how his players bounced back, especially after the 50-49 setback to Gaylord two weeks ago. Since, the Trojans have topped Rockford and West to put their season back on track.
The win over West came right before exam week and left the Trojans in an upbeat mood.
"It was an insane win," senior Jordan Vicent said. "It should give us momentum for the rest of the season."
It's a season that's been "a blur" thus far for Schuba, who accepted the job in August, replacing Jeff Turner, who moved downstate. Schuba has been going non-stop since.
"Once I took over, I was trying to get everything in line, get the boys in the gym, meet everybody, and then we had a great football season and (four) of my players were still playing football," he said. "I didn't see them until tryouts. Then a couple players, who would have played big minutes, quit. It was a whirlwind start."
Actually, it was a whirlwind spring and summer, too.
After returning to Madonna last year to finish his degree in business administration, Schuba set out to land a head coaching job. He was a finalist at Gaylord. The Blue Devils ultimately promoted Justin Johnson, but athletic director Christian Wilson contacted Kingsley officials to put a good word in for Schuba about their open position.
One day after his June interview in Kingsley, Schuba was offered the job. He accepted and then withdrew his name for the Traverse City St. Francis vacancy.
This was it, the head coaching break the then 25-year-old was seeking. He began to implement his system in the summer.
"I had a summer with the team – just not the one I'm coaching now," Schuba said. "A couple months later, I sit where I am now. It was a crazy turn of events."
When the Central job opened, it was too inviting for Schuba to pass up.
"He told me it was his dream job," Central athletic director Mark Mattson said.
Plus, it's a job that does not come open often. Schuba was aware of that.
"Jeff was there 10 years," he said. "I didn't feel like this was an opportunity that would come about any time soon if I didn't jump on it."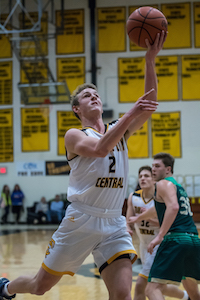 But would the fact that he was 25 and had limited coaching experience hinder his candidacy?
Schuba said he used his background as a positive. In addition to starring at Kalkaska and Madonna (first-team all-Wolverine-Hoosier Athletic Conference selection for two years), he played professionally, including two seasons with the Washington Generals, the team that traveled the world playing the Harlem Globetrotters.
"I have a background of playing, being around the game," he said. "I let them know, 'Yes I'm 25, but I've played more and seen more than most people.' And at my age, nowadays, kids tend to relate better to people of a younger nature. So instead of saying I lack head coaching experience, I use (age) to relate to the boys and get them to buy in and trust me on a personal level to be able to get them to do what we need to do to be successful on the court. I think we have a great relationship. We joke off the court, but once we get to practice they know I mean business. I hope they're having as much fun as I am. These relationships we're building now will last a lifetime."
Mattson said Schuba's personality and drive won him over.
"I put my feelers out because I didn't know him," Mattson said. "I had heard positive things about him, that he was an up-and-coming coach, had been there as a player and had that experience coaching (as a student assistant last year) at Madonna.   
"When we interviewed him, he had a confidence and maturity about him that we really liked. We liked what he had to offer, what he was about. We knew hiring a 25-year-old with no head coaching experience might be rolling the dice and taking a chance, but that's what we did."
 And Central has not looked back.
"Besides the fact that he has the guys competing and we're having success under his leadership, I've been really impressed with the way he's set his standards for the program," Mattson said. "He doesn't waver from those. For a 26-year-old now, he gets it. He does a great job interacting with people. He's focused. He's driven. When he wants something done, needs something done, he gets after it."
Mattson said he's also been impressed with Schuba's relationships with game officials.
"We've received compliments on the way he's handled himself," Mattson said. "He holds his staff and himself to high standards. That stuff can be teachable, but when he comes in with it and gets it right away that absolutely reflects positively on the kids, the program and the parents."
Schuba was on the links, playing a round at the Grandview Golf Club in Kalkaska, when he received word from the district's human resources office that he had been picked for the job.
"I actually missed the call and had to call back," he said. "I was teeing off, so as soon as I got back to the cart I gave them a call. It made the rest of the round a little sweeter. I was able to play with more freedom. I wasn't nervous thinking about it (anymore)."
Still, it was difficult to leave a job he had just accepted.
"I can't say enough good things about Kingsley for the opportunity they gave me as a young coach without any head coaching experience, other than AAU, to trust me to run that program," he said.
The Central players applauded the hire.
Vicent played AAU ball for Schuba last summer.
"We've been building off that relationship and it's been going well," he said. "I feel close to him, and I hope he feels close to me."
Schwannecke did not play AAU ball with Schuba, but he knew about him.
"Obviously, he's a pretty big name up here," he said. "We loved Coach Turner, but after he left Coach Schuba was one of the first guys that came to mind that I would like to have coach us. He pushes us to be our best every day."
Schuba, an administrative assistant at the high school, said the biggest realization he's had coaching is that the same approach does not motivate every player.
"You have to realize these kids are 16 and 17," he said. "Each one is different, and going through different things, so you find a way to coach them differently, but still learn the same things. You can't yell at every kid the same. You can't coddle every kid the same. You have to approach each differently and try to find what works and gets them to play at their highest level while still learning the game of basketball and learning life lessons."
One person not surprised by Schuba's success is his former college coach at Madonna, Noel Emenhiser.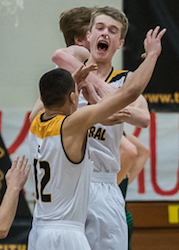 "Travis has always had an unbelievable understanding of the game," he said. "That was one of his greatest strengths (as a player). You can look at the individual skills that he has – his shooting ability jumps out – but he really understood how the game was supposed to be played and what it took to be successful.
"He comes from a basketball family. His older brother (Chuck) was a successful college player and high school coach. He understood the game from the day he arrived here. He understood why things worked and why they didn't. I thought it was a pretty natural fit to want to coach. In addition to understanding the game, Travis has an incredible confidence and that's important in coaching because he knows what he needs to do, and he has the ability and belief in it to make sure that it happens. He doesn't go home questioning whether he's doing the right things. He knows he is, and he's going to ensure the players believe in that and buy into the same things he does.
"If I were to guess, I would think the players really enjoy playing for him. I'm sure he's tough and demanding, but at the same time I'm sure he really builds confidence into his players in the way that they understand what it takes (to succeed) and they know they can do it."
That connection between Schuba and his players was evident on the gym floor following Central's win over West.
"It was a sea of people, and everyone was excited," Mattson said. "I was about five feet away as I watched one of our players try to find (Schuba). He was seeking him out to give him a great big bear hug. And when he did, Travis had a huge smile on his face. It was something special as an athletic director to observe this from a distance. That's what it's about right there."
It was another memory-maker for the young coach.
And as for that shot that took down St. Francis in the 2009 high school tournament, that one is hard to forget, too.
His brother, Chuck, who is 11 years older, was the Kalkaska coach at the time.
"I give that one to my brother," Travis Schuba said. "He did his studies. We threw in a bunch of defensive sets, mixed it the whole game, and slowed them down."
Ironically, Schuba was supposed to be the decoy on the game-winning play, but he ended up with the ball. The rest is history.
"I still have people ask me, 'Do you remember that shot?'" he said. "Of course, I remember that shot. It was one of the coolest moments of my career."
The game-winner for Madonna registers, too. The Crusaders had won eight games in Schuba's freshman season – Emenhiser's second at the helm. They had started the 2011-12 season 0-4 when Schuba hit the shot to upset Indiana Tech.
"There were two seconds left on the clock," Emenhiser recalled. "We ran him off a screen. He went flying into the corner, caught the ball and shot it all in one motion – nothing but the bottoms. That propelled us. We won our next nine games. It was the beginning of that (63-win) run we had for three years. Before (Schuba's class arrived), we had one winning season in program history. We were still trying to build a culture and change who we were. We had played some good games, but the guys didn't yet believe we could be a great team. That shot really gave the guys a ton of confidence. It was a pivotal moment in our program."
Madonna later went on to a win a conference tournament title and play in the NAIA national tournament.
Schuba, who still holds the Madonna career records for 3-pointers made (399) and 3-point accuracy (better than 40 percent), wants his Central players to embrace success as well.
And it seems to be working.
"Coach Schuba does a great job instilling in us that we should expect to win," Schwannecke said.
So far, so good. 

Dennis Chase worked 32 years as a sportswriter at the Traverse City Record-Eagle, including as sports editor from 2000-14. He can be reached at dennischase@charter.net with story ideas for Manistee, Wexford, Missaukee, Roscommon, Ogemaw, Iosco, Alcona, Oscoda, Crawford, Kalkaska, Grand Traverse, Benzie, Leelanau, Antrim, Otsego, Montmorency, Alpena, Presque Isle, Cheboygan, Charlevoix and Emmet counties.
PHOTOS: (Top) Traverse City Central coach Travis Schuba watches his team work during its game against Grand Rapids Forest Hills Central this season. (Middle) Traverse City Central's Tobin Schwannecke gets to the basket a week ago against Traverse City West. (Below) Central players celebrate their win over the Titans. (Photos by Rick Sack/TC Rick Photo.)