Accomplished Official Also at Home in Huddle Guiding Vandercook Lake Comeback
JACKSON – Cory Ray is right where he is supposed to be.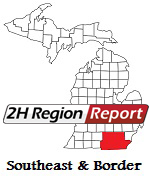 The second-year Vandercook Lake boys basketball coach has the Jayhawks off to their best start in years, setting up a key Cascades Conference battle for tonight against another undefeated team, Napoleon.
After spending a decade as a basketball referee in southeast Michigan, Ray has thrown his passion into coaching. It's been an interesting transition, but one he is thoroughly enjoying.
"I never thought I would switch over to being a coach," Ray said. "It's been crazy, but I'm enjoying it."
Ray is a 2003 Vandercook Lake graduate. He played basketball for the Jayhawks but soon found his calling as an umpire in baseball and basketball official. He has climbed the ladder as an umpire; he worked the MHSAA Finals a few years ago, moved up to NAIA and Division III and now regularly is called for Division I college games. 
His basketball career took a turn when Vandercook Lake needed a junior high coach.
"I started talking to them about it," Ray recalls. "I started doing that, and coaching just grew on me."
When the Jayhawks varsity position opened in 2017, he applied, but didn't get the job. He wasn't discouraged.
"I didn't get it because of a lack of experience," he said. 
He kept coaching at the junior high level. Before the pandemic, he finally got his chance.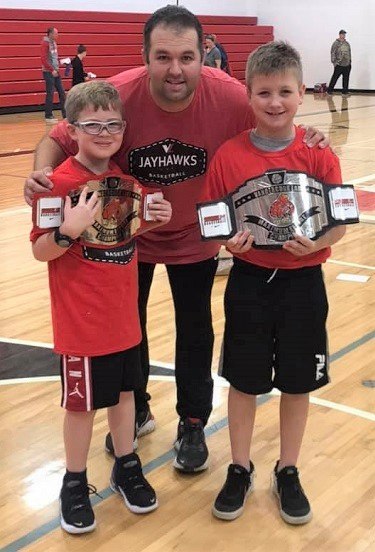 "I don't want a varsity job anywhere but Vandercook Lake. I always figured if I am going to put that kind of investment and time into a head coaching position, I want it here, where I went to school, where my kids go to school," he said. "If I'm going to do it, I want to do it in the place where I am from."
Ray, 37, lives in the district and his wife Sarah is the Jayhawks cheer coach. One of their daughters is in the eighth grade. 
He's thrown himself into the job and helped the Jayhawks taste success after a couple of down years. The 2017-18 team won only two games, and the 2019-20 team just four.
Last year Vandercook Lake went 9-9 in the shortened season, encouraging Ray about this winter. The seniors last year, he said, helped bring along the younger players.
"I had a great relationship with them," he said. "They really set the foundation for this year's team."
The 6-0 start, however, is more than even Ray could have imagined. The 12-player varsity roster includes 11 seniors.
"I knew we could be good," he said. "I wasn't sure how good."
One of the reasons Ray was confident about this season was the return of 6-foot senior Demarion Smith. "It's always a good starting point when you have someone who averaged 21 points a game come back," Ray said.
Smith's presence gives opposing defenses plenty to think about. But he's far from being the only scoring threat on the roster.
"We have shooters everywhere," Ray said.
Anthony Jimenez has had some big games already. Jermaine Buckner is the true point guard who runs the show. Tyrell Showers and Avery Pierce are on the verge of breakout seasons.
Against Manchester last week, Buckner nearly recorded a triple-double with 26 points, 13 rebounds, eight assists and five steals. An earlier game, he hit four triples in the first half to keep the team close before the others got hot.
"Doing what he does really opens up the floor for Smith and Jimenez," Ray said. 
Since Ray knew he had an offense to count on, he spent the summer and preseason focusing on defense.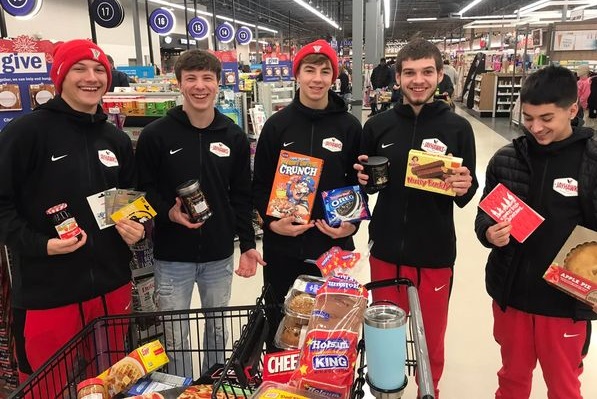 "We knew our focus had to be on the defensive end. We knew that had to be good. Plus, we do a nice job of crashing the boards," he said. "If we can hold teams in the 30s and 40s, it's going to be hard to lose. We have a couple kids on the verge of being big-time players for us. I see a lot of growth on the floor."
The community has bought into the team, too, supporting the Jayhawks at every turn, from being in the stands to helping the team give back. 
"The thing that I'm most happy and impressed with is how the community has responded and supported," he said. 
The transition from referee to coach gives Ray a different perspective. 
"Being a high school basketball coach has made me a better umpire," he said. "Being on both sides, you can see the investment the coaches put in and why they care so much. It definitely gives you a different perspective. You start to see both sides of it. You get why the coaches are so intense, so into the games."
It's still early in the season, but tonight's matchup between the Jayhawks (6-0) and Napoleon (6-0) has the makings of a beauty. It could be viewed as a possible changing of the guard in the conference, lately dominated by Hanover-Horton, which has won or shared league titles seven of the past eight seasons but is off to just a 2-4 start.
Vandercook Lake last won Cascades Conference titles in 2011 and 2012. Napoleon hasn't won one since 2008-09.
"You love to see someone from your area, your conference, do well. But, at the same time, you like to see someone else give it a run," Ray said. "We just have to continue to play with the same identity we've been playing."

Doug Donnelly has served as a sports and news reporter and city editor over 25 years, writing for the Daily Chief-Union in Upper Sandusky, Ohio from 1992-1995, the Monroe Evening News from 1995-2012 and the Adrian Daily Telegram since 2013. He's also written a book on high school basketball in Monroe County and compiles record books for various schools in southeast Michigan. E-mail him at DougDonnelly@hotmail.com with story ideas for Jackson, Washtenaw, Hillsdale, Lenawee and Monroe counties.
PHOTOS (Top) Vandercook Lake coach Cory Ray huddles with his team during a timeout this season. (Middle) Ray and two of the community's youth players show off championship hardware. (Below) Jayhawks fill a grocery cart during a Christmas shopping trip to benefit a local family. (Photos courtesy of the Vandercook Lake boys basketball program.)