Bad Memory Fades with Eagles' Fast Start
March 22, 2018
By Geoff Kimmerly
Second Half editor
EAST LANSING – In case his players didn't remember the heartache, Southfield Christian coach Josh Baker made sure they remembered.
Every practice, he'd mention last season's Class D Semifinal loss to Powers North Central, decided in overtime on a last-second shot.
The Eagles never let Thursday's return to the Semifinals get that far, or that close.
Southfield Christian opened up a double-digit lead before Dollar Bay scored its first point, and finished with a 71-32 victory at the Breslin Center.
"The mindset was just completely different this year," Southfield Christian senior Bryce Washington said. "Coach brings up every day in practice that loss last year, how we have to play our hardest every possession. You see defensively we've been a lot better in the playoffs. It's just played into our game."
The Eagles (22-4) will play at 10 a.m. Saturday for their fourth Class D title this decade and first since 2014, against either Buckley or Hillsdale Academy.
Defense indeed is a renewed strength for Southfield Christian, and the 32 points were 13 fewer than Dollar Bay's season low this winter.
Hand in hand with that improved defense is the team's increased depth – and it played a major role in shutting the Blue Bolts down as Baker rotated multiple players to handle Dollar Bay seniors Devin Schmitz and Jaden Janke. They combined to score only 17 points.
"Last year we (played) about six or seven guys every game," Eagles junior guard Harlond Beverly said. "This year we go 9-10 deep, and that makes it a lot easier for all of us … to get a two-minute break every game, come back in and keep that energy going.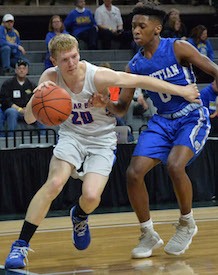 The Blue Bolts (26-1) responded to the opening run with a 13-11 stretch, and Schmitz' 3-pointer with 2:17 to play in the second quarter pulled his team within 12 of the lead.
It would get that close one more time 44 seconds later, but never closer.
Dollar Bay coach Jesse Kentala and his players all admitted it was just about impossible to prepare for Southfield Christian's speed, even as the Blue Bolts often have that advantage on opponents.
"That was the first time anyone's matched our speed," Kentala said. "We've kinda lived off being able to go by guys and exposing defenses. I think we were shocked because the first three or four minutes of that game, we couldn't go by them. And (my players) kept looking at me going, 'Coach, what do you want us to do?'
"They are so fast and such active defenders … we just don't see athleticism like we saw tonight."
Washington led Southfield Christian (22-5) with 23 points, 10 rebounds and three steals. Junior guard Caleb Hunter added 17 points, four assists and five steals and Beverly – who opened the game with a reverse dunk – added 12 points and four steals. Junior guard Jon Sanders had 10 points and three assists off the bench.
Janke had 12 points, six rebounds and two steals to lead the Blue Bolts in all three categories.
PHOTOS: (Top) Southfield Christian's Harlond Beverly throws down a dunk during his team's Class D Semifinal win Thursday. (Middle) Dollar Bay's Devin Schmitz (20) works to get around Southfield Christian's Rahmon Scruggs.