Beecher Adds Another to Title Collection
March 26, 2016
By Bill Khan
Special for Second Half

EAST LANSING — Monte Morris of Flint Beecher made a pact with freshman teammate Aquavius Burks after winning Michigan's 2013 Mr. Basketball Award.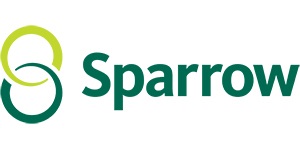 "At practice before the Quarterfinal game when he got his Mr. Basketball trophy, he told me he's going to pass it down to me," Burks recalls. "I said, 'I accept it.'"
As it turns out, Burks wasn't among the candidates for the top individual award in the Michigan high school ranks, but he has absolutely no complaints with the way his career at Beecher played out. 
Of all the great players who have built and maintained the tradition of Beecher basketball, only Burks can say he's played on three MHSAA championship teams. He put the finishing touch on a brilliant career by scoring 15 points and playing all 32 minutes in Beecher's 63-61 victory over Grandville Calvin Christian in the Class C title game Saturday at the Breslin Center.
It was the fourth Class C championship in the last five years for Beecher, which won Class B crowns in 1976, 1985 and 1987 prior to this run. Burks has started on the last three championship teams, scoring nine points as a freshman in 2013 as Beecher beat Laingsburg, 40-39, in the title game. 
"All season long, coach Mike (Williams) preached to me about how I can make history," Burks said. "Back-to-back, that's history also, but three state championships has never been done. This was my chance to leave my legacy and be part of our history at Beecher."
And what about that Mr. Basketball conversation three years ago? 
"I didn't win it, but he gave me the encouragement to know I'm able to move on and be great just like him," said Burks, who had a 99-7 record at Beecher. "That's what I really wanted to do was impress him."
Burks was immersed in the tradition of Beecher basketball before he ever entered high school. His brother, Antuan, played four years for the Buccaneers, winning the 2012 MHSAA Class C championship. Like a lot of little brothers, Aquavius tended to hang around with his older brother and his friends. 
"We knew he would be ready for varsity as a freshman," Williams said. "What were we going to get out of him? We didn't know."
By the end of Burks' freshman year, he earned enough trust from Williams to be put on the floor with the Class C championship on the line against Laingsburg. It took a steal with 2.4 seconds left to preserve the second of Beecher's four championships in five years. 
It was with a feeling of deja vu that Burks prepared for one final push from Calvin Christian on Saturday.
Trailing 63-61 with 15.3 seconds left, the Squires called timeout to plan a game-tying or game-winning possession. They got off three shots, the first a 15-footer by Tony DeWitte from the right wing. Nate Knee got the rebound in the paint and put up a shot that was blocked by Levane Blake. 
"At the end, I just knew I had to get the block for us to win," said Blake, who had three for the game. "But I was scared when I blocked it, because I thought the ref was going to call a foul, but I just knew I had to go for it. I didn't foul him, but they were calling fouls the whole game. I went for it — all ball."
For Williams, it was a fitting conclusion to another championship run by the Buccaneers. 
"It was similar to our 2013 state championship where we had to get a stop to win, but that's the identity of our program," Williams said. "That's what we hang our hat on is our defense. Offense will fill up the stands. It will make the crowd jump up and down. But defense wins championships."
Beecher held two seven-point leads in the third quarter, the largest lead either team enjoyed, but the Squires fought back to take a 61-60 lead on a three-point play by DeWitte with 1:14 remaining in the game.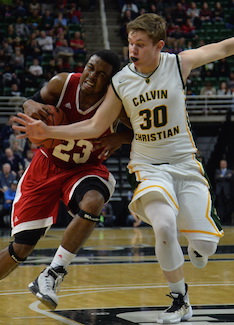 Malik Ellison, whose 3-pointer at the buzzer on Thursday put Beecher in the championship game, passed the ball down low to Blake for a basket and a foul with 55.8 seconds to go. Blake missed the free throw, leaving the Buccaneers with a 62-61 lead.
Calvin Christian's Braden Stevens was fouled and sent to the line for a one-and-one with 37.9 seconds left, but missed the shot. Beecher worked the clock down to 15.3 seconds when Blake was fouled. Blake missed the first shot and made the second, setting up the final possession by the Squires (21-5). 
They wanted to get the ball into the hands of DeWitte, who had 31 points in the Semifinal and 15 against Beecher.
"We told him to try to create for somebody," Calvin Christian coach Ryan Stevens said. "He got a 15-footer, and he's made that shot a lot before. I'm proud that the rest of the guys didn't watch. They went and got a rebound. Nate Knee actually got a rebound and got a good shot up." 
Although Beecher has dominated Class C in recent years, this was far from a romp through the postseason for the Buccaneers. They trailed in the second half in four games, including a 13-point third-quarter deficit to Southfield Christian in the Regional Finals. They were also down by two points to Flint Hamady in the final minute of the District opener. Then, of course, there was Ellison's epic 3-pointer that rescued the Buccaneers from elimination against Detroit Loyola in the Semifinal.
"It shows the poise and composure and resiliency of our team," Williams said. "These weren't just basketball games. These were life lessons the kids went through as far as getting knocked down and being able to get back up, going through adversity and understanding how to keep their poise and playing to the final buzzer. To come here and finish it off says the world about our kids, and not just our kids. We want to represent the Flint area and what we're going through. We're fighters in the end. We're going to come out with a win. We just want to make sure everybody knows it's not just about us winning; we want to represent our area and do the things young men are supposed to do to be successful." 
One of the factors the Buccaneers had to overcome was the surprise 3-point-shooting performance of 6-foot-9 sophomore center Blake Verbeek. Verbeek was 5 for 6 from 3-point range, finishing with 22 points and 11 rebounds. Verbeek had only 11 3-pointers coming into the game.
"It was mostly my teammates giving me the ball when I was hot," Verbeek said. "They just went down tonight." 
Beecher's only two losses in a 25-2 season came against the last two Class A champions, 2015 winner Detroit Western International and newly-crowned champion Detroit U-D Jesuit.
"These kids really deserve everything they got," Williams said. "Regardless of class, this is one of the top teams in the state." 
There were three ties and five lead changes in the first quarter until the Buccaneers closed the period with a 6-0 run to take a 17-11 lead after eight minutes.
After going scoreless over the final 3:34 of the first quarter, Calvin Christian would charge right back by scoring the first 10 points of the second quarter. The run was punctuated by a 3-pointer from DeWitte with 4:51 left in the second quarter, giving the Squires a 21-17 lead. 
The next run belonged to Beecher, which responded with eight straight points to go ahead 25-21 on a basket by Jermaine Shumpert with 1:59 left in the first half. The teams went into halftime tied, 26-26, as Jake Bouma closed the first-half scoring by hitting a 3-pointer with 55 seconds left in the second quarter.
Ellison finished with 21 points for Beecher. Jordan Roland had 12.

The Boys Basketball Finals are presented by Sparrow Health System.
PHOTOS: (Top) Flint Beecher's Malik Ellison (10) lets out a shout of joy as his teammates celebrate another Class C championship. (Middle) Beecher's Aquavius Burks (23) works to get into the lane as Calvin Christian's Nate Knee (30) attempts to slow him.