Bellaire, McBain Follow Longtime Leaders
March 22, 2016
By Dennis Chase
Special for Second Half
TRAVERSE CITY – Stan Sexton and Bruce Koopman have been down this road before.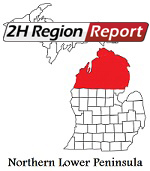 When Bellaire rallied to edge Buckley last Wednesday, it was the Eagles' sixth MHSAA Class D Regional basketball championship since 2000 under Sexton.
When McBain knocked off Tawas that same night, it was the Ramblers' sixth Class C Regional title since 2002 under Koopman.
Now, the two coaches are one win away from leading their programs to a fourth Final Four appearance at Michigan State's Breslin Center.
In tonight's Quarterfinals, Bellaire (24-1) faces Fulton (18-6) at Traverse City West while McBain (25-0) takes on Ishpeming Westwood (12-12) at Petoskey.
It should come as no surprise that McBain and Bellaire are still in the mix this last week of the season.
The Ramblers graduated just two seniors off a 22-3 squad that lost in the Quarterfinals to Boyne City last March.
"Having gone through those wars last year and having that experience back has paid huge dividends," Koopman said.
Sexton can say the same. He returned a solid nucleus from a 19-4 team that lost in the Districts to Boyne Falls.
"We had a good team last year," Sexton said, "but we could get rattled in tight games. We've really developed some poise and confidence this season."
That was evident Wednesday when the Eagles withstood the pressure to pull out a hard-fought 61-57 victory over Buckley.
"That's coach's favorite word - poise, poise, poise," junior Gabe Meriwether said after the victory. "He wants us to be calm and collected (on the court), to play stable and confident basketball. That's what we did, and that's why we won."
McBain had it a little easier, downing Tawas 63-36 with point guard Garett Gugle leading the way with 19 points. He hit five 3-pointers.
Now, Gugle said, the Ramblers need to stay focused. And the sting from last season's Quarterfinal loss should act as motivation, he said.
"At this point, everyone is even," Gugle said. "They're (Westwood) undefeated in the postseason, we're undefeated."
Playing on the big stage in March has become a tradition for both Bellaire and McBain.
The Ramblers won the 2002 Class C title with a lineup that included current Ferris State basketball coach Andy Bronkema, former NFL defensive end Dan Bazuin, and Trent Mulder, an all-Great Lakes Interscholastic Athletic Conference pitcher at Northwood.
This, however, is Koopman's first team to reach the Quarterfinals undefeated. The 2002 squad lost two games – to eventual Class D champ Wyoming Tri-unity Christian and to Class A Grand Rapids Forest Hills Northern – in a holiday tournament at Cornerstone University. Those losses, Koopman said, turned out to be a blessing in disguise.
"We never lost after that," Koopman said. "That taught us we had to be tougher, more physical. Had we not played in that tournament, I don't think we would have won (the Class C title)."
So how does this team compare to the 2002 squad?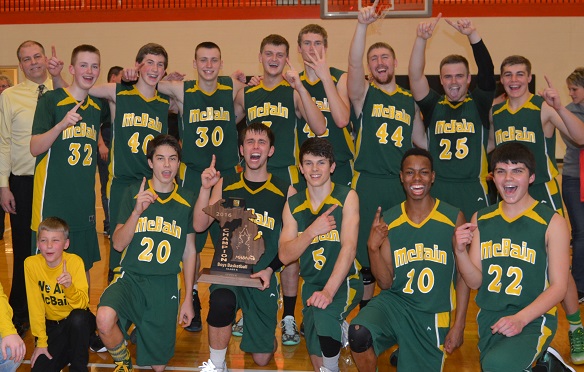 "I don't know if you can compare teams because there are so many variables," he said. "I can tell you this, if this team wins another game or two, regardless if they win it all, they deserve to be mentioned in the top two or three during my time here."
Bellaire came as close as a team can come to winning an MHSAA crown in 2005, only to be denied by Detroit Rogers 71-68 on a miraculous four-point play with 1.6 seconds left in overtime. The Eagles, led by brothers Brandon and Michael McClary, reached the Final Four three times in a four-year span. The McClarys went on to play at Olivet College where Michael became the school's all-time leading scorer.
The players on this Bellaire team still remember those days.
"When we were younger we looked up to the McClarys when those teams were making their Breslin runs," senior leader Hayden Niepoth said. "We saw that, and now we want to copy it."
"They'll ask, 'Are we as good as the team of '05?'" Sexton added. "We (coaches) have to say we don't have any McClarys on this team, but we have some very good basketball players. We have that important trait the '05 team had – we're a team. We play together, we support each other."
Sexton, who was inducted into the Basketball Coaches Association of Michigan Hall of Fame in 2011, is in his 27th season as the varsity coach. He did a three-year stint from 1978-81, stepped down and then took the job again in 1992. During that span, he's posted a 493-139 record, a 78 percent win mark.
Koopman is finishing his 22nd season as McBain's varsity coach. He's also won 78 percent of his games, compiling a 407-116 record.
To make it even sweeter, Sexton, 74, and Koopman, 50, are coaching at the same schools they attended.
Sexton's backstory, though, is quite different than most. He did not play sports in high school. And he certainly wasn't thinking of a coaching career until Bellaire's head basketball coach Ed Stoneburner approached him one day at school.
"I was teaching fourth grade at the time," Sexton recalled. "Ed came up and said, 'I need a fifth and sixth grade basketball coach.' I said, 'I don't know anything about it.' He said, 'That's all right. We'll teach you.'"
That was in 1971. To this day, Stoneburner's influence is part of Sexton's philosophy.
"What I really took from him was to play this game aggressively," Sexton said. "Play it hard, play it with intensity. That's what we preach and I think it shows, especially in our defense."
Sexton also watched and learned from some of the area's best coaches – Maple City Glen Lake's Don Miller, Leland's Larry Glass, Traverse City's Jim Anderson and Central Lake's Gary Johnson, among others.
"I'd pay my two or three dollars to get in, and I'd watch these guys coach," Sexton said.
He would also pore over the boxscores that were published in the newspaper in those days. One line that caught his attention – team fouls.
"I noticed Glen Lake would always have 8, 9, 10 fouls and the other team would have 18, 19, 20 – with guys fouling out," Sexton said. "Fouling is poor defense. When you're sending people to the line you're giving them a 70 percent chance (to score). That's what impressed me about Glen Lake. You could see the discipline in Don's teams."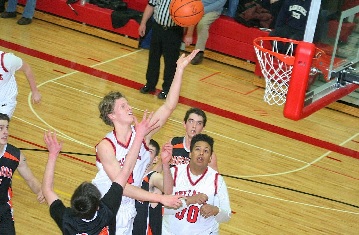 Sexton, who also coached girl' varsity basketball for two years and the baseball team for nearly 20, is aided by a veteran coaching staff that includes Paul Koepke, Jeff Smith and George Mason. All three have been with him for years.
"Great coaches," he said. "They bring a lot to the game."
Koopman, meanwhile, played basketball at McBain under Hall of Fame coach Bruce Brumels in the early 1980s. After graduating, he spent a year working in a factory in Cadillac before enrolling at Central Michigan University.
Four years later in 1989, it was Brumels, then the principal, who hired Koopman as a teacher.
"I was very fortunate," he said. "Everything fell into place."
Koopman coached junior varsity basketball for five years under Steve Anderson before taking over the boys varsity program in 1994. In addition, he coached girls basketball from 1990-98 and again from 2003-07. He stepped down soon after the girls season switched to the winter. At that time, he also took on the boys JV coaching duties to go with the varsity.
Koopman cites two reasons for his program's continued success – community support and great players.
"Let's be honest," he said. "Great players make good coaches."
Perhaps another reason is that McBain starts initiating interest in basketball early on. Right after Koopman was hired, the school instituted a co-ed basketball program for elementary students in grades 3-6. It runs seven consecutive Saturdays, starting in January.
"We had close to 140 kids involved this year," Koopman said.
The elementary program dovetails into the middle school, the feeder program for the high school. Interest has remained strong. Koopman said 29 players tried out for JV basketball this season.
Koopman – who was mentored by Brumels, Anderson and former girls coach Dale Marie DeZeeuw – brings an "old school" approach to coaching. His practices start with defensive drills, followed by rebounding drills.
 "We have some practices where that's all we do," Gugle said.
After that comes the offensive drills, where once again discipline is required.
"I'm all about patience, working the ball and looking for that good shot," Koopman said.
His players get the point.
"He likes the basics," Gugle said. "Nothing fancy."
Craig Sterk, a 6-foot-7 junior who "plays everywhere," leads the Ramblers, averaging 15.2 points and 9.4 rebounds per game. Cole Powell, a 6-3 senior, and Logan Eling, a 5-10 junior, average better than 14 points per outing. Powell is in his fourth year on varsity.
"We have experience, balance and depth," Koopman said. "We defend pretty well. We rebound pretty well."
Gugle is in his second season running the point. That experience is invaluable, Koopman said.
"That's another reason we're better," he said. "Whatever teams throw at us doesn't faze him. He handles it and get us into our offense. He doesn't look to score, but (Wednesday night) they were leaving him open and he was popping 'em."
It's been an exciting winter for Koopman. His oldest daughter, Michaela, played on the girls varsity team, which advanced to the Regional Finals. His son, Jarrett, is a sophomore on the boys varsity.
The Ramblers were taken to the wire twice during the regular season – both in games outside the Highland Conference. A Jimmy Schneider 3-pointer at the buzzer beat Big Rapids, a Class B quarterfinalist, on the road early in the season. Then a Sterk 3-pointer in the waning seconds forced overtime in a late season win at Frankfort.
Bellaire's only setback came early in the season to a red-hot East Jordan team, which won the Lake Michigan Conference.
The Eagles ran the table in the Ski Valley, handing Johannesburg-Lewiston its only two regular-season losses. Bellaire also downed Onaway, a Class D quarterfinalist, twice. The Eagles' tournament resume includes wins over Boyne Falls, Frankfort and Buckley.
"It means a lot (to win a Regional)," Niepoth said. "But we're not done. We don't want to just get to the quarters, we want to get to the Breslin, and we want to win at the Breslin. That's our goal. We just have to keep working and getting better every day."
Meriwether and Niepoth are the catalysts for the Eagles, averaging 18 and 14 points per game, respectively. Niepoth is also the team's defensive stopper and assists leader.
"He plays both ends of the court," Sexton said.
Jamal Lockhart provided some big plays in the win over Buckley, scoring 14 in the low post.
But that's history now. It's all about the present and tonight's Quarterfinals.
"Anybody can beat anybody at this stage," Meriwether said. "It's survive and advance."

Dennis Chase worked 32 years as a sportswriter at the Traverse City Record-Eagle, including as sports editor from 2000-14. He can be reached at dennischase@charter.net with story ideas for Manistee, Wexford, Missaukee, Roscommon, Ogemaw, Iosco, Alcona, Oscoda, Crawford, Kalkaska, Grand Traverse, Benzie, Leelanau, Antrim, Otsego, Montmorency, Alpena, Presque Isle, Cheboygan, Charlevoix and Emmet counties.
PHOTOS: (Top) Gabe Meriwether dunks for Bellaire against Fife Lake Forest Area, while McBain's Cole Powell works for position in the post against Tawas. (Middle) McBain coach Bruce Koopman, far left, stands with his team after its Regional championship win. (Below) Bellaire's Hayden Niepoth drives to the hoop against Mancelona. (Bellaire photos courtesy of Michael Smith and The Antrim Review; McBain photos courtesy of Marc Vieau and The Cadillac News.)