Clarkston Earns 1st Shot at Dream Finish
March 24, 2017
By Geoff Kimmerly
Second Half editor 
EAST LANSING – Dan Fife dreamed of playing for an MHSAA basketball championship at Jenison Field House while a student at Clarkston 50 years ago.
Thursday afternoon, the current Wolves made similar dreams come true – and offered their coach that opportunity he never was able to achieve as a player.
Clarkston's 78-35 win over league rival West Bloomfield in Friday's first Class A Semifinal earned the program its first appearance in an MHSAA boys basketball championship game.
The Wolves have had piles of success under Fife, the fourth winningest coach in state hoops history with 676 wins since taking over the program before the 1982-83 season. He's led Clarkston to 30 District and 12 Regional titles, with Friday's Semifinal the second during his tenure.
"Coach Fife, I don't think he'll admit how much it means to him. But it's everyone's goal at the beginning of every season; your ultimate goal is to finish out with a win," Clarkston junior guard Foster Loyer said. "For Coach Fife, and the community of Clarkston, that would just mean the world to all of us, just motivate us to keep working even more."
Clarkston (26-1), which entered the postseason tied for No. 3 in The Associated Press' final regular-season Class A poll, will finish this season against Grand Rapids Christian at noon Saturday at the Breslin Center.
The Semifinal was the third ever in Wolves history. And the rare opportunity to advance to Saturday came with an even rarer opportunity to face a familiar opponent in this late round of the tournament.
Clarkston had beaten West Bloomfield (17-9) by 11 and seven during the regular season on the way to winning the Oakland Activities Association Red championship; the Lakers tied for third in the league.
And they knew what to expect from Loyer, a junior already committed to play at Michigan State. But it didn't help much this time.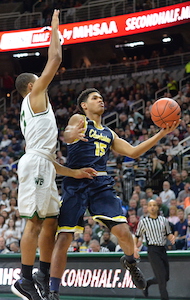 Loyer's first shot of the game, an attempted layup, sailed over the rim. His second shot, a 3-pointer, touched nothing but net.
Making 10 of 17 shots from the floor and 5 of 8 3-pointers, Loyer finished with 32 points, to go with seven assists. Senior forward Dylan Alderson added 27 points, and sophomore center Taylor Currie had 10 points and 16 rebounds as Clarkston hit 57 percent of its shots from the floor – including an incredible 69 percent during a first quarter that ended with the Wolves carrying a 24-13 lead.
Clarkston took an 18-point advantage into halftime.
Senior guard Kevin McAdoo led the Lakers with 22 points, but as a team they made only 22 percent of their shots from the floor, and had just one steal as Clarkston had only four turnovers but 17 assists.
"It's a tough one to swallow today, especially with the ride we were on to get here," said seventh-year West Bloomfield coach Jeremy Denha. "What a fun, fun time to get here with the ups and downs and the way the kids battled. We hadn't sniffed a District Final, let alone a District title, since I'd been here – we hadn't won one since 2003. For us to make this magical run, get to Breslin, play Clarkston a third time … yeah, the outcome is disappointing, but it's about the journey too."
Fife has been on a lot of these trips. So he'd likely quickly agree with his OAA colleague. And especially with how this journey has a chance to end for the first time.
"I'm not worried about what it means to me. I have an expectation; I've always had one no matter what I'm doing. If I'm playing something, I'm going to compete," Fife said. "The reality is, I dreamed of playing in the state championship when I was in high school. I wanted to get to Jenison. That was always my dream, and I'm just trying to instill in the kids to have the same dream – to play basketball and get to this point. They'll remember this day the rest of their lives, and tomorrow's game, regardless of what happens."
PHOTOS: (Top) Clarkston's Foster Loyer breaks past West Bloomfield defenders to get a shot up during Friday's first Class A Semifinal. (Middle) The Wolves' Tieler Houston (15) gets position on West Bloomfield's Daniel Wrack.