Class C Final: Beecher Legacy Grows
March 24, 2012
EAST LANSING – Antuan Burks and Monte Morris sat together during the 2008 Class C Final and watched Flint Beecher come up just three points short of winning an MHSAA championship.
They agreed they'd be back to finish the job.
The Buccaneers gave it a run at the 2010 Semifinals, and again last season. This winter, not only did they again play into the final weekend of the season – the Bucs put together arguably the best in the program's illustrious history.
Beecher capped a perfect run with a 74-60 win over Traverse City St. Francis in Saturday's Class C Final at Breslin Center. The championship is the Bucs' first since winning Class B in 1987 – and made good on that middle school dream of its current varsity captains, Burks and Morris.
"We sat by each other here saying we're going to finish it. We're going to bring a championship home," Burks said. "We made history today."
And in a number of ways.
Beecher finished 28-0, becoming the 12th team in MHSAA history to win that many in one season. Flint has gained national renown for its hoops prowess and tradition, and this championship was the first for the city's public schools since Flint Northern won Class A in 1995. This title came after Beecher's runner-up finishes in 2008, 2003 and in Class B in 2000.
Bucs legend Roy Marble, who later played at Iowa and in the NBA, called the team Friday night and offered encouragement for the Final and a reminder about the legacy of Beecher basketball.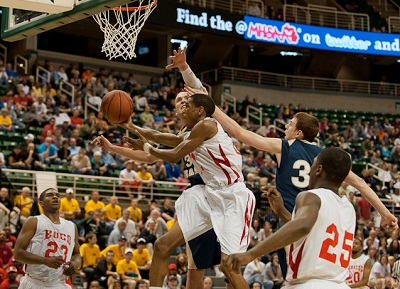 "It's incredible. The only thing that I can say is we've got the full support of all the Beecher alumni," Bucs coach Mike Williams said. "It's humbling to be considered and to be known right up there with all those great teams that have played in the past at Beecher and to add to the legacy Beecher has. That's the main thing."
This Beecher team will be remembered in part for its incredibly fast pace of place, and the Bucs got going quickly Saturday. They had six fast-break points and constantly pushed the tempo in taking a 23-9 by the end of the first quarter.
Beecher pushed the advantage to 41-21 by halftime.
"Just going by what the defense did to us, they dictated that we needed to push the ball up the floor. That's our game anyway," Williams said. "The faster we play, the better. We can just run up and down the floor and play freestyle basketball, but we can also slow it down in the halfcourt. With the road we went through to get here, we played every style."
St. Francis (25-3) didn't go quietly, though. The Gladiators cut the deficit to 12 with 2:10 to play in the third quarter, and multiple times seemed on the verge of making the game a lot closer.
Senior center Sean Sheldon finished with game highs of 22 points, 19 rebounds and six blocks, and senior point guard Devin Sheehy capped his high school career with eight assists.
"The style of game we play, I figured if we could be close at halftime, usually we make a second-half run," St. Francis coach Keith Haske said. "I really thought in the second half we went to their level, really played some good basketball."
Morris led Beecher with 18 points, seven rebounds and six assists, and Burks had 16 rebounds and six assists. Senior Jequarius French added 14 points and senior Cortez Robinson scored 11.
With one more season to play, Morris has an opportunity to make more history at Beecher. As the reigning two-time Associated Press Class C Player of the Year, it's more or less expected.
But like Marble did for this team, Saturday is a moment Morris will be passing on long after his days at Beecher are done.
"Knowing I can come back after our guys graduate, and just talk to the guys that are playing and let them know how we made the state championship and had an undefeated season," Morris said, "that's wisdom I can take and explain to younger guys that are coming up."
Click for box score or to watch the game and press conferences at MHSAA.tv.
PHOTOS: (Top) Flint Beecher players together hoist the champion's trophy after Saturday's Class C Final. (Middle) Beecher junior Monte Morris splits Traverse City St. Francis defenders on his way to the basket. (See more at Terry McNamara Photography.)