Douglass Completes Climb for 1st Championship
EAST LANSING – Detroit Douglass senior guard Pierre Brooks II sought out his coach, who's also his father, as the final seconds ticked away.
The pair shared an emotional embrace as they celebrated the program's first state title with a 47-41 win over Wyoming Tri-unity Christian in Saturday's Division 4 Final at the Breslin Center.
"This is the best feeling in the world, and especially winning a state championship with your dad," Brooks II said. "It's been a long road since my freshman year, and we used to butt heads a lot. Towards the end of my high school career we really started to click a lot more, especially with the pandemic."
Brooks II, a Michigan State signee, recorded a double-double with 15 points and 11 rebounds to help lift the Hurricanes to the victory in their first Finals appearance.
He also added five assists, two steals and two blocked shots.
"I've never said this to him personally, but Pierre is the best player I've ever coached," Douglass coach Pierre Brooks Sr. said. "I've been coaching for 22 years, and the work that he puts in on his own and the dedication he has to get better is amazing. I've never had a kid like him, and he just so happens to be my son, so this moment is really special for me."
Douglass' 6-foot-10 senior center, Javantae Randle, also played a pivotal role and produced a double-double with 15 points and 10 rebounds.
"I didn't take basketball seriously until I was in 10th grade, so I never thought I would be here," Randle said. "I never thought we would win a state championship, so I'm going to remember this forever."
Tri-unity was playing in its ninth Final, but came up short as runner-up for the fifth time.
The Defenders were searching for their first championship since 2011, but were unable to rally in the second half after a strong start.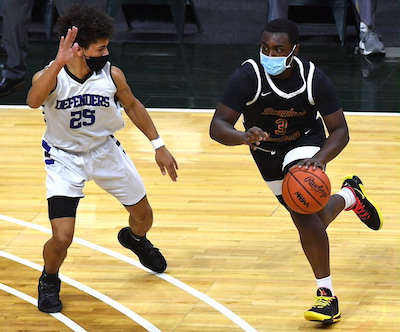 Tri-unity played well early, and led 19-13 in the second quarter before the Hurricanes mounted a comeback.
Brooks II drained a deep 3-pointer during the closing seconds of the first half to cap a 9-0 run and give the Hurricanes a 22-19 lead at the half.
"That was huge," Brooks Sr. said. "That gave us a little confidence, and I think it swung the momentum in our favor."
The Hurricanes took control during the final minute of the third quarter.
Randle converted a three-point play, and then seconds later Brooks II stole the ball and threw down a thunderous one-handed dunk to make it 36-27 heading into the fourth quarter.
The lead swelled to double digits with six minutes remaining, but Tri-unity junior guard Brady Titus wouldn't let his team go away quietly.
Titus, who had a game-high 21 points, kept the Defenders within striking distance, and teammate Owen Rosendall knocked down a 3-pointer with a minute left to make it 43-40.
"We told the guys it was going to be a game of runs, and Tri-unity always makes runs because they are a well-coached team," Brooks Sr. said. "We had to keep focused, but Titus is a special player and he played a heck of a game."
Tri-unity coach Mark Keeler had a game plan to try and contain Brooks II, who averaged more than 30 points per game this season.
"We threw the kitchen sink at him," Keeler said. "We knew that Randle and Brooks were keys to their team, and we tried to make (Brooks) earn every point he got and I think we did a pretty good job of that for the most part."
The Defenders shot only 33 percent from the field and 20 percent (5-25) from beyond the 3-point line.
"We had a bad start to the second half, and then we had to play catch-up," Keeler said. "We didn't take care of the ball at critical times and that cost us, but we were excited to be here and I'm proud of my team."
PHOTOS: (Top) Detroit Douglass' Pierre Brooks II (1) reaches high to grab a rebound during Saturday's Division 4 Final at Breslin Center. (Middle) Douglass' Damonn Tiggs (3) makes a move toward the lane with Tri-unity's Brady Titus defending. (Click for more from Hockey Weekly Action Photos.)