Douglass Takes Next Step in Earning 1st Finals Trip
April 8, 2021
GRAND RAPIDS – Despite playing an undermanned opponent in Thursday's Division 4 Semifinal at Van Andel Arena, Detroit Douglass still couldn't afford to look at Mount Pleasant Sacred Heart as anything but dangerous.
Which is why the Hurricanes will be playing in Saturday's Final after outlasting the Irish 60-41 in a strange matchup.
Sacred Heart had only five healthy players after three tested positive for COVID. While the numbers should have given Douglass a distinct advantage, Hurricanes coach Pierre Brooks Sr. said his players couldn't afford a mental letdown.
"We knew they only had five players (and) I've been there before," Brooks said. "They were somewhat desperate, they knew they had nothing to lose and played with a chip on their shoulder. You can't underestimate the five players who are playing."
Sacred Heart first-year coach Justin Sherlock, whose team saw its 12-game winning streak snapped, said the program played most of the season with eight players, not counting two who were brought up from the junior varsity. The Irish lost the three players to testing earlier this week, with the only good news being the remaining players constituted much of the normal starting lineup.
The result, as least early in the contest, was surprising as the Irish jumped to an early 9-8 lead with a minute and a half left in the opening quarter. But the Hurricanes' defense took over from there in allowing only three second-quarter points as Douglass built a 25-12 halftime lead.
"We played as hard as we could for 32 minutes and did all we could do," Sherlock said. "I felt like we were clicking. We've got two excellent seniors who have played a lot of basketball. We said if we could stay healthy, we could make a run."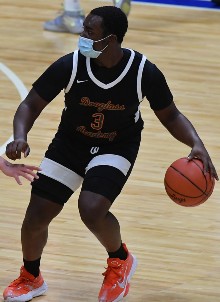 The win sends Douglass (16-5) into Saturday's 10 a.m. championship game against Wyoming Tri-unity Christian at the Breslin Center. The Irish finished 20-2.
Douglass senior guard Pierre Brooks II, who finished Thursday with 30 points and 10 rebounds, said the difference in beating a shorthanded Irish team came down to defense.
"We stepped up in the second quarter," he said. "We locked them down and made sure we made our shots around the basket."
The Irish got 15 points and 10 rebounds from Javantae Randle. Damonn Tiggs had six points, six rebounds and two assists. Tiggs said defense will again be a priority in the Final against Tri-unity, which will be playing in its ninth championship game.
"We need to build on our defense," he said. "Saturday is for everything, everything will be on the line. We need to play our hearts out."
Sacred Heart got 15 points, four assists, three steals and four rebounds from senior guard Zach Wentworth. Senior Luke Predum had 13 points, and freshman Aidan Halliday 11 points.
Brooks Sr. said Sacred Heart deserves credit for sticking around for much of the game.
"They played hard and never gave up," he said. "I told our guys toward the end they'd have a spark. But I was proud of our guys."
PHOTOS: (Top) Pierre Brooks II (1) works to get into the lane during Thursday's Division 4 Semifinal against Mount Pleasant Sacred Heart, with Zach Wentworth (5) defending. (Middle) The Hurricanes' Damonn Tiggs looks to the post. (Click for more from Hockey Weekly Action Photos.)