Eves Helps Hillsdale Keep Expectations High
December 14, 2018
By Doug Donnelly
Special for Second Half
HILLSDALE – Brad Felix found out as much about his 2018-19 Hillsdale boys basketball team in its first loss of the season Thursday as he did during its surprising 4-0 start.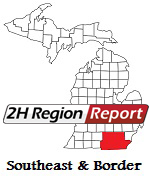 The Hornets returned only one starter and just a few players that had much to do with last year's Lenawee County Athletic Association championship team. But that hasn't deterred Felix's 18th squad at Hillsdale from being tied atop the LCAA and looking much better than it did on paper coming into the season.
"No one picked us to win the league, and I don't blame them," said Felix, who is inching closer to 300 wins as Hillsdale's head coach. "I get it. But we haven't lowered our expectations. We've done really well the last eight to 10 years. The kids expect to win. Nobody wants to be the team that goes from league champions to winning only five games."
Thursday, the Hornets fell behind early and leading scorer Spencer Eves was on the bench with foul trouble against Brooklyn Columbia Central, one of the preseason favorites to win this year's LCAA title. The Hornets, who came into the game 4-0, stayed in it with solid defense. When Eves hit back-to-back 3-pointers in the fourth quarter, Hillsdale erased what had been a 35-21 deficit. CC held on for the win, but Hillsdale showed it's not going to roll over this season for anyone.
"I think I'm more impressed, and proud, of my guys rather than surprised," Felix said of the start to the season. "They still embrace the role of being champions and aren't willing to just lie down and not compete."
Felix and Hillsdale have been a model of consistency, especially in recent years. The Upper Peninsula native has coached one level or another since 1991 at Hillsdale, where he's led both the girls and boys varsity programs. The Hornets boys have won six of the past seven LCAA championships and 10 league titles and eight District championships total under Felix.
Another thing he's done is coach a lot of talented, high-scoring players. Most recently, Tyler Laser, Martin Peterson and Bryce Drews have donned the Hornets uniform and put up big numbers in the scoring column. This year, it's Eves taking the reins and running with them in a big way.
"He just has that mindset that it's his team, his time," Felix said of the 6-foot-1 senior captain. "He's embraced that role of a scorer. I thought we could get 15 or 20 from him. I wasn't expecting him to be averaging 33 points a game."
Eves has been outstanding, scoring 28 in the season opener against Jonesville and 35 against Leslie a couple of nights later. In LCAA play, he has had games of 37 against Hudson, 45 against Blissfield and 22 against Columbia Central. He's scored more than 60 percent of his team's points this season.
"He's shooting the ball better than he ever has," Felix said. "And, he really does a nice job of getting to the free throw line."
Eves already has shot 71 free throws. He's averaging 33.4 points a game and has eight 3-pointers. One point that makes Eves scoring so interesting is he's really the Hornets' point guard.
"I brought him up to the varsity his freshman year because I knew he was going to be my point guard for the next three years," Felix said. "I wanted him to learn. He didn't get a ton of playing time as a freshman, but he learned a lot."
Eves did average 12 points a game last year, but even he admits to being somewhat surprised to be averaging more than 20 points more a game at this point in the season.
"I just want to go out there and do the things that give us a chance to win," Eves said. "I've played with a lot of great players here. They've all been great mentors to me. Now, I'm trying to carry on that tradition."
Eves said the success of the program over the last decade carries over from year to year.
"Coming up through the system, I think it definitely helps," he said. "We have had a lot of success."
Against Blissfield, Eves was nearly unstoppable, scoring 45 of Hillsdale's 71 points. He made 15 field goals and was 12-for-15 from the charity stripe. Remarkably, through five games, only one other Hillsdale player has reached double figures in scoring in a game – Coby Nash scored 10 in the season opener.
These early-season wins will only help Hillsdale gain confidence as the season goes on. Besides Eves, other seniors on the squad are Nick Baxter, Noah Lopresto and Nash. Hillsdale also has a freshman and one sophomore, Felix's son Adam.
"We have a lot of role players," Brad Felix said. "The guys know their roles. They are buying into those roles. We've played well. We're going to keep getting better."

Doug Donnelly has served as a sports and news reporter and city editor over 25 years, writing for the Daily Chief-Union in Upper Sandusky, Ohio from 1992-1995, the Monroe Evening News from 1995-2012 and the Adrian Daily Telegram since 2013. He's also written a book on high school basketball in Monroe County and compiles record books for various schools in southeast Michigan. E-mail him at DougDonnelly@hotmail.com with story ideas for Jackson, Washtenaw, Hillsdale, Lenawee and Monroe counties.
PHOTO: Hillsdale's Spencer Eves brings the ball upcourt.