Finally ... Romulus Reigns in Class A
March 23, 2013
By Geoff Kimmerly
Second Half editor
EAST LANSING – Romulus coach Nate Oats called it abnormal rather than rare for his players to show up at school at 6 a.m. this season to take extra shots before class. 
Point guard Wesley Clark made himself familiar with a few hills too as he took the extra steps necessary to avoid leaving Breslin Center again without a championship trophy. 
This weekend's trip to Michigan State was the Eagles' fourth in six seasons, and they played in their first championship game Saturday since finishing runner-up in 2005. But those early mornings and extra shots became all worth it when, in Oats' words, "We finally got this thing done."
Romulus led the Final from start to finish in defeating Detroit Southeastern 61-49 to claim its first Class A title since 1986 and cap one of the finest seasons by a Class A team in recent memory.
"As a junior, it was my first time being here to the Breslin, and I didn't understand what type of feeling it was to lose at Breslin," Clark said. "Coming into senior year, I knew I didn't want to feel that again. So I took that on in the offseason and in the spring, ... just to make sure this wouldn't happen again."
Romulus finished 27-1, its only loss to Detroit Pershing – which the Eagles then avenged in Tuesday's Quarterfinal. 
Of those 27 wins, all but six were by 10 or more points. 
"Our theme of the year was 'dominate,' and dominating is mainly just winning and winning by a large margin," Clark said. "We took that on as a statement and challenge. That's what we tried to do, is dominate."
Oats broke it down Saturday much like his team broke down opponents all season.
It started with talent, and the Eagles obviously weren't lacking. Oats called the Missouri-bound Clark the most competitive player he's coached. Rhode Island recruit E.C. Matthews is one of the biggest "gym rats" he's had, and Louisiana Tech signee Leonardo Edwards showed in spurts that he might've been the top big man in Michigan. Plus, "we played harder than everybody," Oats said.  
"If you're more talented than everybody, and played harder, you're not going to lose most of the time," he added. "If you're not in our program, nobody has any idea how many hours these guys put in at the gym. … They've made themselves into really good players."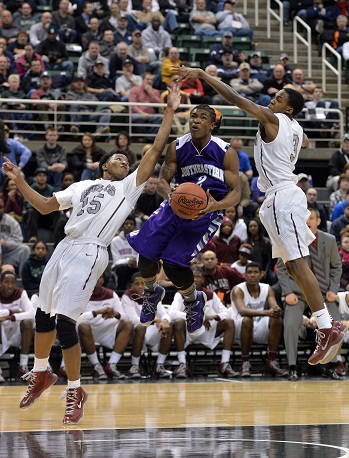 Matthews scored 20 points and grabbed 10 rebounds in the Final, giving him 86 points and 27 rebounds over three games this week. Edwards had 13 points and nine rebounds Saturday, and Clark had 12 points and five assists.
Similar to the Semifinal, Romulus jumped to a 7-0 lead off the opening tip. Southeastern got within four with a minute to play in the first half, but the Eagles led by double figures for all but 47 seconds of the second.
"They get the ball up the floor quickly, and they can shoot the basketball. They do it with precision. I said it (Friday), they do what they do probably better than anybody in the Midwest," Jungaleers coach George Ward, Jr., said. "Is it unstoppable? Of course not. We just didn't follow the game plan, so to speak. Once the heat of battle came, we kinda forgot about exactly what it was we really wanted to do to them defensively. And our frustrations really initiated off the fact that we didn't score like we wanted to."
Senior guard Jovone Haynes – whose last-minute steal made him the hero of Southeastern's Semifinal win – led the Jungaleers again with 16 points and six steals. 
Junior forward Daryl Bigham had 10 points and senior guard Kwesi Williams had 10 points and six rebounds. But Southeastern made only 27 percent of its shots from the floor and only 16 percent from 3-point range.
Southeastern finished 21-6 and with a second runner-up finish in three seasons. The Jungaleers also advanced to the Final in 2011. 
"Toughness with some good talent is very important. Our guys showed mental toughness during the course of this season," Ward said. "We always play a very good schedule, and if you just do things the right way, you'll always be in position to win.
"Some kind of way, we always manage to win basketball games and get kids to college. … The toughness really can supersede some of the talent levels. We had some toughness, and that helped carry us."
PHOTOS: (Top) Romulus' Wesley Clark (15) drives for two of his 12 points in Saturday's Class A Final. (Middle) Mays and teammate Juwan Clark (3) form a shell over a driving Jovone Haynes. (Click to see more at HighSchoolSportsScene.com.)