Ford Wins Another Championship Chance
March 25, 2016
By Geoff Kimmerly
Second Half editor 
EAST LANSING – Kevon Bey played one minute during Detroit Henry Ford's two-game stand at Breslin Center in 2015.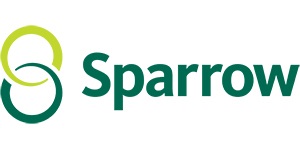 As he put it Friday, he "just sat and watched."
But he clearly learned a few things too watching the Trojans finish their longest MHSAA Tournament run as Class B runners-up.
The 6-foot-4 senior was a little more involved this time. Bey played 29 minutes, made 10 of 12 shots for 21 points, and also grabbed eight rebounds as Henry Ford advanced again to the Class B Final with a 70-48 win over Williamston.
"I just came out trying to play for my team, playing my role," said Bey, who's averaged eight points and nine rebounds per game this season. "We've just been thinking about this since the season started, wanting to get back to playing at the Breslin."
Henry Ford (19-6) will face Stevensville Lakeshore on Saturday in the final game of the 2015-16 season, the Class B championship game at 6:30 p.m. 
The Trojans' headliner this season has been senior guard James Towns, the leading scorer in last season's title game loss to Wyoming Godwin Heights and the team's leading scorer this winter at 23 points per contest.
He also was near-perfect from the field Friday, making 6 of 8 shots for 17 points. But Bey was among those who made the difference in a matchup that otherwise pitted two of Class B's best guards.
Williamston senior Riley Lewis had a game-high 32 points and scored his team's first 16. That was a tough way to keep up, as Ford built its lead to 10 points after five minutes and got it up to 28 near the end of the third quarter.
"We had scripts for the whole run of every team we played, and tonight they kinda flipped the script," said Williamston interim coach Tom Lewis, who guided the team after coach Jason Bauer began cancer treatments earlier this month. "We knew we couldn't play a certain style, and tonight they got going too quickly. The game got away from us, and we weren't able to get it into the third quarter.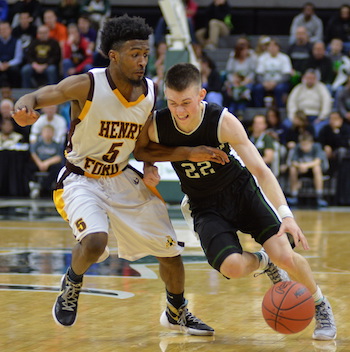 "We knew if we got it there, we're pretty comfortable playing in close games and kind of have a recipe to close out. But they were too tough tonight."
The Trojans scored 20 of their first 43 points of turnovers in building a 20-point third quarter lead.
Williamston (21-4) had downed an impressive slate of opponents during its run including three ranked among the top six in Class B, and the Hornets entered the postseason ranked No. 10. But the difference in Henry Ford was its experience. Four seniors started, with Towns and forward Alston Hunter back in the lineup after starting during Ford's Breslin run a year ago.
"Just how hard they played, you could tell they were a tight team," Riley Lewis said. "They stick together, and they're experienced. And they got out here tonight and the show wasn't too big for them. They looked like they had been there before, and they were ready. They threw some hard punches, and we couldn't counter."
Senior Jeremy Crawley added 14 points and five rebounds for Henry Ford, and Hunter had eight points and six rebounds.
Ford's championship game berth in 2015 was the program's first, so the Trojans again will play for their first title – and after again relying on a lesson from the first trip.
"Last year when we won, I thought the guys had really high emotions. People have got to understand there's one more game," Ford coach Kenneth Flowers said. "The first time Henry Ford had been to state championship (was) last year, and there were a lot of emotions back in our hotel room the night of. (So we have to) keep these guys humble, grounded, understanding it's unfinished business."
The Boys Basketball Finals are presented by Sparrow Health System. 
PHOTOS: (Top) Detroit Henry Ford's James Towns (5) pushes past Williamston's Cole Kleiver during Friday's Class B Semifinal. (Middle) The Hornets' Riley Lewis (22) looked for an opening with Towns defending.