Freshman Shines As Eagles Repeat in D
March 23, 2013
By Bill Khan
Special for Second Half
EAST LANSING — There was no need for Eugene Brown to sit quietly in the background and ease his way into a prominent role on Southfield Christian's basketball team.
One game was all it took for the freshman guard to prove he belonged on the defending MHSAA Class D Finals champion.
When Brown scored 17 points and grabbed 10 rebounds in a season-opening overtime victory over traditional Class A power Orchard Lake St. Mary's, it justified coach Josh Baker's decision to put a ninth-grader in the starting lineup of a team with Breslin-or-bust aspirations.
"To come in as a freshman, that's a pretty good first game against a great team," Baker said.
Brown was a mere spectator at the Breslin Center when the Eagles won their first championship last season. He thrived under the bright\ lights on Saturday as Southfield Christian repeated as Class D
champion with a 65-46 victory over Wyoming Tri-unity Christian.
He jump-started the Eagles' championship victory, scoring 11 of his 13 points in the first half and helping Southfield Christian build a 16-point second-quarter lead. Brown shot 5 for 8 from the field,
3 for 3 from the line, grabbed nine rebounds, dished out four assists and had three steals.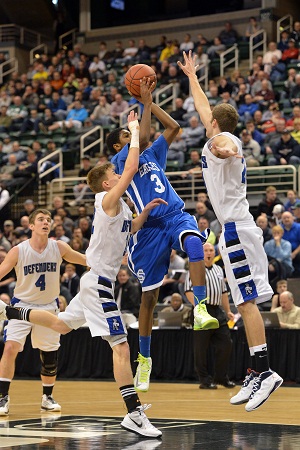 Freshman jitters? Not in this kid.
"I just tried to come out and not be nervous," Brown said. "Just play the game like you know how, just go out and do your best."
Baker wasn't concerned how his freshman phenom would respond on the big stage, just as he was confident that Brown could handle making his high school debut against a team like St. Mary's in early December.
"He's usually pretty cool and casual under pressure," Baker said. "Part of that is his problem, because he's not aggressive enough all the time. We wanted him to be aggressive. We've been on him all year to be aggressive. He did it tonight, and he showed he can make plays. He's so skilled as a freshman. When he's aggressive and he keeps the ball low, he's really good."
As Brown started sinking shots during a decisive second quarter, the Southfield Christian student section chanted, "He's a fresh-man!" It was a warning to the rest of Class D that Brown will have to be reckoned with for three more seasons. For that matter, the entire program could dominate Class D for years to come.
It's not too early to begin speculation that Southfield Christian is a dynasty in the making. Winning back-to-back championships is an excellent start. All 65 of the Eagles' points against Tri-unity were scored by players who are eligible to return next season.
The team's only two seniors didn't play until a 58-40 lead had been built midway through the fourth quarter.  The Eagles started a freshman, two sophomores and two juniors.
"We can only get better," said 6-7 junior Damarco White, who had 15 points and five blocks.
"The sky's the limit," added junior guard Lindsey Hunter IV, who scored 11 points.
A man who is an expert on Class D dynasties is Mark Keeler, who has coached four MHSAA Finals champions and four runners-up in his 26 seasons at Tri-unity.
"Seeing how young their team is, they're definitely going to be a force in Class D," said Keeler (499-142), who was trying to celebrate a Finals championship and his 500th victory on the same day.
The Eagles rebuilt on the fly after winning the title last year. Their returning players combined for only 12 points in last year's MHSAA Final, with Hunter scoring eight of them.
After a 3-4 start, Southfield Christian won its final 20 games.
"We knew we had the potential. It's just that early on we struggled with understanding the work ethic you have to put in," Baker said. "It's not just handed to you. Every game you play, every team is going to come after you. That's why we started off 3-4. We just got drilled by some guys. When they understood the work ethic and what it takes every game, we started to go on a nice run."
Tri-unity (25-3) got out to an 8-6 lead, but Southfield Christian took the lead for good by scoring the next nine points to ignite a 26-8 run. The lead reached 34-18 with 3:48 left in the second quarter. The Eagles didn't score the rest of the half, while the Defenders cut the margin to 34-23 at the intermission.
Matt Wachter's basket with 7:04 left in the third quarter trimmed the deficit to single digits at 34-25, but Tri-unity didn't put together consecutive scores again until Southfield Christian was comfortably ahead, 56-34.
Tri-unity forward Joey Blauwkamp, The Associated Press' Class D Player of the Year, was held to seven points on 2 for 9 shooting before fouling out with 2:38 left in the game.
"For us coming into halftime, being down only 11, I wasn't too concerned," Keeler said. "But when Joey picked up three and four (fouls) so quickly, it definitely messes with you."
Sophomore Bakari Evelyn scored 11 points for Southfield Christian, which shot 22 for 42 from the field and 17 for 21 from the line.
Daniel Cole scored 21 points and Wachter 11 for Tri-unity.
PHOTOS: (Top) Southfield Christian coach Josh Baker presents the championship trophy to his team Saturday at the Breslin Center. (Middle) Eagles freshman Eugene Brown goes up for a shot against Wyoming Tri-unity Christian's Joey Blauwkamp (4) and others. (Click to see more at HighSchoolSportsScene.com.)