Grand Blanc Locks Down on D, Locks Up Historic Win
EAST LANSING – The Grand Blanc boys basketball team spends 45 minutes each practice focusing on defense.
In the end, it was extra time well spent.
A strong defensive effort helped propel the Bobcats to a 45-36 win over Ann Arbor Huron in Saturday's Division 1 Final at the Breslin Center.
It was the first Finals championship in school history for Grand Blanc, which ended the River Rats' bid for a perfect season and their first championship.
"They hate it, but that's what happens when you spend that much time on defense," said Grand Blanc coach Mike Thomas, who guided Kalamazoo Central to Class A crowns in 2010 and 2011.
"We do it every day for games like this because our shots are not going to fall all the time, so we have to be able to rely on our defense to stay in games – and it happened for us today."
The Bobcats (15-2), who were Class B runners-up in 1952 the only other time they played in a championship game, averaged nearly 80 points per game this season, but struggled to knock down shots Saturday. They shot less than 30 percent from the field and beyond the 3-point line.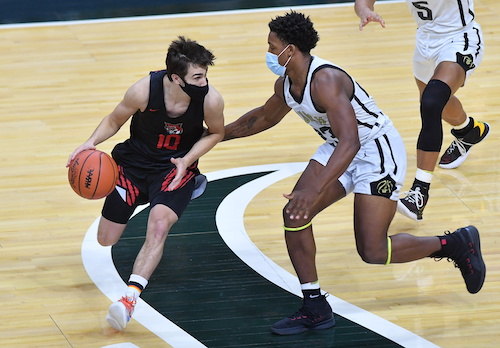 Despite their shooting woes, Grand Blanc's defense shined and allowed only 12 second-half points in holding Ann Arbor Huron to its lowest scoring output of the season. 
"We had to make sure we were locked in, and I thought our guys did a really good job of not giving up lay-ups and not making mistakes defensively," Thomas said. "We didn't do a good job of limiting them to one shot in the first half, but we made the correction and really focused on rebounding at the half."
Sophomore RJ Taylor was the catalyst on offense in the first half and finished with 15 points, while Timonte Boyd came off the bench to add 12 points and seven rebounds.
"It's one game at a time for us and we didn't treat today like a championship game," Taylor said. "We treated it like just another game, and I'm proud of how we overcame adversity and all obstacles this season." 
Junior Ty Rodgers played 31 minutes and contributed nine points, seven rebounds, three assists and three steals.
He said he was thrilled to help bring home a Finals title for the three departing seniors.
"It hasn't sunk in that we won a state championship and just all the hours we put in and the hard work," Rodgers said. "I'm really proud of our seniors. There were 15 guys when they were freshmen and only three left. They stuck through the storm, and this is the outcome. We're super excited to bring something like this to the community."
One of those seniors, Josh Rechsteiner, knocked down a key 3-pointer midway through the fourth quarter to give the Bobcats a 35-34 lead and ignite a 10-2 run to close the game.
"He's struggled the last couple games, but I kept telling him to be ready," Thomas said. "That was a big shot, and it's a prime example of being ready when your number is called."
The River Rats' struggles included making only 3 of 21 3-point attempts and missing 10 free throws. They also committed 14 turnovers.  
"This is a great group of seniors who are winners, and it would've been nice to see them go out the right way," Ann Arbor Huron coach Waleed Samaha said. "We're disappointed, obviously, in the outcome, but we know that we gave it everything we had out there and it was a great effort all the way through.
"We struggled with execution at times and struggled staying out of foul trouble. I think that threw us off a little bit most of the game." 
Senior Devin Womack paced Ann Arbor Huron (20-1) with 18 points, while senior Kingsley Perkins had six points and 14 rebounds. 
PHOTOS: (Top) Ty Rodgers dunks for two of his nine points for Grand Blanc during Saturday's Division 1 Final. (Middle) Ann Arbor Huron's Brandon Rawls (23) keeps the pressure on Jacob Carlson. (Click for more from Hockey Weekly Action Photos.)