Lakeshore Finds Way to Win, Play for More
March 25, 2016
By Geoff Kimmerly
Second Half editor
EAST LANSING – The Stevensville Lakeshore boys basketball team of January and February won as many games as it lost.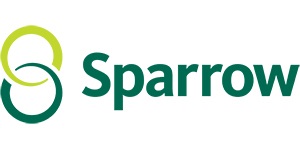 The Stevensville Lakeshore team of March will play Saturday for its first MHSAA championship.
It's been that drastic of a turnaround over the last month for the Lancers, who came back to beat Big Rapids 61-60 in Friday's late Class B Semifinal to advance to their first title game since 2012.
The win also ran Lakeshore's streak to 11, a string that's included two victories in overtime and three by two points or fewer. 
"We've always had this goal. We always thought we were this good to make it here," Lakeshore senior center Braden Burke said. "We just had a rough patch in the middle, but everyone stayed positive. We never really thought we were out of it. We just did our thing and eventually came around." 
Lakeshore will take on reigning Class B runner-up Detroit Henry Ford in this season's final game, at 6:30 p.m., as both seek their first MHSAA title.
The Lancers have indeed emerged from some rough patches to close this season. After going 5-0 in December, Lakeshore lost its first two games of 2016 and then five of six from Jan. 29-Feb. 19. Those defeats resulted in the team finishing fourth in the Southwestern Michigan Athletic Conference West behind three teams that shared the title.
But the Lancers defeated two of the co-champions at the start of this run and have continued to battle through – although just as the team had a rough go during the middle two months of the season, so did it look to be done after Friday's middle two quarters. 
Lakeshore led 11-8 at the end of the first quarter, but Big Rapids went on a 41-33 run over the second and third to swing the score and carry a five-point lead into the final period. The Cardinals (23-3) ran the lead to seven on senior Jeffrey Davenport's bucket with 6:12 to go.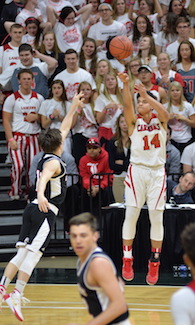 Big Rapids connected on eight of its 11 3-pointers during the run, and shot better from beyond the arc (48 percent) than inside it (44 percent) for the game.
"In all the films we watched on them, we never saw them make that many 3s," Lakeshore coach Sean Schroeder said. "They shot the heck out of it, and it's a credit to them. But it's also a testimony to my team in that boy, we seem to find a way to win. And that's how we've been throughout the entire tournament."
One last 3-pointer by Big Rapids senior Kenny Davis put his team up 56-50 with 3:57 to play. But Lakeshore senior Gibson Archer answered with a trey as well, starting a 9-0 run that he also finished with a score to put the Lancers up 59-56 with 34 seconds remaining.
The teams traded pairs of free throws before Davenport put back a rebound with seven seconds left to cut the deficit to one. Big Rapids managed to stop the clock with a foul with just under a second to play – but after two Lancers free-throw misses could get off only a desperation shot that was on line but short and just after the buzzer. 
"The one thing that always happens with this group of kids is they always come to play, and they did tonight," Big Rapids coach Kent Ingles said. "You get to the state semifinals and it's a tight ball game, one point, and it could either way. I hope the people in the community are proud of these kids and the entertainment they provided again too.
"We stumbled a couple years in quarters and finally got here, so I guess we've got next year to get back here again."
Burke scored 16 points and grabbed eight rebounds, and junior Max Gaishin had 15 and 10, respectively, to help pace Lakeshore. Archer finished with 15 points as well. And senior Logan Steffes had 11 points including a key steal and score late.
Junior Demetri Martin led Big Rapids with 22 points and four assists, and Davis had 15 points on five 3-pointers. 
The Boys Basketball Finals are presented by Sparrow Health System. 
PHOTOS: (Top) Stevensville Lakeshore's Braden Burke (34) pins a shot against the glass just above the reach of Big Rapids' Braeden Childress. (Middle) Kenny Davis (14) launches a 3-pointer from the corner.