Lenawee Christian Earns Saturday Return
March 20, 2014
By Geoff Kimmerly
Second Half editor
EAST LANSING – From 1998-2001, Adrian Lenawee Christian's boys basketball team made four MHSAA Quarterfinals and advanced to three Semifinals.
Senior guard Brad Harrah remembers and is reminded every day.
"Every time I come out to practice, I see those banners and they remind me of the last time we were here," he said. "It just drives our team."
It helped drive the Cougars on Thursday into an MHSAA Final for the first time.
Lenawee Christian survived a third-quarter comeback by sharp-shooting Cedarville to advance to its first boys basketball championship game with a 67-58 victory in the final Class D Semifinal at the Breslin Center.
"It just means everything to us. As one of our players said, it's our only option. We don't have any other option but to come out and win this game and come out and win Saturday," Harrah said. "Just to get back to where the program was, and take it a step farther, is just incredible."
The Cougars (21-4) will face two-time defending champion Southfield Christian at 10 a.m. Saturday.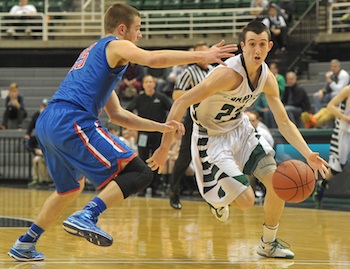 Total, Lenawee Christian has made the season's final week eight times over the last 17 years. Its last three Quarterfinal runs were stopped by Class D powerhouse Wyoming Tri-unity Christian – but this week the Cougars were able to break through with an overtime win Tuesday over Battle Creek St. Philip. 
Lenawee Christian took a one-point lead Thursday on junior Nick Mewborn's 3-pointer before the first-quarter horn, and pushed the advantage to 10 by halftime.
But Cedarville (24-2) just needed a few more minutes to heat up.
The Trojans made 8 of 15 shots from the floor during the third quarter, and junior forward Brad Causley scored 15 of his 22 points during the period as Cedarville pulled within 48-47. The Trojans then tied the score 49-49 on another Causley bucket 28 seconds into the fourth quarter.
"Being such an experienced team and having a great tradition, we knew they would have a run and were going to come back," Lenawee Christian coach Scott McKelvey said. "They have so many great shooters on their team, and we had to weather their run. … I thought we did a great job keeping our composure."
The key was getting the ball in the post to 6-7 senior forward Kingsley, who finished with 22 points and 16 rebounds. Sophomore 6-7 center Maxwell had 12 points, including the go-ahead basket to break the fourth-quarter tie and another bucket to push the lead back to six with 5:33 to play.
Senior guard Grant Hohlbein also added 15 points and seven rebounds for Lenawee Christian – with six of those points coming in the fourth quarter.
The Trojans also cooled off substantially, making only 2 of 16 shots from the floor during the final period.
"Every coach in America says when you're making shots, you look good," Cedarville coach Dave Duncan said. "But I'm proud of our effort – it was a pretty gutsy effort I felt like we played with in the second half."
Junior guard Joey Duncan also had 22 points for the Trojans and grabbed nine rebounds. Senior center Dann Stenback added 12 points and five rebounds.
Cedarville made its third Quarterfinal in four seasons this week, with the Semifinal berth its first since 2009.
Click for a full box score and video from the press conference.
PHOTO: (Top) Adrian Lenawee Christian's Nick Mewborn works to find an opening in the Cedarville defense during Thursday's Class D Semifinal. (Middle) Cedarville's Joey Duncan attempts to drive past a Lenawee Christian defender.

HIGHLIGHTS: (1) Grant Hohlbein keyed an 8-0 fourth quarter run for Adrian Lenawee Christian with a pair of baskets, including this baseline drive. He ended the game with 15 points. (2) Brad Causley had 22 points and nine rebounds for Cedarville in the Class D Semifinal. Here he scores on a putback off a blocked shot.