Lincoln Phenom Off to Dazzling Debut
December 27, 2018
By Doug Donnelly
Special for Second Half
When Ypsilanti Lincoln's boys basketball team faces off against another MHSAA title contender River Rouge on Saturday, it won't be just another game.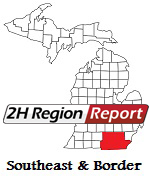 And, that's just how Lincoln freshman Emoni Bates likes it.
"He loves the lights, the crowd and playing the game of basketball," said his father, E.J. Bates. "That's part of the game. He loves the big stage when the lights are bright. He embraces that.'
So far in his young basketball career, there have been plenty of lights for the 14-year-old Bates. He's touted by some as the No. 1 ninth-grade basketball player in the nation.
That's a hefty title to carry, but one Bates is carrying well. While just a month into his high school career, the 6-foot-8 Bates is as calm and collected doing media interviews as he is shooting jump shots and throwing down thunderous dunks.
Lincoln has started the season 5-0, and Bates is the leader of a team that would be good without him but is a threat to win the Southeastern Conference White championship and make a long tournament run with him.
Every gym he's played at so far this season has welcomed big crowds. Bates is attracting a lot of that attention.
Adrian High School had what Maples athletic director John Roberts called one of the biggest regular-season crowds he's seen in several years when Lincoln played there on a Friday night earlier this month. Bates was clearly a big reason why. Some Maples students found their way over to Bates before the game to ask for an autograph.
Bates was impressive even in warm-ups, starting off with a big-time whirlwind dunk that got plenty of attention from the crowd.
Once the game started, Bates was equally as impressive. With every touch of the ball, the crowd expected big things from him – and he didn't disappoint.
"Some of the people in the crowd have never seen me play, so I'm trying to put on a show for those who came out to see me," the freshman said after the game.
Bates is averaging 28.6 points per game through five contests. He scored 32 in his varsity debut against Ann Arbor Huron in November. He scored 28 against Saline, 23 against Adrian, 32 against Pinckney and 28 against Temperance-Bedford. Lincoln's only home game so far was the opener.
Bates said the crowd doesn't faze him, mainly because he's used to garnering the attention after playing before big crowds during AAU events.
"I just go out there and have fun," he said. "I'm used to it."
Bates has been working on his game for years. He emphasizes speed training and just getting better at all aspects of the game. On the floor, he is intent on keeping his teammates involved in the game as well.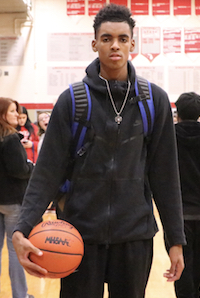 "We are building trust," he said of his teammates.
Lincoln is actually a veteran team. Seniors Tahj Chatman and Amari Frye were first-team all-SEC White selections last year, and senior Jalen Fisher was an honorable mention choice. Chatman has had a great start to this season, averaging in double figures, as is Fisher. The Railsplitters have 10 seniors, three juniors, a sophomore and Bates.
Lincoln head coach Jesse Davis is in his fourth season coaching Lincoln after more than 15 as an assistant at various levels. He coached at Lincoln, Willow Run and Ypsilanti before joining Josh Tropea at Milan. Davis was an assistant at Milan when the Big Reds won the 2014 Class B championship while featuring Division I college talents in Latin Davis and Nick Perkins.
The connection between the player Bates and Davis, and to Washtenaw County and southeast Michigan, runs deep.
E.J. Bates played his first three years of high school basketball at Milan, reaching the 1,000-point milestone before his junior year was over. He finished his high school basketball career at Ann Arbor Pioneer before playing collegiately in Kentucky and professionally in Europe. He and Davis have a friendship that dates back three decades.
Davis said his job is to keep the younger Bates focused on basketball and not worrying about the hype surrounding him and the team.
"He believes in his ability," Davis said of Bates.
Tropea will have the challenge of facing off against Bates multiple times over the next couple of years, but he's excited for the chance.
"It will be great for our league," said Tropea. "He's the real deal. He's an incredible talent."
Saturday, the Railsplitters take on River Rouge in the Washtenaw County Challenge. The event is an example of a growing trend in high school basketball in Michigan – to bring together multiple teams at one venue for a full day of basketball.
Ypsilanti Community is host and will take on Detroit Henry Ford in the last game of the day. The event kicks off at noon with Ann Arbor Huron playing Southfield Arts & Technology. Chelsea plays Parma Western in the second game, Lincoln takes on River Rouge in the third and Ann Arbor Pioneer takes on Wayne Memorial in the fourth game of the day.
The event will feature some of the most talented players and teams in the state, but Bates is sure to be in the spotlight – and not just from fans. Both University of Michigan and Michigan State University are showing interest in him, and college coaches from around the country have Bates on their radars. At the Adrian game, MSU assistant Mike Garland sat in the front row.
E.J. Bates said the attention isn't getting to his son just yet. But he is monitoring it because, he said, "at the end of the day, he's still a kid.
"We regulate it, so it doesn't get too overwhelming for him. Everything is fine. If it gets too out of hand, we'll sever ties with it. If he needs a break, we're going to give him one."
E.J. has coached his son in AAU basketball. This prep season, he's enjoying watching his son develop his game at the high school level in the same area where he grew up playing.
"I love it," E.J. Bates said. "I always wanted him to be able to stay at home and play basketball. … First of all, like I always tell everybody, if you are that type of talent and you want to leave a legacy behind, you should leave it at home. You shouldn't go somewhere you'll never visit after you graduate, and no one knows you. At home, your family and everybody can be proud of you for doing something for your hometown. It's giving back to where you came from."

Doug Donnelly has served as a sports and news reporter and city editor over 25 years, writing for the Daily Chief-Union in Upper Sandusky, Ohio from 1992-1995, the Monroe Evening News from 1995-2012 and the Adrian Daily Telegram since 2013. He's also written a book on high school basketball in Monroe County and compiles record books for various schools in southeast Michigan. E-mail him at DougDonnelly@hotmail.com with story ideas for Jackson, Washtenaw, Hillsdale, Lenawee and Monroe counties.
PHOTOS: (Top) Ypsilanti Lincoln's Emoni Bates brings the ball upcourt during a win over Temperance Bedford this winter. (Middle) Bates after that victory, which was part of his team's 5-0 start. (Photos by Vanessa Ray.)