Muskegon, Mr. Basketball End Title Wait
March 22, 2014
By Bill Khan
Special for Second Half
EAST LANSING — Deshaun Thrower had this moment in mind back in November, even while the pain — literal and figurative — was still fresh from his final high school football game.
"I'll try to get healthy for basketball and try to win it in that," a banged-up Thrower said after he and his Muskegon teammates lost to Birmingham Brother Rice for the second straight year in the MHSAA Division 2 championship game at Ford Field.
Fast forward to March 22, and Thrower sat in another postgame press conference following an MHSAA championship game.
This time, he wasn't hanging his head and talking in hushed tones. Instead, he was smiling and clutching the Class A basketball championship trophy following Muskegon's 91-67 rout of Bloomfield Hills at the Breslin Center.
"It feels fake right now, because we're so used to being on the other end," said Thrower, a star quarterback in football and winner of Mr. Basketball this winter.
"This year, it's tears of joy instead of tears of sorrow. It feels good to get it for us, coach and the rest of the players who didn't get it.
"Just knowing I won my last high school game ever, won it with my teammates ... it feels good to leave on a good note."
Muskegon coach Keith Guy said Thrower's leadership was as big a key to the championship run as his numbers and physical tools.
"I don't think anybody's been in more big games than he has in football and basketball," Guy said. "He's a tough leader. He makes sure everyone is doing what they're supposed to do and holding themselves accountable. To have a leader on your team like that, everybody else follows."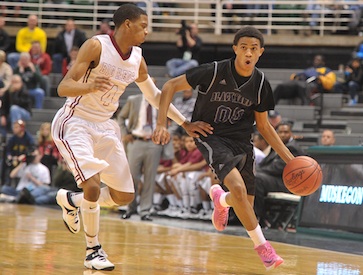 The Big Reds won their first MHSAA championship since 1937 and third overall. They also rode future University of Michigan two-sport All-American Bennie Oosterbaan to a title in the 1923 Michigan Interscholastic Athletic Association tournament; the MIAA was the predecessor to the MHSAA.
It's also the school's first MHSAA title in any sport other than football since the 1937 boys basketball team won the championship. The Big Reds have won five football championships, but took a big step toward removing the label of being just a football school. They reached the MHSAA Quarterfinals last season, losing 64-61 to Grand Rapids Christian.
The basketball team had six members of the football team.
"We want to build what they have here at Michigan State, a two-headed monster," Guy said. "(Football) coach Shane Fairfield does an excellent job. We share the kids and teach them the same message; it shows. The football team finished in the finals and the basketball team finished as champions, so I think that formula works."
Muskegon finished 28-0, joining the 2003 Rockford team (also 28-0) as one of only two unbeaten Class A champions in the last 24 years. Only two other Class A teams have had 28-0 seasons: Flint Central in 1981 and Flint Northwestern in 1985.
"They're good," Bloomfield Hills coach Duane Graves said. "We knew they were good. You can't go 28-0 and not be good. They have a good balanced attack. It had us on our heels all night."
Thrower affirmed why he was chosen Mr. Basketball as the state's top senior, scoring 21 points on 7 for 12 shooting.
Junior center Deyonta Davis may have established himself as the front-runner for next year's award, scoring 26 points on 12 for 14 shooting, grabbing 13 rebounds and blocking three shots.
"He's a different kid where he doesn't show a lot of emotion," Guy said. "There are no big moments for him. You won't see him cry. You probably won't see him smile. He's always even-keeled. Tonight he relaxed and played the way he's capable of playing. He came out with a lot of energy, and I thought he controlled the game."
The game was close for much of the first quarter, but Bloomfield Hills couldn't keep pace with Muskegon for long.
The Big Reds held an 18-15 lead when they scored nine straight points to ignite a 15-2 run that put them comfortably ahead for the rest of the game.
Muskegon built its lead to 43-22 with 24.2 seconds left in the first half and led 45-25 at halftime.
Senior guard Dylan Deitch gave Bloomfield Hills a glimmer of hope in the third quarter, hitting two 3-pointers and scoring eight points. His drive to the basket with 5:06 left in the third cut Muskegon's lead to 47-32, but the Big Reds responded with the next six points to put to rest any doubt about the outcome.
"Everything was geared toward the postseason," Guy said. "We've been trying to climb this mountain for years, and got here. These guys have the formula for success. We don't have any egos on our team. They're genuinely playing for one another. They're happy for one another. If one does better than the others tonight, they're happy as long as we get the win. It's truly a brotherhood and a family."
William Roberson Jr. had 17 points and five assists, while Joeviair Kennedy had 14 points for Muskegon, which scored a season-high 91 points.
Bloomfield Hills is a first-year school that formed when Andover and Lahser merged. Neither of the original schools ever won a regional championship, with Lahser reaching a Class A Regional Final last year under Graves' coaching before losing 65-41 to Rochester. 
Xzavier Reynolds scored 21 points, going 4 for 4 from 3-point range, while Yante Maten had 13 points and three blocks for the Black Hawks (24-4).
Bloomfield Hills shot 9 for 31 (.290) in the first half before going 15 for 24 (.625) in the second. 
"Shots just didn't fall," Graves said. "That happens. The ball didn't bounce our way. We couldn't make a layup in the first half — in and out, in and out. Someone forgot to take the Saran Wrap off the rim for us. Other than that, I thought the boys fought as hard as they could."
Click for the full box score and video from the press conference.  
PHOTOS: (Top) Muskegon's Deshaun Thrower blocks off Bloomfield Hills' Todd Weiss during Saturday's Class A Final. (Middle) Bloomfield Hills' Cameron Dalton (00) works to get past Muskegon's Jordan Waire.