NorthPointe Comes Back to Land 1st Final
March 26, 2015
By Geoff Kimmerly
Second Half editor
EAST LANSING – Preston Huckaby is a four-year varsity starter for Grand Rapids NorthPointe Christian's basketball team. 
So he had a decent idea what was necessary to earn one more chance to suit up for the Mustangs, and with history on the line.
NorthPointe trailed Boyne City by 12 points less than a minute into the second quarter of their Class C Semifinal at Michigan State University's Breslin Center. 
Huckaby sank his first shot seconds later – and went on to score a game-high 26 points to lead the Mustangs back and into their first MHSAA Final with a 48-45 edging of the Ramblers.
"I think going into the game, we were a little nervous, this being our first time in this type of environment. We said if we want to play another game, we have to do what we need to do to win this game," Huckaby said. "I think I needed to be more aggressive. That's what I needed to do to get our team where we needed to be." 
And that's in Saturday's 4 p.m. Class C Final, where NorthPointe (21-5) will seek its first MHSAA title, taking on Flint Beecher.
Huckaby was a solid 9 of 20 from the floor and also grabbed nine rebounds. And falling in line with that "aggressive" approach, he made a final deciding play at the other end of the court. 
Boyne City (21-6) came back from a 23-point swing to pull within 46-45 with 31 seconds to play. The Ramblers took two strong drives to the basket – the first ended with miss but an offensive rebound; Huckaby stepped in front of the second and took a charge that all but sealed the win. He made two free throws to extend NorthPointe's lead to three, and Boyne City's final shot to tie hit off the front of the rim.
"He might be the all-time leading scorer in our school's history, but in my three years at NorthPointe he's probably taken 75 charges," NorthPointe coach Jared Redell said of his senior guard. "If there was a stat on all-time charge takers, I imagine not only at our school, but he'd be close to a state record." 
Boyne City senior guard Cole Butler scored 11 of his team's first 15 points as the Ramblers quickly built their early double-digit advantage. Huckaby scored 11 points during the second quarter, his last-second shot tying the score at 26-26 heading into halftime.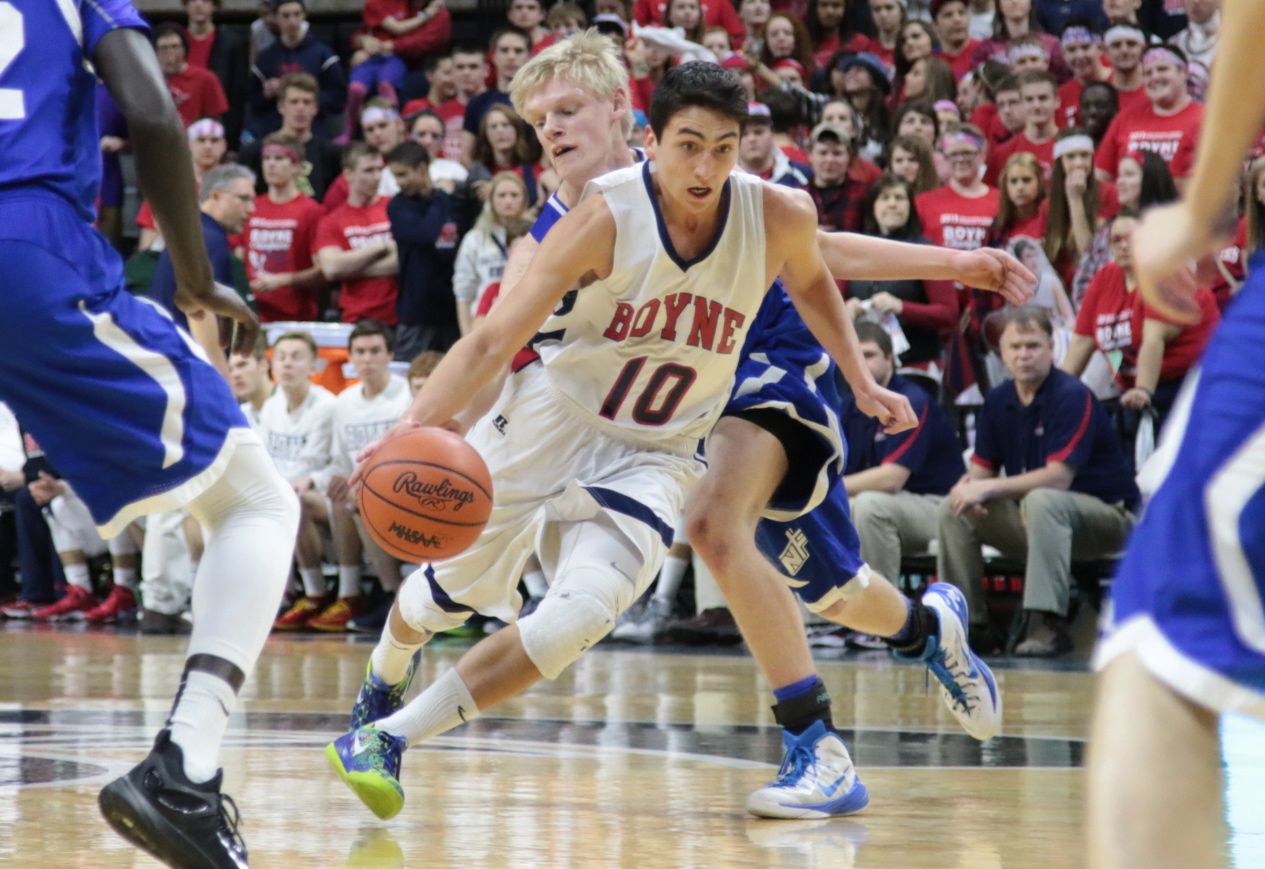 Senior Andrew Holesinger opened the second half with a 3-pointer to give NorthPointe its first lead in more than 13 minutes. But Butler got hot again in the fourth quarter, scoring five more points to put Boyne City in position to take back the lead. 
"We talked about coming in today, playing loose, playing confident and playing to win. And I felt we did that tonight," Boyne City coach Nick Redman said. "We got off to a great start, and I'm super proud of that. They gave themselves an opportunity to win, and that's all you can ask for."
Butler had 16 points and 10 rebounds taking on the lead role from senior teammate Corey Redman, who will play at Central Michigan University next season. Redman ended with only six points and five rebounds playing 30 minutes despite a foot sprain he suffered during the District that required he wear a walking boot. 
Senior guard Zach Napont added five points, five rebounds, seven assists and four steals for the Ramblers, who started four seniors total. Holesinger added nine points for NorthPointe and a key blocked shot on Boyne City's first attempt to re-take the lead with 1:25 to play.
Leaders from both teams brought experience at this level into Thursday – both schools' football teams advanced to the Division 6 Semifinals this fall. 
But NorthPointe coach Jared Redell saw his team's nerves early in the shots it was allowing and the way the Mustangs seemed out of sync.
"The third quarter always has been great for us, all tournament long," Redell said. "We barely hung on, and you don't want to hang on; we want to make sure we finish and we put them away. There's a lot of things to learn from the game, and the good thing is we get to learn from them and play another game." 
Click for the full box score and video from the postgame press conference.
PHOTOS: (Top) NorthPointe Christian's Andrew Holesinger (23) drives during Thursday's Class C Semifinal. (Middle) Boyne City's Zach Napont pushes the ball upcourt against a number of defenders.