Pressure? No problem as Our Lady Advances
March 24, 2016
By Geoff Kimmerly
Second Half editor
EAST LANSING – The bright lights have worn off for Waterford Our Lady's seniors.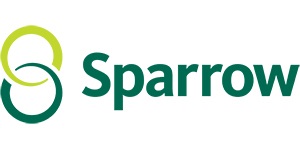 And that might have made all the difference over the final minutes of what could've been their final high school basketball game.
Andrew Kline and brothers Clay and Devin Senerius brought the Lakers to the Class D Semifinals a year ago for the first time since 1993, and they just missed a football championship losing by seven points in the Division 8 Final this fall.
So when the score of Thursday's first Class D Semifinal sat tied for the seventh time with 5:49 to play, the Our Lady seniors weren't phased by the building Breslin Center pressure.
The Lakers closed on a 15-3 run to finally break away from Wyoming Tri-unity Christian and earn their first MHSAA championship game appearance with a 64-53 victory.
"Playing on the big stage, it's not as hard as it used to be," said Devin Senerius, who led four Our Lady players with 17 points. "At the beginning of last year, at the Semifinals we were all nervous. And then at the state finals (for football), we were a little nervous. Now we all just wanted to win instead of lose."
They've got a chance to win one more time, and for the first time in program history on the final day of the season, when they face Powers North Central at 10 a.m. in Saturday's Class D Final. 
The Lakers (22-4) were ranked No. 3 at the end of the regular season, so this run was hardly a surprise. But they also lost the final two games before the District began, putting the senior leaders in a position to pull their team back on track.
Our Lady responded by winning four of seven tournament games by at least 10 points.
"First off, it's their personality. They want to win, and that's vital," Our Lady coach Paul Robak said. "It doesn't matter if it is basketball, football, whatever; they want to win. That's the most important part of the culture, teaching that not only to others in their class but the younger classes.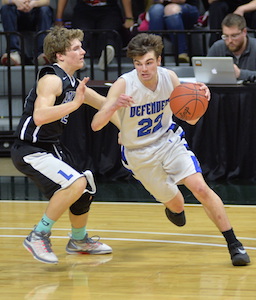 "We took a step backward toward the end of the year, and we got a little sloppy. But to their credit, we went back to being more competitive on the practice floor. And it starts with these three guys."
Still, the final score Thursday was not indicative of how close the game stayed until the final six minutes.
To that point, neither team built a lead of more than six points. From 2:25 to play in the second quarter until 1:17 remained, neither team got ahead by more than four. There were 14 lead changes, seven in the third quarter and five during the fourth.
There would be only one run – and it would belong to Our Lady.
Kline scored nine of his 15 points during the final go-ahead drive, while Tri-unity Christian made only 1 of 9 shots from the floor during the final six minutes.   
"Coach told us it's crunch time," Kline said. "We've got to buckle down. We knew we were the better team."
Freshman Noah Robak added 12 points and Clay Senerius had 11 for Our Lady. Devin had 12 rebounds and Clay added 10 and six assists as the Lakers outrebounded the Defenders 37-15.
Senior guard Collin Rosendall led Tri-unity (20-6) with 17 points and four steals, and senior forward Javi Cuevas had 12 points and four assists.
Although the Defenders made a decent 44 percent of its shots from the floor, they connected on only 7 of 27 tries from 3-point range – struggling at what's usually a strength.
"All year long we've done a good job of maintaining the bleeding on the boards," Tri-unity coach Mark Keeler said. "Tonight we didn't do a good job of that. They have good shooters and I think they knocked down key shots at the right time.
"They stayed in their zone, and I was happy they stayed in their zone because our 3-point shooting is normally good. But it failed us at the end."
The Boys Basketball Finals are presented by Sparrow Health System. 
PHOTOS: (Top) Our Lady's Clay Senerius looks for an opening while Tri-unity's Javi Cuevas defends. (Middle) The Defenders' Collin Rosendall works to get past a Lakers player during the Class D Semifinal.