Promise Kept, Dream Continues for Morenci
March 26, 2015
By Geoff Kimmerly
Second Half editor 
EAST LANSING – Every summer, Morenci boys basketball coach Jim Bauer comes up with a catchy, aspiration-filled slogan for his kids basketball camp T-shirts.
Pathway to Breslin. Small Town, Big Time. "Breslin is on every shirt," Bauer said, "but deep down, you're thinking, am I ever going to get there?" 
Three years ago, a freshman named Austin Sandusky made a promise he and his teammates kept Thursday. And now they've got an opportunity to carry it one step farther.
Morenci will play for its first MHSAA championship after handing Waterford Our Lady its only loss this season, 53-52, in a Class D Semifinal on Michigan State University's home floor.  
"We started in fourth grade, and it seemed every tournament we'd be in the championship game," Sandusky said. "Every year our coaches told us it wasn't for this championship game, it's for when we're juniors and seniors on the varsity level trying to get to the (MHSAA) championship game. We knew they wouldn't say that unless they truly believed it."
Morenci (25-2), unranked when this tournament began, will face top-ranked Powers North Central in the 10 a.m. Final on Saturday. 
Bauer has coached four 20-win teams over two tenures measuring a decade at Morenci, with this year's his second straight to reach that milestone win total. But he's also had three teams finish with sub-.500 records, including only two seasons ago.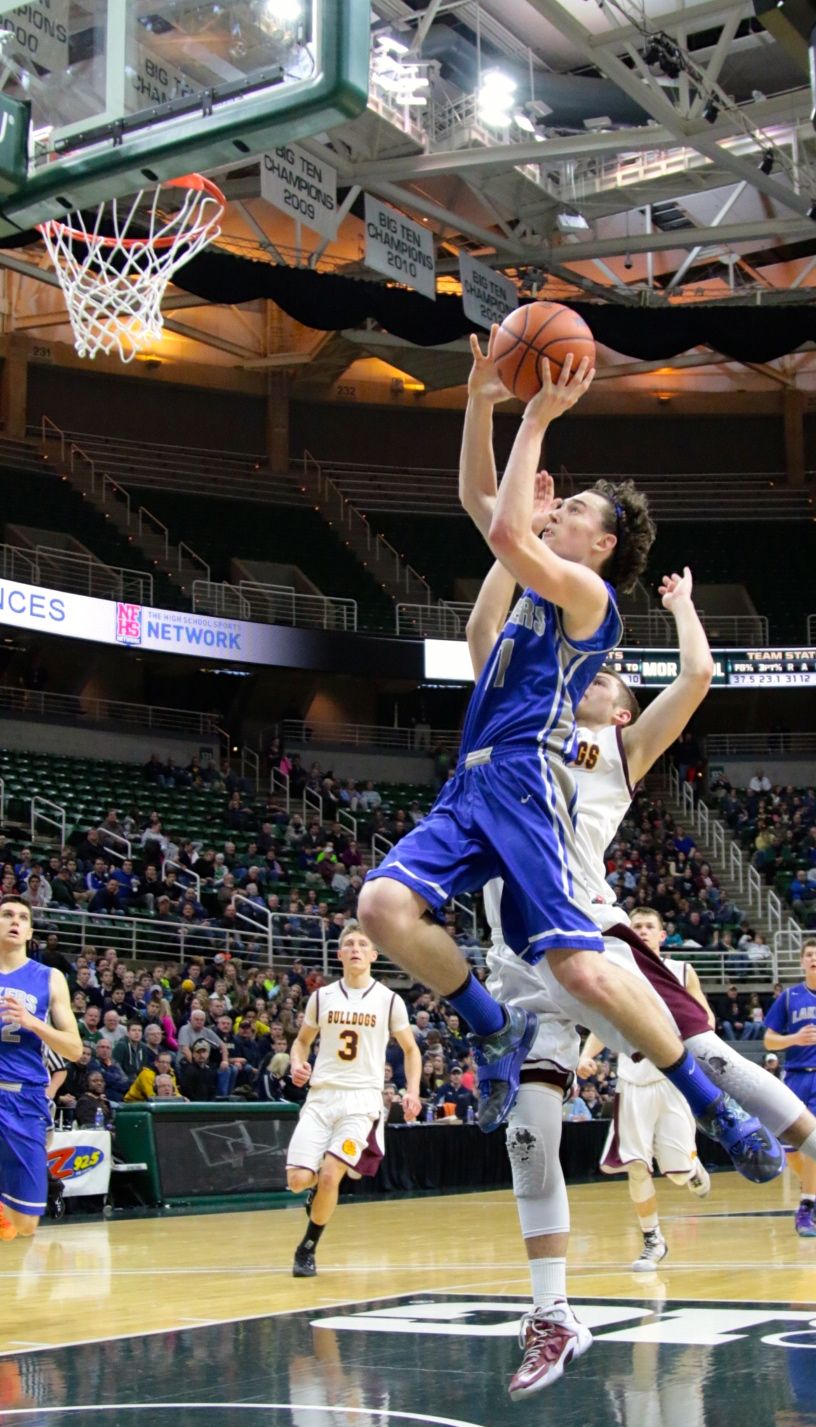 No Morenci player measures taller than 6-foot-3, and senior guard Alex Thomas said he and his teammates always knew they'd be a little smaller than their opponents. But the Bulldogs returned four starters after falling to eventual MHSAA runner-up Adrian Lenawee Christian in last season's District Final. Two weeks ago, Morenci won its first Regional title since 1954, and the Semifinal was the first in the program's history.
But the run nearly ended there – even though the Bulldogs led Thursday for all but 3 minutes and 55 seconds.
They were ahead from the middle of the first quarter until Our Lady senior Nick Robak hit a go-ahead jumper to make the score 38-37 with 7:08 to play. 
Morenci took the lead back and pushed it to six points three times, including with 14 seconds remaining. But Robak hit another big shot – a 3 pointer to cut the deficit in half with eight seconds left – and after a steal by junior teammate Adam Kline was fouled on another 3-point attempt with less than a second to go in regulation.
Robak was faced with making all three free throws to tie the score. An 86-percent free-throw shooter, he connected on the first two – but missed the third. 
"Layups and free throws, they matter. And they probably came back to bite us in the end," said Our Lady coach Paul Robak, also Nick's uncle. "Thirty-two minutes were played, and we lost our opportunity a long time before (the final second). We would've never gotten here without the efforts of Nick. … There are lessons in everything, and although we came here to win and not get a lesson, I hope we can find that lesson down the road."
Robak scored a game-high 21 points and grabbed 11 rebounds to go with four assists. Kline added 12 points and five assists and junior forward Clay Senerius had nine points, 11 rebounds and four assists. But the team made only 6 of 14 free throw attempts and missed some shots from the lane that usually have fallen. 
The Semifinal was Our Lady's first since 1993. The Lakers finished with a school record for wins in ending 25-1.
Thomas had 19 points and seven rebounds as the only player in double figures for Morenci. Sandusky added seven points, five rebounds and five assists as all five Bulldogs starters scored at least six points, and eight players saw at least nine minutes of action. 
They didn't play an opponent this season that received votes in the final Associated Press rankings. But they did avenge both of their losses and had won all of their tournament games by at least 12 points before Thursday's nail-biter made what might've seemed like an unrealistic Sandusky dream continue to come true.
"You never discourage a kid from having a dream," Bauer said. "You go along with it and hope for it. 
"That's what I wanted too." 
Click for the full box score and video from the postgame press conference.
PHOTOS: (Top) Morenci players celebrate their first MHSAA championship game berth. (Middle) Waterford Our Lady's Nick Robak gets past a defender for an open look Thursday.