Senior's Steal Seals 2nd Straight Title
March 23, 2013
By Bill Khan
Special to Second Half
EAST LANSING — Even on an MHSAA championship basketball team, there's not always peace and harmony within the ranks.
There are still internal fires to be put out by coaches, whose job descriptions don't call for pleasing everyone all of the time.
When Jalen Pettes was disappointed with limited playing time early last season, Flint Beecher coach Mike Williams had to talk the then-junior into sticking with the program.
"He had a tough time," Williams said. "The first seven, eight games, he didn't play much. He was ready to quit. I had a meeting with he and his mom. I told him, 'Jalen, if you give me everything I want in practice, I guarantee you that by next year, I'm not going to be able to take you out of the game — period. But you've got to bring it.'"
Pettes played sparingly the rest of the season during Beecher's championship run, but his work ethic in practice forced Williams to keep his promise this season.
Overshadowed by the exploits of Mr. Basketball Monte Morris, Pettes' tenacious defense is one of the key reasons Beecher is celebrating back-to-back MHSAA Finals championships in boys basketball for the first time.
Pettes' fifth steal of the game with 2.4 seconds remaining thwarted Laingsburg's final attempt at springing an upset, as Beecher held on for a 40-39 victory on Saturday at the Breslin Center.
It's the fifth MHSAA Finals title for the program, which would've won three Class B championships in a row from 1985-87 if not for Chris Coles' miraculous half-court buzzer-beater for Saginaw Buena Vista in
the 1986 Final.
"I love winning it this way," Williams said. "It's just that much more gratifying to know that we earned it."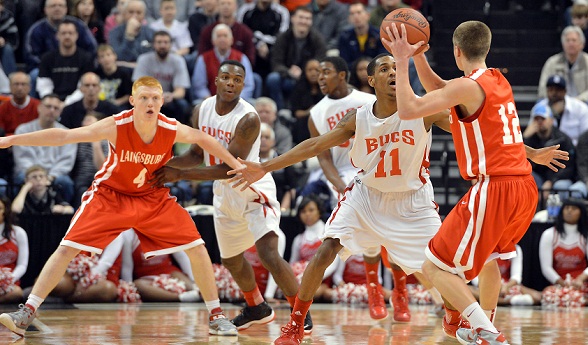 Beecher's success through the years has been predicated upon a stifling defense. Pettes acknowledges that he isn't going to light up score sheets like Morris, but he became a key contributor to this year's championship by completely buying in to the Buccaneers' defensive philosophy.
"I really don't score a lot," Pettes said. "I just like to play defense and get stops and let my team do the rest. Defense just comes easy to me. I just like playing defense."
Once he committed to stick with the team last season, he honed those defensive skills against two of the best guards in the state.
"Jalen had to guard Monte Morris and Antuan Burks all last year in practice," Williams said. "In order for him to get on the floor last year, he had to play defense in practice. So now you take a year later, he's four or five inches taller and stronger, and he doesn't fear anybody, because he's been guarding Mr. Basketball his whole life."
Laingsburg (24-3), which received only honorable mention in the final Associated Press rankings, almost sprung a huge upset on the top-ranked Buccaneers (27-1).
The Wolfpack, which led 18-12 in the second quarter, took a 35-34 lead with 5:02 remaining on a free throw by Ryan Wade. Back-to-back scores\ near the basket by Markell Lucas and a driving layup by Morris gave Beecher a 40-35 lead with 2:25 to go.
Shaun McKinney cut the lead to one by hitting two free throws with 2:04 left and a basket with 1:05 remaining.
On Beecher's next possession, Morris drove to the basket, only to have his shot rejected by Sam Edwards. Laingsburg got the ball, pushed it up the floor and called timeout with 17.5 seconds on the clock.
What followed was a helter-skelter possession which ended when Pettes came up with a loose ball and was fouled with 2.4 seconds left. Pettes sat on the floor clapping his hands, then pumped his fist as he got up.
"When I got that steal, I knew we won the game," he said.
Pettes missed the front end of a one-and-one, McKinney grabbed the rebound for Laingsburg, but time expired as he heaved a long pass down the floor toward Jake Zielinski.
"My heart goes out to our guys," Laingsburg coach Greg Mitchell said. "I'm so thankful for their effort. I thought we played really, really good team basketball today. A bounce or two here or there and we're feeling a little bit better than we are right now.
"This was a team that was not expected to win our league, not expected to win our district, not expected to win our regional, certainly not expected to get here. But we're a couple points shy of being the state champs. That's going to be a tough one."
Beecher won, despite flu-like symptoms that hit Morris and fellow starter Emmanuel Phifier the morning of the game. Morris wasn't in the game early in the third quarter when Laingsburg turned a 24-19 deficit into a 26-24 lead. He finished with 16 points and two assists, his lowest totals in six career MHSAA tournament games at the Breslin Center. Phifier had only four points.
"You could see that Monte was sick," Williams said. "He could barely finish the game. But he pulled it out. Without him, we're not sitting on this podium (as Class C champion) right now. He's actually too sick to even walk out of the bathroom right now."
Morris played in the 109th and final game of his Beecher career, breaking the MHSAA record of 108 games played by Flint Powers Catholic's Patrick Lucas-Perry from 2007-08 to 2010-11. Beecher had a 98-11 record during Morris' four years, including 55-1 during the last two.
McKinney scored 15 points and Zielinski 14 for Laingsburg.
"Finishing is what we want," Zielinski said. "We were a couple plays short. We just have to live with the results."
PHOTOS: (Top) Flint Beecher's Monte Morris (11) dunks during Saturday's Class C Final win over Laingsburg. (Middle) Laingsburg's Zach Walker (12) looks to pass to teammate Jake Zielinski (4) while Morris and others defend. (Click to see more at HighSchoolSportsScene.com.)