Southfield Christian Earns Return
March 21, 2013
By Geoff Kimmerly
Second Half editor
EAST LANSING – Damarco White was not part of Southfield Christian's run to the Class D championship last season. But he got an earful from teammates Bakari Evelyn and Lindsey Hunter IV about what to expect Thursday at the Breslin Center.
Not that he didn't believe them. But it didn't take long for the 6-foot-7 junior to truly understand what they meant. 
The Eagles' physical and fast-paced Class D Semifinal against Lansing Christian featured 123 shots and 67 free-throw attempts, 15 tie scores and 17 lead changes. But over the final 2:15, Southfield Christian simply outlasted the Pilgrims in pulling away for a 75-68 win and another title game berth. 
"They told me it wasn't easy, and they were right," White said. "I just tried to play my best. I try not to let my team lose every game I go out there.
"We've won 19 straight. We're trying to make it 20."
Southfield Christian (22-4), No. 3 at the end of the regular season, will face top-ranked Wyoming Tri-unity Christian at 10 a.m. Saturday to decide the title.
The Eagles no doubt will spend some of Friday resting up.
Only over the final two minutes – and after three Lansing Christian players fouled out – was Southfield Christian able to secure Thursday's win. And those final two minutes followed six during which either the Pilgrims led or the score was tied.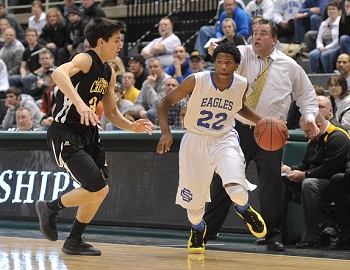 "That's what these guys have done all year. In tough games, tough situations, they hang in," Eagles coach Josh Baker said.
"Our guys definitely picked up the intensity, picked up the ball pressure, sped up the pace. Part of it was (Lansing Chrstian) got into foul trouble and lost some guys. But I think we're a little deeper. Hopefully we wore them down."
Southfield Christian also took advantage of its ability to make free throws, connecting on 35 of 44 after entering the game on a streak of 23 straight makes. Sophomore guard Bakari Evelyn made 13 of 15 on the way to a team-high 22 points, and Hunter hit 8 of 9 in scoring 21 points total. White made 7 of 8 and finished with 19 points.  
The game style and pace indeed took a toll on the Pilgrims, who played mostly their starting five through the first three quarters. Lansing Christian's standouts showed lots of hustle and forced a number of the Eagles' 24 turnovers. But only two starters were around for the final minutes.
"That's how we've played all year long. We've got great kids on the bunch, but a lot of them are just getting their start in the game of basketball," Lansing Christian coach Steve Ernst said. "Certainly, that was a different type of game than we've seen this year."
Still, it took a final jolt to get the Eagles moving on. And Hunter delivered it during a timeout, when he told his teammates that "this is our stage" and they needed to play to that level.
White had six of his points and three of his seven blocks during the fourth quarter. He also grabbed 12 rebounds for the game. Evelyn had six steals and Hunter had five.
"We've been in that situation before, and we just had to stick with each other," said Evelyn, a top sub on last season's team.
"For some reason, we always play better defense in crunch time. I guess that's our fault, but we noticed they got tired. I guess we turned up the heat."
Senior Skylar Ross led Lansing Christian with 23 points. Senior Josh Whitney had 16 and eight rebounds, and senior Jay Noyola had 14 points, 10 rebounds and five steals. Junior Jordan Terry added 11 points, six rebounds, five assists and four steals.
Lansing Christian finished 22-4 and tied its longest postseason run. The Pilgrims also made the Semifinals in 1984.
"Certainly we appreciate being able to play on this big stage," Ernst said, "and the tremendous group of seniors who helped transform this program in a short period of time. We're proud of their effort, and we were excited to play a program like Southfield Christian."
PHOTOS: (Top) Southfield Christian's Lindsey Hunter IV rises toward the basket during Thursday's Class D Semifinal at the Breslin Center. (Middle) Southfield Christian's Bakari Evelyn (22) works to get around Lansing Christian's Jay Noyola while Pilgrims coach Steve Ernst directs his players from the sideline. (Photos by Hockey Weekly Action Photos.)