Southfield Christian Follows New Leaders
March 14, 2019
By Geoff Kimmerly
Second Half editor
EAST LANSING – It's a new Finals, with another trip for Southfield Christian, and Jon Sanders and Da'Jion Humphrey's turns to take on the spotlight.
The Eagles – last season's Class D champions – will play for a second straight title Saturday morning after defeating Dollar Bay 55-28 in Thursday's first Division 4 Semifinal.
Sanders and Humphrey started on last season's team but played supporting roles. Now they're the leaders, and have led the way this week. Sanders, a senior, scored 23 points in Tuesday's Quarterfinal win over Burton Genesee Christian. Humphrey, a junior, had a game-high 16 and nine rebounds in the Semifinal.
"It's a blessing to be able to step into a big role I wasn't in last year," Sanders said. "You always find a role and fit it and do the best you can. This year I've been doing the best of my ability with a couple guys we lost (after last season), and my teammates just helping me do it."
Southfield Christian (20-6) will take on Frankfort in Saturday's first Final at 10 a.m.
Humphrey opened the scoring Thursday with a 3-pointer just 27 seconds into the game. He had another later in the first quarter to give Southfield Christian a 16-10 lead, and went on a personal 8-0 run over 45 seconds at the end of the second quarter while the Eagles extended their lead to 18 heading into the break.
"We always stress to play hard and play smart and let the game come to you, and I thank my teammates – they found me when I was open," Humphrey said. "I was just trying to do anything to win and get to the next game. That's what we always preach – try to get to 1-0. We were just trying to get to 1-0 today."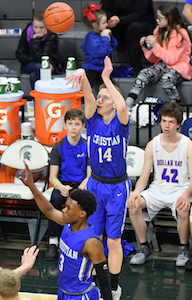 Humphrey was averaging 16.4 points per game entering this week, and Sanders was averaging 16.5. Sanders finished this game with 10 points, five rebounds and three steals.
"(Da'Jion) plays really hard. He's kinda like our Draymond Green, how he rebounds and passes. He can really get it going," Southfield Christian coach Josh Baker said. "Jon did last game, and Noah (Rheker) went on a huge run the game before. Each of them can bring a spark, and they've been doing it all year for us."
Dollar Bay, making its second straight Semifinals appearance after also falling to Southfield Christian in this round a year ago, brought back only one starter from that team. The Blue Bolts stayed close through most of the first two quarters this time, but struggled mightily shooting the ball making only 22 percent of their attempts from the floor.
They entered this week connecting on 32 percent of their 3-point attempts, and found only 19 percent success from beyond the arc.
"They make you do things you're uncomfortable doing – they made us play fast, they sped us up, and it's hard to run any kind of sets, hard to run action," Dollar Bay coach Jesse Kentala said. "It's just defensively, they're relentless. We knew that, and it wasn't a surprise. But it came down to execution, and we kinda picked the worst time of the season to have a poor shooting night."
Junior Ashton Janke had nine points, seven rebounds and three assists for Dollar Bay.
The Blue Bolts (21-5) ended this season with 14 wins over their final 16 games.
"Of course they're a great program. They're always good, and you know that," said Dollar Bay senior Brendan LeClaire, that lone returning starter from last season, of Southfield Christian. "Every time we come here, the two times I've been here, you always think you have a chance. You always have to think you have a chance. We knew they have great players, but you try to find their weaknesses and try to exploit that."
PHOTOS: (Top) Southfield Christian's Jon Sanders hits the floor trying to gather a loose ball as Dollar Bay's Ashton Janke goes for the same. (Middle) Noah Rheker hoists a 3-pointer – he made two of three attempts from beyond the arc.