Southfield Christian Takes Back D Title
March 24, 2018
By Geoff Kimmerly
Second Half editor
EAST LANSING – After three seasons away, Southfield Christian returned to the Class D championship game Saturday.
And for the fourth time in seven seasons, the Eagles added their school to the list of MHSAA title winners as well, with a 64-54 clincher over Buckley at the Breslin Center.
The title was the program's first since winning three straight from 2012-14, and after falling by a point in last season's Semifinals to eventual champion Powers North Central.
"It just means a lot for us as a team," said Eagles senior Bryce Washington, whose older brothers Blake and Brock both were part of past champions. "It puts us on the map. The last few years, people were like, 'Whatever happened to Southfield Christian?' We were still in the gym, still working, still a great team. It's just great to be back here."
Southfield Christian (23-4) showed all weekend it could get rolling in a hurry. Starting at the 5:57 mark of the first quarter Saturday, over the next 2:41 the Eagles went from a point down to 10 up. Junior Harlond Beverly scored 10 points, had a steal, two rebounds and a blocked shot. He made six of his first seven shots from the floor total in scoring his team's first 11 points and 11 of the Eagles' first 14.
"I didn't even notice it was the first 11 points. I was just trying to play basketball and do what I do," Beverly said. "The rim, it feels as big as the ocean. It was feeling good."
Beverly finished with 23 points, seven rebounds, eight steals, six blocks and four assists.
"He brought a lot of energy, a lot of effort, and he can make great plays in transition and get us an easy one," Southfield Christian coach Josh Baker said. "We struggled the rest of the game. His start, that was the game."
The Eagles did have to fend off a second-half comeback attempt by Buckley, which returned to Breslin this weekend with the entire starting five that made it to last season's championship game before falling 78-69 to North Central.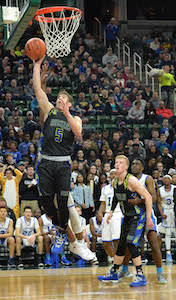 Southfield Christian pushed its lead to 22 on another Beverly basket with 4:27 to play in the second quarter, but the Bears came back with a 19-3 run over the next six minutes to cut the deficit to 38-32 two minutes into the third.
The Eagles pushed the lead back to 12 during the opening minute of the fourth quarter, and the Bears couldn't get it back into single digits.
"We just never give up," Buckley senior Denver Cade said. "We were in the same position last year, but it was a bigger margin. I just kept trying to pound that into (my teammates). I wasn't having the best game myself, and I'll probably regret that the rest of my life … but I tried to be a leader and put that motivation into them."
Cade finished with eight points and nine rebounds. Senior guard Joey Weber led with 26 points, eight rebounds and three steals, and senior forward Austin Harris added 15 points and seven rebounds. All three were four-year varsity players and 1,000-point career scorers. "I'm missing them already," Buckley coach Blair Moss said.
"We're a little disappointed; the kids played their hearts out," Moss added. "That's a quality team out there. There's not much to say. The kids worked their butts off, and they've been doing it for the last 10 years to get here. … We don't see teams like that up north; let's face it. They play in a Detroit league, they play up, and that's why we try to play up to match that."
Buckley (21-6) shared the Northwest Conference title this season with Frankfort and Maple City Glen Lake; the latter reached Saturday's Class C championship game.
Southfield Christian won the Michigan Independent Athletic Conference Blue and also played a nonleague schedule loaded with Class A and B opponents, including Class B semifinalist River Rouge, plus Class C finalist Detroit Edison.
"Part of the deal with our program and our mentality as a coaching staff is how do we get our guys better with every opportunity," Baker said. "We want to play the best competition whenever we can."
Junior guard Caleb Hunter added 13 points including four 3-pointers for Southfield Christian. Washington had 12 points and nine rebounds, and sophomore guard Da'Jion Humphrey had 11 points and seven rebounds.
Buckley finished 74-25 over the last four seasons, including 47-7 over the last two.
"Last year we said we have another crack at it, and now we don't, of course," Harris said. "But I wouldn't want to trade these guys for anything. They worked hard and they helped me work hard and build my character up.
"A lot of people dream of losing their last high school game at the Breslin, and I got to share in that."
PHOTOS: (Top) Southfield Christian's Harlond Beverly works to get past Buckley's Brock Beeman during the Class D championship game. (Middle) The Bears' Joey Weber goes up for a shot at the Breslin Center.